Movie depicting the worst day of the men "Hangover! Disappearing Flower Muco and the Worst Hangover Between Ever" BD & DVD Released October 6


Overseas, there is customs to party with friends of same sex at the last night of single, and in the case of women, they gather at restaurants, nightclubs and bride's houses, but men seem to have a stupid case anyway is.

The movie "Hangover! The disappearing flower and the worst hangover ever" is painted that a fool fool that should be such fun will cause an unusual situation the next day .... Originally the release of BD & DVD was decided in March, but it was postponed because domestic theatrical release was decided. On October 6, we again decided to release BD & DVD.

Details are as below.
Movie "Hungover Missing Flower Muco and the Worst Hangover Ever" From Cinemaison Shibuya et al. On 3 July National Road Show

Doug (Justin Bertha) who celebrates the wedding two days later gave a wedding ceremony 3 (Zak Garifianakis) of bad friends Phil (Bradley Cooper), Stu (Ed Helms), brother-in-law (brother of brother) Take people and head for Las Vegas. Four people, who stayed at a luxury hotel and got a feeling of toast, will toast, but when they noticed the next time they were rolling in the hotel room with a terrible hangover. An empty bottle of sake rolls in the room, smoke rises for some reason from the sofa, and there was a real tiger when trying to go to the toilet. And the appearance of Doug could not be seen anywhere. Somehow some babies have never seen a closet, three of them start searching for Doug with only fragmentary memory and few clues ... ....

The work depicts the three people Phil, Stu and Alan struggling for fighting for the Doug, the groom. They have little memories of the night before, there are only a few evidence that one front tooth of Stu is missing and Phil is wrapping a hospital's armband. The luxury Benz borrowed from the father of Doug's fiancé is also changing to a police car somehow, and what the people did last night, audience and audience will follow the mystery along with these three people.

An anterior tooth of Stu who is missing somehow.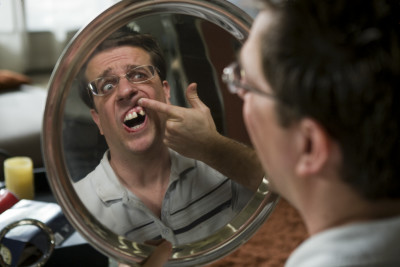 Three people are at a loss.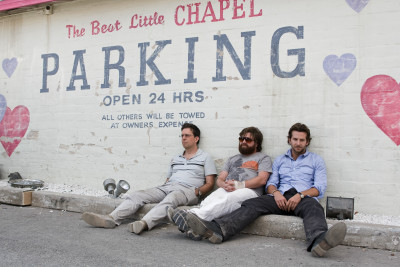 In the US, it was released in the summer of 2009 and recorded a big hit. Although the big star did not appear and it was a movie made on a relatively low budget, it brought out a box office revenue of about 467 million dollars (about 40 billion yen) worldwide, and in the national hiking income ranking of 2009 in the 6th I entered the rank. Although there was no plan to release theaters in Japan,Meeting absolutely seeking movie "Hangover" theatrical releaseBut despite having worked desperately and the work itself won the prize of musical / comedy work at the Golden Globe Awards, it was safe in the summer of 2010 and was released in theaters.

Phil is playing "Aki Team THE MOVIEBradley Cooper who plays a second face with. recent years,"Yesman "YES" is the password of life"Whose he would throw it away?"Valentine's day"New York, I love YouIt seems that he is said to be one of the busiest actors in Hollywood.

It is popular comedian Ed Helms who plays Stu. "Evan Almighty"Dave is a spaceshipIn addition to being appearing in "Monster VS Aliens"It also plays the appearance of voice. I notice that this tooth has not been erased by CG but it is used by extracting the tooth of the incisors that Ed Grums normally puts in from the usual dentist It is said that.

It is Zak Garifianakis who plays Allan. In addition to being active as a stand-up comedian,Into the Wild"Mileage, My Life"Spy · Animal G ForceAlso appeared in movies such as.

Besides this, Mike Tyson has appeared as a principal actor, and in the sequel that has already been decided to make it, he is offering appearances at Tiger Woods.

Blu - ray & DVD of "Hangover! Disappeared Flower Muco and the Worst Hangover in History" will be released & rented on October 6th. The price is 3980 yen, the benefits are "destruction road map", "friend friend 3 song songs", "NG collection" etc. The BD version includes the theatrical version + 8 minutes full version of the uncut complete version.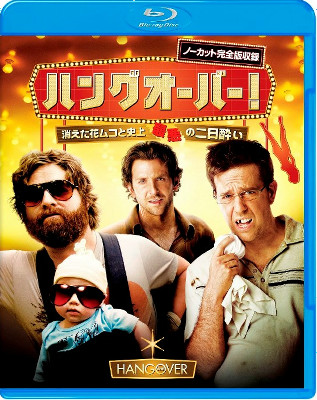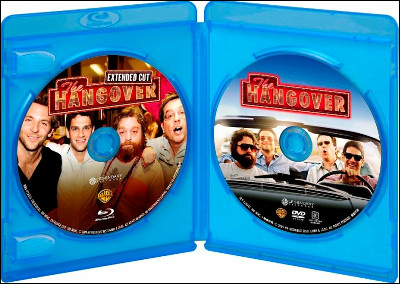 Also, on-demand delivery is going to start, so please take a chance to see people who could not go to the theater to see them.

By the way, the pamphlet cover was like this.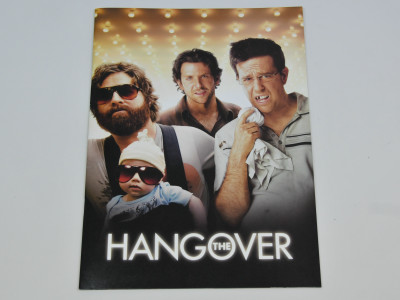 © 2010 Warner Bros. Entertainment Inc. All rights reserved.
in Movie, Posted by logc_nt