【___ 0 ___ ___ ___ 0 ___ ___ ___ ___ 0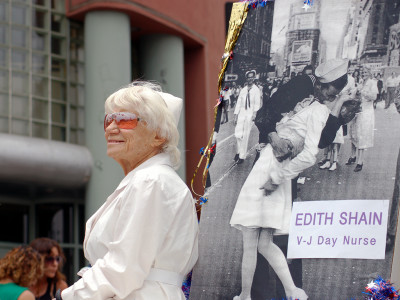 BySneakypeteiii

A piece of photograph taken with Times Square full of people celebrating the end of World War IIV - J day in Times SquareA former nurse, Edith Shayne, who is one of the protagonists of "Kiss of Victory" is said to have died. I was 91 years old.

"V-J day in Times Square" that photographed the moment when a sailor (Glenn McDafi) and a nurse (Edith Shane) kissed each other was a photographer'sAlfred EisenstaedtIt was taken by Mr.,LIFEIt was published in a magazine and became a photograph known all over the world.

Details are as below.
Nurse in V-J Day kiss photo dies - Life- msnbc.com

Shime, who at the time was working in a hospital in New York at the time, took a picture at the end of the 1970's, at the outset who was the protagonist of "VJ day in Times Square" who was a sailor and nurse The identity was found from contacting Eisenstadt.

Mr. Shain, who heard the news of the end of the war, went to Times Square with his friends and when he got out of the subway from the subway, he was kissed by a sailor and photographed. In the following year, Mr. Shain retorted about this, "Because the militia fought for themselves, I wanted to kiss you."

Life magazine said that Eisenstadt knew that she was contacted by Shane and asked for information to confirm who the sailors and nurses in the photo are really. As a result, 11 men and 3 women raised their names. Nurse was concluded as soon as possible, but the identity of a sailor was not known for a long time, it was only after 2007 that it analyzed the skeleton of the person in the photograph and the position of parts of the human body It was concluded that Mr. Glen McDuffy was the sailor of the photograph.

McDuffy came to Times Square on that day to visit the girlfriend. McDuffy, who was listened to the news of the end of the war and was pleased that Japanese brothers who became prisoners of war were released, said that he kissed Shane, who was nearby. According to Mr. McDuffy, it seems that Eisenstad had made a long kiss time to make it easier to take a picture at this time.

Mr. Shain became invited to various memorial events and parades after it became clear that it was a nurse in this picture. My son Justin Decker says, "My mother was a person who challenged new things progressively, and the veterans of the Second World War veterans she was taking care of was the driving force for that." I am talking. She passed away after being sent off by three sons and six grandchildren, eight great grandchildren.
in Note, Posted by logc_nt