"The world is full of Blu-ray", a popular re-burning "Zega Pain" talk event enthusiastically love calls from performers to BD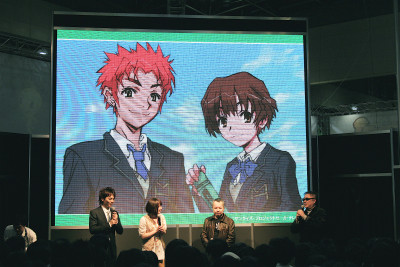 In the second round "BD project by your power"1st place with an overwhelming difference in the works below the 2nd rank"Zega Pain" that won. The main broadcast is from April to September 2006 and already 4 years ago, but many fans cheering for the work, many fans filled up the booth event held at Tokyo International Anime Fair 2010.

The event that invited Mr. Asanuma Shintaro of the main character Sogoru and Kyou, Mr. Kanaka Hanazawa, Director Mami Shimoda, Mr. Hiroyuki Hatakei of the original draft, as the role of Kamineri · Ryoko, "Starting broadcasting at BS 11" and "ROBOT soul release" alone Not an announcement came out and made the fans a big boost.

Details are as below.
ZEGAPAIN - Zegapain -
http://www.zegapain.net/

Many Saega pane fans came to the event held at the BANDAI visual booth. Mr. Asanuma Shintaro who participated in the role, Mr. Kanaka Hanazawa of the role of Kaminoki, Masami Shimoda of the director, Hiroyuki Hatakei, the original character and design director of the character. At the start of broadcasting, it was expressed similarly that it entered a stage event at the Tokyo International Anime Fair "entangle on Ariake server for the first time in 4 years!"

The fans gathered despite the lapse of a long time since broadcasting is truly awesome. Mr. Bandai visual, Hirooka-san of the host "excellentCelebrantIt was commented, "I guess. Looking back at the PV at the time of broadcasting, looking back on the last four years, Asanuma who was a voice actor debut by this work seemed to be deeply impressed. In addition, Mr. Hanazawa was a teenager at the time of broadcasting but sometimes now it is an adult, Asanuma et al. Feel the flow of time. Meanwhile, Mr. Hatakei is a design director, so he seems to have only memories that had been checking character, mecha, and art setting until just before the broadcast on April 6th.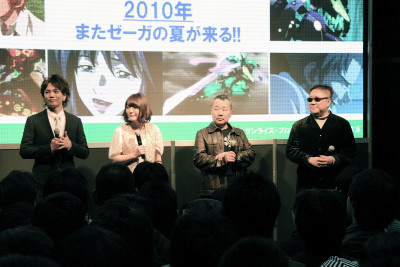 One of the reasons why this event was held is that "Zega Pain" starts broadcasting on BS 11 from April 10. People who have participated in this event seem to have seen many people already, but those who enjoy the fine hints stretched from the first half, people who are not like can not experience a fresh surprise Cow. Mr. Hanazawa's recommendation was a summer festival occasion with special endings, Mr. Hatakei had a comment that I wanted to enjoy as I can bite in the first half because I am drawing a hint of the kitchen in the first half.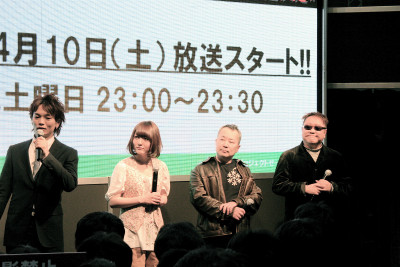 Another announcement is commercialization of "Zegapain Al Teal" with the soul of ROBOT. Non-scale Kamininagi / Ryoko comes with the first award. According to information of truth unknown by Mr. Hirooka of Bandai Visual, Zega Paine was said to have been made into a figure, especially because there were many requests for commercialization, but Bandai's person in charge said "I liked it because I liked it!" He told me he was talking.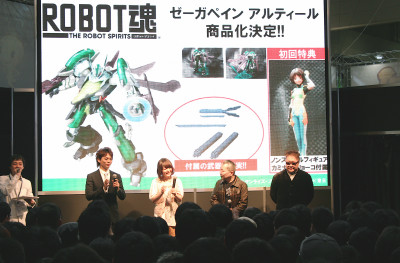 Effective parts such as hollow bolt pressure are attached to Altiel of this soul of ROBOT, and also "Maihama shining ocean punch" can be reproduced because you can remove the arm. Mr. Hanazawa seemed to like a figure of Kaminari.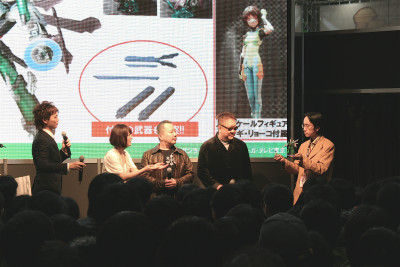 And, as a surprise, a shield was given to honor that it was No. 1 in the second bulletin project with your power.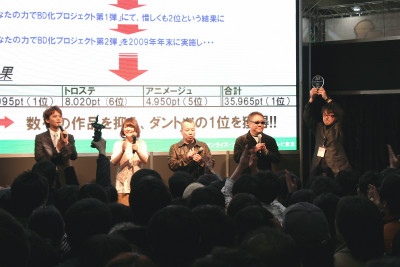 Director Shimoda who receives a shield. The number of votes for Zega Pain is said that the Web ranked first at 22,995 points, Troste was 6th at 8020 points, and Animage was at 5th place at 4950 points. By the way, although it was +1 point when comment was written in web voting, Sega Pain seems to have more comments than other works. The total of the three was 35 thousand six hundred and sixty-six points.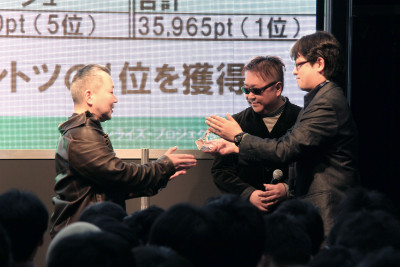 Then thereBDAofABIIs an intruder. What I have in hand is a printed comment by fans appealing to Zega Pain BD conversion, and it seems that there were 227 copies.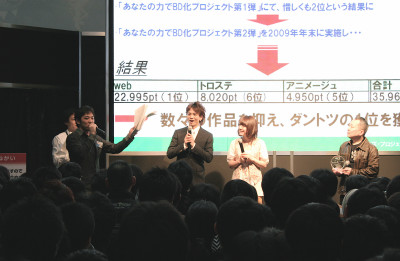 When calling "Who participated in the vote?", Event participants had raised their hands by most people. Moreover, Mr. Hatakei raised his hand secretly and realized that not only the fans but also the producers are particularly intriguing works.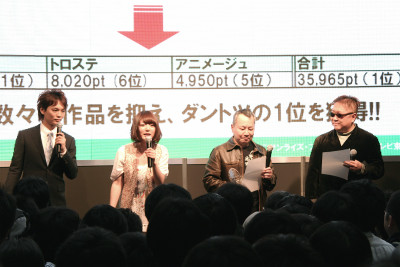 A gift for Mr. Asanuma and Mr. Hanazawa from Mr. Hatake Pond. Kyoto and Kaminagi who wore winter clothes at Maihama Minami High School. In the middle of the work was repeating from April to the end of August, I could never see winter clothes, Mr. Hatakei said that he always wanted to draw winter clothes. Looking at the details, it seems that the color of the necktie is blue (third grade), and it is a figure of Kyou and Kaminagi that grew a little bit more than the creation.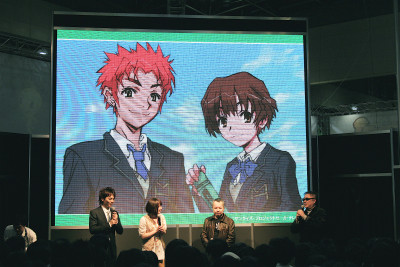 Mr. Hanazawa who saw this illustration screamed "This animation, I want to do it!" The fans responded with great cheers to it. Mr. Asanuma said, "As a stage," director Shimoda said, "Let's meet you at the event of Blu-ray!", Mr. Hatakei said, "As long as Blu-ray is a big hit I'd like to make a new summary compilation! "And tatami, I was putting pressure on Bandai visuals.

30 minutes was in a blink of an eye, but if it is told that there are so many fans who love 'Zega Pain', BD conversion may not be a dream, is not it?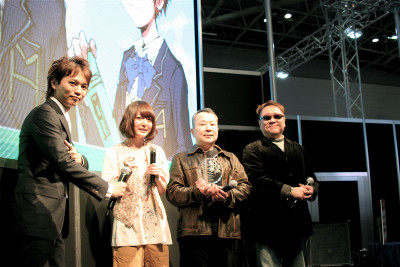 By the way, at the charity auction, posters at the time of DVD release were being exhibited.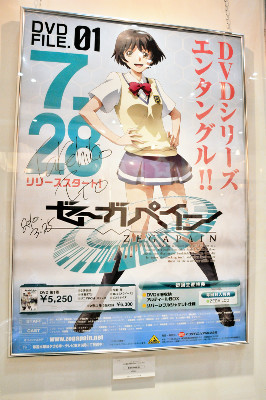 Author, Ito Takehiko's autograph autographed.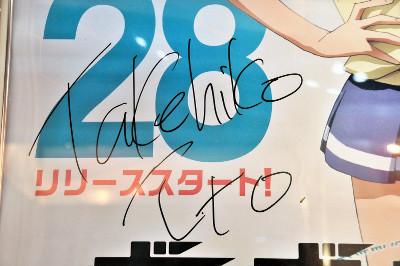 "Zega Pain" starts broadcasting at BS 11 digital on April 10 (Sat) from 23 o'clock. The soul of ROBOT "Zega Pain Altiel" is scheduled to be released by the Bandai Collectors Division this summer.

◆ Staff & Cast
Original: Hajime Yae, Takehiko Ito
Director: Masami Shimoda
Series composition: Masanori Sekima
Character design: Akihiko Yamashita
Chief animator: Maki Takao
Design Director: Hiroyuki Hatakei
Main mecha design: Nakahara Rei
Music: Atsuko Otsuka
Acoustic director: Kawahito Meida
Sound Production: Magic Capsule
Animation production: Sunrise

Sogol · Kyou: Shintaro Asanuma
Kaminagi · Ryoko: Hanazawa Kana
Misaki · Shizuno: Ayako Kawasumi
Rushen: Park Yumi
Mayu: Yui Makino
Meiyen: Akino Watanabe
Shima: Tomohiro Tsuboi
Minato: Mari Inoue
Kawaguchi: Hiroyuki Yoshino
Ushu: Masayuki Kato
Hayase: Hiroshi Kamiya
Mizuki: Yukana
Chris: Hiroshi Inoue
Arc: Aya Hisakawa
Classisage: Yoshinori Matsumoto
Remes: Tadashi Tsuji
Dieter: Yutri Nakao
Richelca: Mai Kadowaki
Fosetta: Junko Okada
Other

© Sunrise Project Seega · TV Tokyo