"Kiss Demand - ENGAGE planet -" Billboard Conference Report BD - BOX Release Decided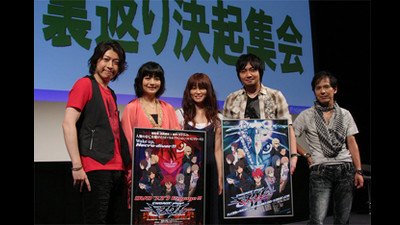 Despite the animation broadcast in 2007, video software has not been made so far "Kissdom - ENGAGE planet -". In April 2011Production of BD-BOX is decided at reservation deposit number of 2000 or moreFinally, in July we have successfully produced & launched.

This "Kiss Drama R-ENGAGE planet-" BD-BOX "Inversion" selected from among reservers gathered "Inside-out Council meeting" was held at Shiodome Space FS on July 16. Because it is an event for people who saw the work to some extent already, it also includes quite a bit of spoilers so please be careful if you are thinking of having fun from scratch with BD - BOX.

The opening starts with the main character, announcement by Geni Shu and Varda. However, it is not only to notify the start of the event but also "Are you OK with taking a picture of the stage as so much as possible?" "Disqualification, photography is prohibited during the event, recording is also prohibited.It is realized when the camera is held over "The excitement of the fans in the hall has been raised from the beginning before the contents which made use of the setting of the work.

Events The performers were Daisuke Ono, Mr. Satomi Akasaka of Varda, Ms. Aya Endyu, Susumu Nagano and Yuichi Nakamura, director and Eiichi Sato (Hidekazu).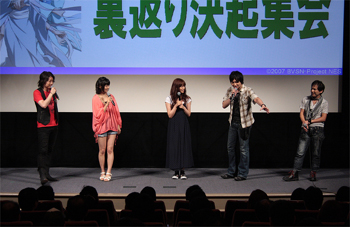 Although the event was held this time this time, it seems that the casts were surprised a little while what it is exciting though it is work of 2007 though it is a work that seems like a kiss dam. As the director knew of the movement of this software, of course, he heard that he thought "It is barely finished" as it gets out. Production decision of BD - BOX was announced at this event, but from the director it was "the top of a long way", and there was also a remark that made me want to be a start line again, which made me smile a future.

In the event, the results of the preliminary questionnaire were also announced. Varda (21.2%) won the first place in "favorite character". Mr. Mr. Mr. Mr. Mr. Mr. Mr. Mr. Meisaka "It is a true heroine" It seemed satisfying with this result.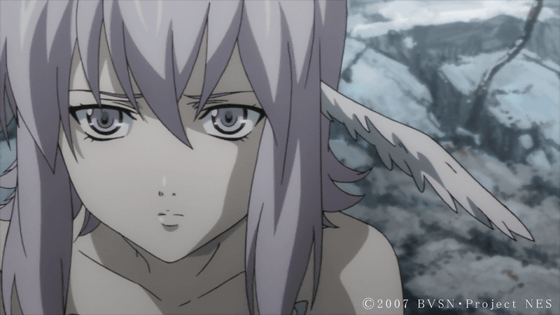 The protagonist Shima Shu was second place (19.1%), rival Nana Shima (12.3%), one of the heroines, Yuzuru Shimano Yu is 10th. Ohno-san and Nakamura-san had been calling their names for 2 cools any more because I was shouting Yuino's name that there was something in both Shu and Miyoshi? I was slightly scratching his neck. By the way, "Vice President of Saladin" who won 1 vote is a character of a characteristic hairstyle played by Mr. Noagose Hatta, it seems that it was a topic that was talked about since the time of dubbing.

Shima Shu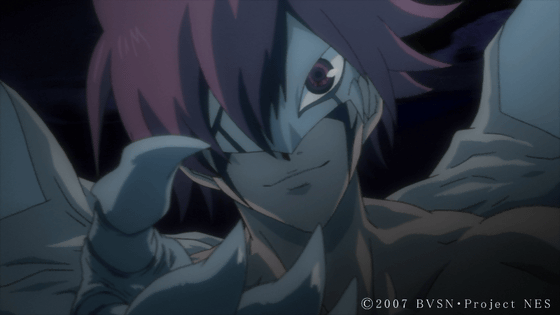 Director who was asked about favorite character, firstly in the drama Varda was a heroine, while the constitution was a heroine by the constitution, the true heroine was everyone including Yellowa talking about it I mentioned the name of Ling from the thought that "Whether it was good even if there was a happy place a bit more in the drama?"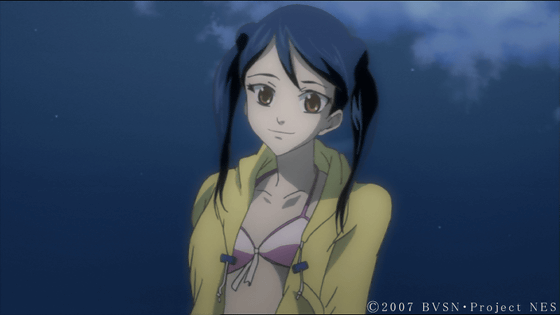 Questionnaire question The second question is "My favorite line." As predicted mostly, "disqualification" "Yuno Ooh (cry)" entered the top. In 3rd place Akuri murmured with one episode "No future for you," ranked in. It is unexpected that it will not be annihilated by two episodes after all, but the director seems to let this line speak by saying that a small line of dialogue is put in it.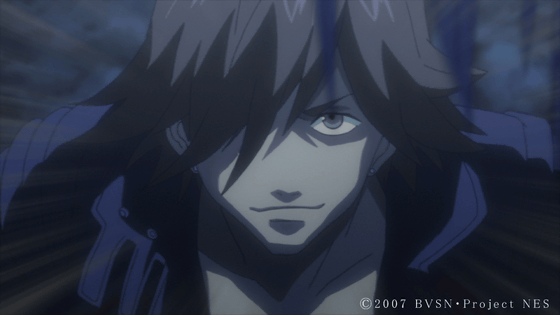 Also, although this is not a leading role, the wolf's knight "I could not protect it" ranked fourth. Since Warukuki who turned into "inside out" annoys the village after annihilating the village, Mr. Ono said "That's because of you" and Tsukkomi was in it.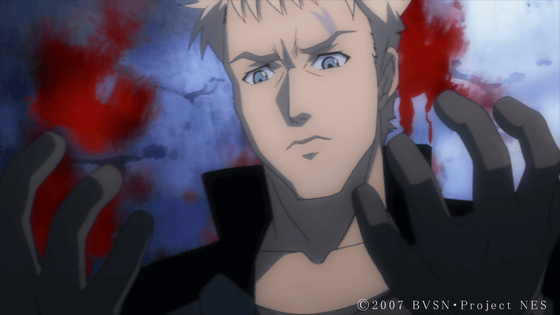 Director Sato has already taken over the director as the scenario has solidified to some extent, so it seems that the director is not involved in every decision, but there seems to be something added to the contest check. Although serifs inevitably tend to explain the situation by all means, Kiss Dam is "such a guy Hardy Anne is such a guy" and "How is the punch power of the poem" can not be helped, so we can afford to fight than that He seems to have thought of a certain person.

In each corner where you play your favorite lines in your role, Mr. Ono chooses "to see the smiling face of a woman who fell in love." Shu seems to have chosen it because the philosophy of action is Yukinohisa anyway and expresses this character briefly.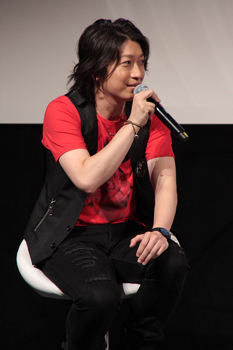 Mr. Mr. Mr. Mr. Mr. Mr. Mr. Mr. Mr. Mr. Mr. Mr. Mr. Mr. Mr. Mr. Mr. Mr. Mr. Mr. Mr. Meisaka chose the first appearance of " It seems that this line was redoing again and again, and it was quite difficult to play Valda without emotion.



Mr. Endo of the role of the ahoy is shouting "Shuu !!". Although there is not much like a bowl, there is an impression that Mr. Endo seemed to have rotated three of "shu" "sister" "sister" "ca !!"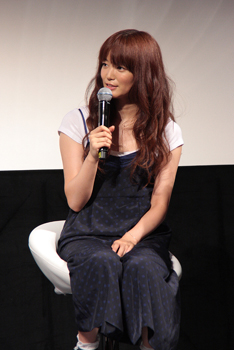 And Mr. Nakamura's choice is the 20th episode of "Kiss Dam", the scene where Shu is jumping into where Musume and Yuno are together, so to speak, it is a sleeping scene. At this time there was no serif in the mind, but he said that he was doing his utmost to how much he could express it with the breath "Fu ......"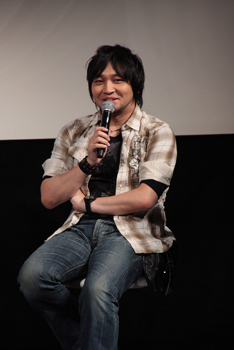 Here is one scene of Mr. Nakamura's entrance. BS11 will be broadcast on August 20th.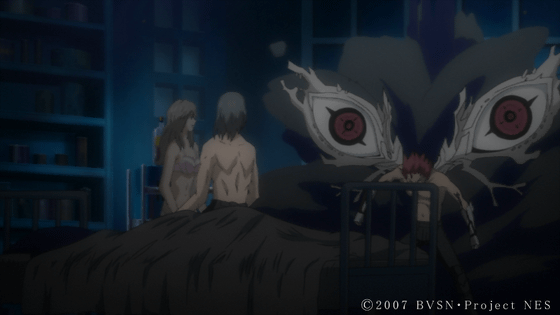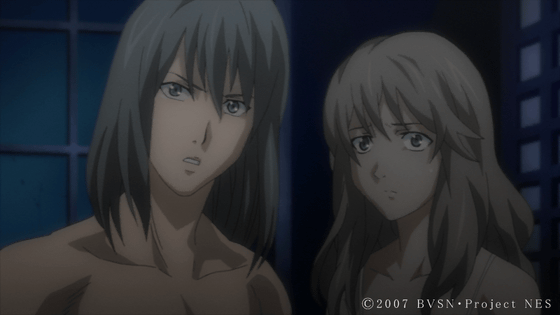 A new episode will be added to this BD - BOX. Although the director wants an extra edition, I personally seemed to have made this because he wanted to deepen the work called kiss dam with indigestion and to want to dig three servants of his servants. Also, while I was in work, I went to Luxor in the fourth episode, but it is not clear where I was fighting after that, apparently when I was watching the background etc, it came to the east gradually in the Middle East in the winter tone times So, since it seems that the end has reached Japan, there is also a desire to fill in the map with a word like "Sorrowful one line, today is staying with a dog", if you set the stage of the episode to Central Asia Thing.

It seems that Mr. Meisaka and Mr. Endo already finished recording at this point, but it seems that it was possible to finish recording for about one hour while after dubbing for a long time. When listening to this story, Mr. Nakamura talked about wanting to include what kind of things themselves was making as a bonus picture at the time of the after-recording scene.

In closing, director said this rally meeting was the beginning, kissed dam was softened and it is not the end, but a reassuring comment was given that the kissdom myth is coming. In response to this, Mr. Endo possibly hopes that Maho girls and Yoa Yella will be realized, Mr. Mr. Meisaka said "If you do Yoa Yierra, the child who contracts and becomes a magical girl is me I will do it. " In addition, Endo says "Let's sing the theme song to your sister (Yuno is Mizuki Nana)" big dream came out.

Mr. Ono says that it was a shock when I heard that the young generation's actors were enthusiastic about the work that had been put on heat, but there was no DVD conversion. In the end it was rejoicing that it turned inside out, and in the end everyone shouted out to shamefully shouting "1 Yuno Oh !!" to share feelings.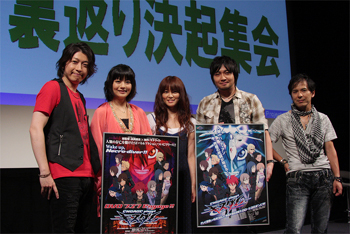 By the way, what is "R" at the end of "Kissdom R - ENGAGE planet -"? Director Sato, who was asked, said, "What is it, right?" So far, he commented that explanations are being made in Blu - ray 's privilege booklet. People who are wondering what the meaning of "R" is, please look forward to the BOX reaching you.

In addition, from around 13:30 on August 7, around 24:30Nico Nico Animation Special "Kiss D R-ENGAGE planet-" broadcasting all at onceThere is so, it is possible to think after looking at contents for a while. Before this program, from 12:30 to 13:30Just before one broadcast "Kissdom R - ENGAGE planet -" turning over special number!There is also, Director Eiichi Sato, Mr. Satomi Akasaka, Mr. Yuji Hirooka who is in charge of advertisement will appear, so please check also here.

"KISSDAM R - ENGAGE planet -" Blu - ray BOX is due August 8 deadline. The deposit deadline is August 10, the price is 38,000 yen including tax. By "complete reservation to order production", it can not be obtained after the application period, so please be sure to decide by August 8 if you are interested.

BOX Illustration draws sushi band. In addition, 14 points including 7 labels, 4 jackets, illustrations for booklets are all drawn down.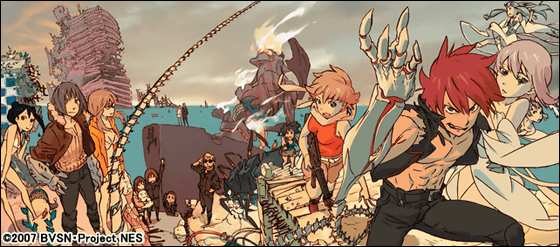 © 2007 BVSN · Project NES