Guerilla knitting devil with unknown identity that covers street lamps and trees with wool yarns late at night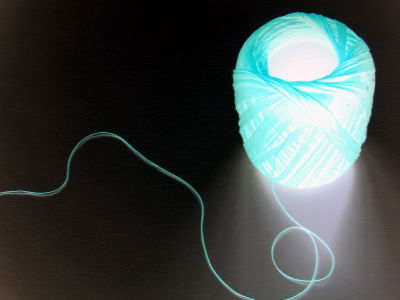 New Jersey ·West Cape MayIn the Wilbraham Park in Wilbraham Park, it seems that there is a strange incident that tree branches and lamp posts are covered when wearing with a cover woven with colorful wool threads in the middle of the night. These colorful knittings gradually appeared from the end of February and said that they are expanding their forces within the park.

What on earth is the purpose?

Details are as below.PressofAtlanticCity.com: Latest News - Breaking News plus Local, Business, Sports, Entertainment & Video News for Southern New Jersey

Tree near Wilbraham Park entrance covered with colorful wool cover.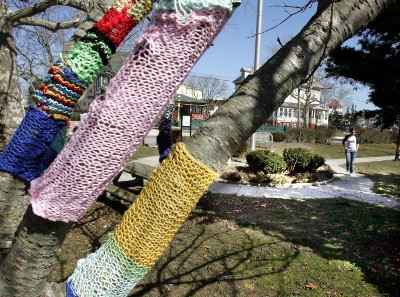 If only trees are covered with wool, it can be thought of as a work of kind hearted trees lovers who felt that "the tree seems to be cold", but the posts of the lamp along the promenade in the park are also targeted by guerilla knit It seems that the possibility is so thin.

This knitting devil is called "Midnight Knitter" (midnight knitting person) from the people of the town, and it is not clear whether the identity is unknown, the motive is also unknown, whether it is a single crime or a collective crime, but permission is given to public objects It is legally out because it is going without obtaining it. However, it seems to be popular among residents if it makes the scenery of colorless winter bright.

Susan Longacre himself wearing a warmth muffler himself is living in Victorian Towers of Cape May, one of the regulars who visits the park every morning. He seems to be looking forward to finding the latest "guerrilla knit", he says, "I think it's wonderful."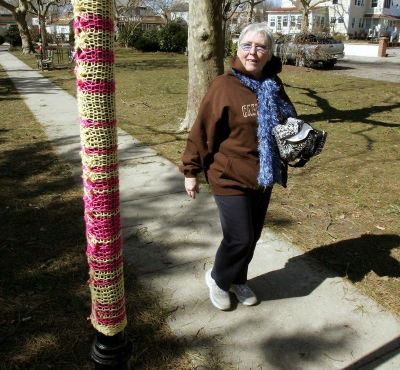 Pam Kaithern, president of West Cape May, said, "I do not know who is doing it, because police are investigating, it should not be legally feasible, but it is a mysterious and pleasant event. The mystery is a mystery I think that it is good to leave it. "

West Cape May is also a district where many artists live, familiar with the installation that packs everythingChristo & Jeanne-ClaudeMany people think that these knittings reminiscent of works of art are attempts made as art.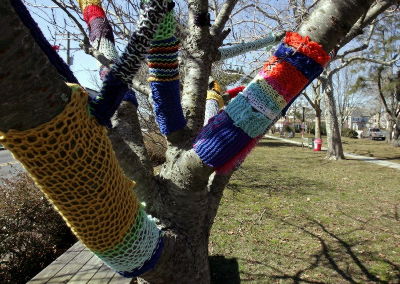 "Although Christos got permission, they do quietly in the middle of the night, there is a difference there," says Richmond Shreve, who has lunch at the coffee shop "Higher Grounds" across from the park. Everyone who was in Higher Grounds on the day when the interview was done, including Ms. Shreve, is all a fan of "late night knitters".

Diane Flanegan, a local artist and also an executive committee member of the annual Strawberry Festival held at the Wilbraham Park, calls for a "Festival in the Midnight" to be called out as a festival (this year is held on June 5) is.

Some residents seem to have some negative opinions, such as "break the atmosphere of the streets lined with Victorian houses" and "you do not want permission in public places is not good", but "funny" Most of the favorite people seemed to have "kind of talked" and neutral people also said "at least spray paintGraffitiWe are much better than others "has come out.

In addition, I did not formally commit a criminal statement but the identity of the members was not disclosed, apparently, "Salty KnitsThere seems to be a high possibility that a group of knitting enthusiasts who claim to be "possibly individual" is involved in the incident.

You can see many other photos from the following links.

Mystery knitters | News | Press of Atlantic City
in Art, Posted by darkhorse_log