Price is 20,000 yen, Barebone PC equipped with new Atom and second generation ION platform will be released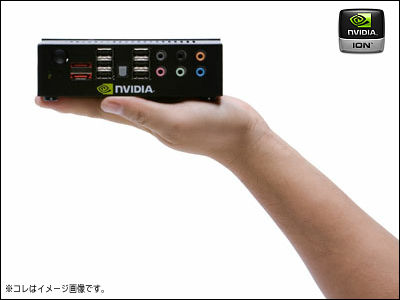 Netbooks equipped with a new Atom processor that integrates a memory controller and graphics functions are beginning to be available this month, but in addition to the new Atom processor, it also supports high-speed graphics performance such as Blu-ray disc playback and 3D game support NVIDIA's realization of "ION platform"The second-generation model equipped with a low price barebones PC of 20,000 yen will be released in the prospects to be released.

Graphic performance of the next-generation Atom processor is content which does not make much progress compared with the old modelCombined with the second-generation ION platform that has been powered up, it seems that we can expect high performance despite its low price.

Details are as below.
Asustek to launch Nvidia Ion 2-based all-in-one PC

According to this article, computer maker Zotac is expected to release a model combining the Atom D410 or D510 processor and the second generation ION platform with the barebones PC "MAG HD-ND01" currently on sale in March is. The price is $ 249 (about 22,500 yen).

By the way, the original ION platform was a combination of GPU integrated chipset "GeForce 9400M G" with Atom processor, but the second generation ION platform is based on "GeForce 210" or "GeForce 310" It is said that it will be close to the board, and it is said that Zotac is planning to release "GeForce 210" adopted.

This is the new "MAG HD-ND 01". Although "GT 218" is written on the graphic chip,Pointed out that it might be "GeForce 210"Also.

Zotac displays Mini-ITX mobos, barebones nettops, and mobile PCs at CES - The Tech Report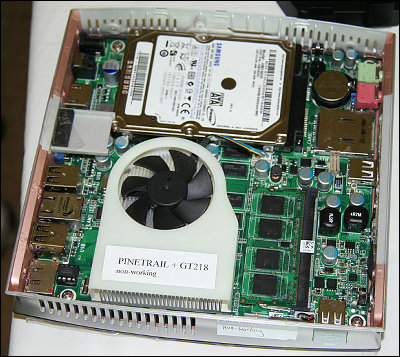 Also, market participants have made it clear that ASUS is expected to launch the all-in-one PC "Eee Top ET 2010 PNT" equipped with a 20-inch liquid crystal display in the near future, this is a dual core of Intel's new Atom processor It seems to be a model that adopts models "D510" and "GeForce 210" or "GeForce 310".

This is "Eee Top ET 2010 PNT". Although the price is unknown, it is thought that it is not so high considering from the example so far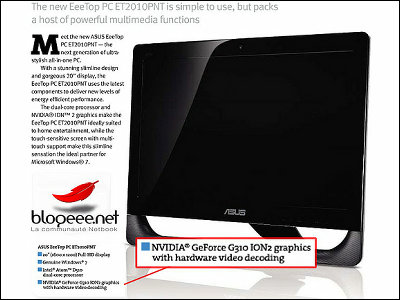 By the way, according to the following link "Eee Top ET 2010 PNT" has a full HD display, etc. It corresponds to HD video of various codecs such as H.264, VC-1, WMV, DivX, MPEG-2 MPEG-4 It is being done.

SCOOP: Le ION 2 sera finalement un GeForce G 310! | Blogeee.net

In addition, BroadcomVideo playback support chip adopting "Crystal HD technology" technology to add HD video playback function to the new Atom processorWe announced at the end of last year, but market participants point out that there is a possibility of conflict because it is cheaper than the 2nd generation ION platform.