Snow Roller is a mysterious natural phenomenon in which donut shaped snow rolls like a lot of children have played even though there is no one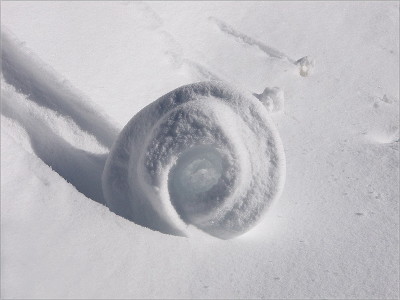 Photo by ilarib (ancora sotto effetto panettone!)

Natural phenomenon that occurs only when overlapping snow and ice layers, complex weather conditions such as temperature, humidity and windSnow RollerIs also called "Snow Donuts" (Snow Donut) or "Snow Bales (Snow Baloon)" from its shape, mainly in North AmericaPrairieYou can see it. In Japanese it is "Snow turning"As it is called, the snow piled on the ground is brought up like a sheet by the wind to form a donut shaped or rolled cake shaped snowball, but I attempted to collect pictures of this unusual phenomenon.

Details are as below.Snow stories: rare self-rolling snow balls found in UK - Telegraph

British attacked by the cold wave for the first time in 30 yearsSnow Roller observed at.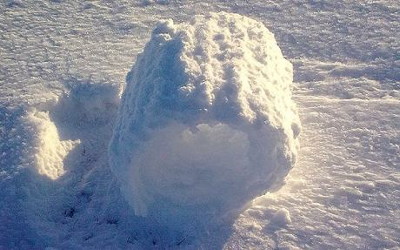 Photo: Ron Trevett

Somerset StateYeovilThe Trevett and his wife who saw this sight while walking the dog near the home of the house seemed to think that the children played a big snowball and played, but there are no footprints when approaching Or, it seems that it came to the conclusion that it became a work of the wind, noticing that there are too many numbers.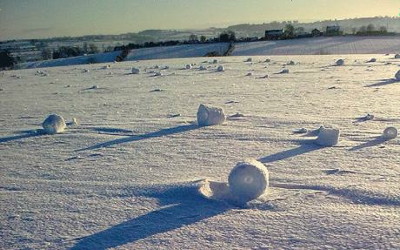 Photo: Ron Trevett

National Weather Service - NWS Spokane

On 31 March 2009 Northern IdahoCraigmontIt is what Tim Tevebaugh who returned from work in the suburbs observed from the car. When I went on the same road in the next morning when commuting it was already disappearing.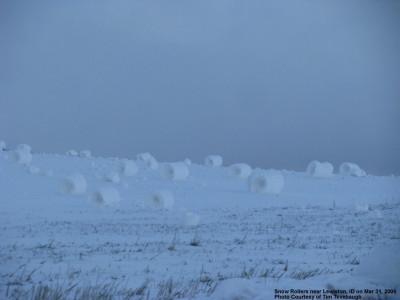 According to Mr. Tevebaugh's eyesight and grass height, most of the Snow Roll reflected here is about 18 inches (about 45 cm) in diameter and about 2 feet (about 60 cm) in diameter.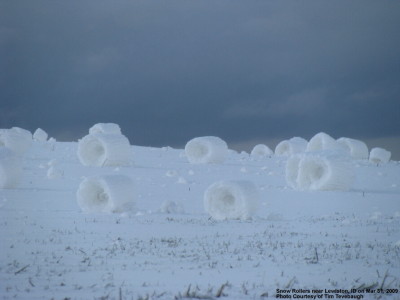 Snow Donuts - A Natural Weather Phenomena

This is OntarioAjaxIt was observed in January 2008. It looks like a trace of a large snowball fight.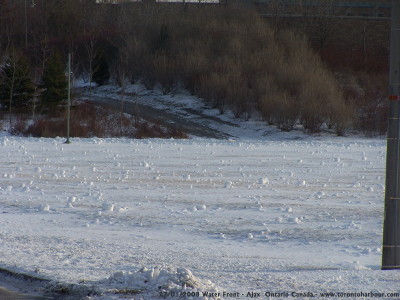 Ajax is near Toronto, the water surface reflected in the back is Ontario Lake.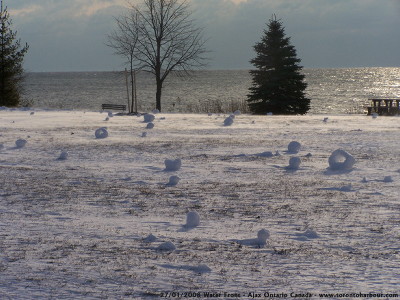 NWS Central Illinois - 2/12/2003 Snow Roller Event

Snow Roller is almost cylindrical, small things are big fist, big one seems to grow to about 70 cm in diameter and about 1.2 m in length. A typical one is about 10 to 12 inches in diameter (about 25 to 30 cm).

IllinoisPetersburgObserved in the suburbs in February 2003, this Snow Roller is 11 inches in diameter (about 28 cm).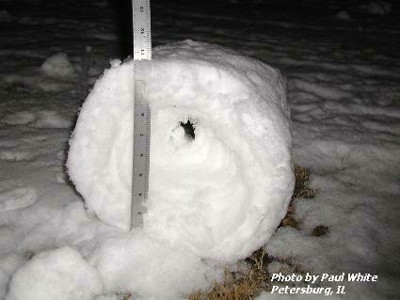 IllinoisBuffaloSnow Rollers observed at the same time in the area, the ground where the snow has been hidden is exposed. The snow at this time is 1 to 4 inches (about 2.5 to 10 cm).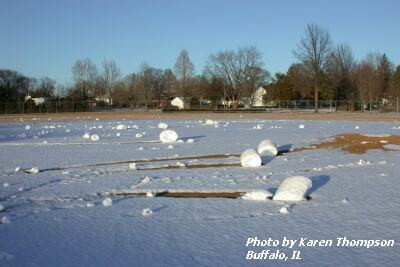 It really seems like a trail of children playing.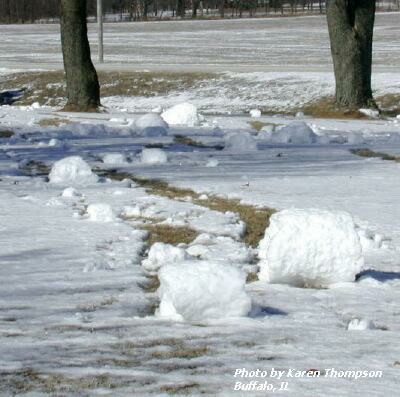 A snowball's chance rolls around

Oh Cincinnati'sBond HillSnow Roller about 25 cm in diameter observed in February 2003 at the schoolyard of Woodward High School in The inner winding start layer is thin compared to the outer layer, and it seems that there are many cases that it is blown away and becomes a cavity.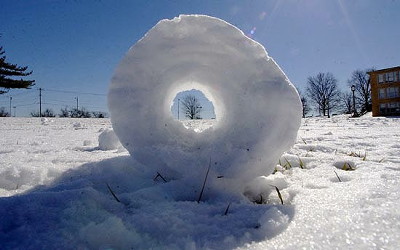 Photo by Glenn Hartong

According to Paul Pastelok, a meteorologist at the State University of Pennsylvania, strong winds over 60 km / h are needed to snow, but if it is too strong wind it will be blown off. Also, especially at the beginning of rolling, it is easy to roll downhill, so it seems that it is common in mountainous areas.

Local News | A rare treat from nature: Perfect snow doughnuts | Seattle Times Newspaper

This is not a strong wind, but what seems to be formed mainly by gravity. In March 2003 Washington State's North Cascades (Cascade MountainsA part of the road)Washington PassIt was observed in. The larger one is about 24 inches in diameter (about 60 cm), so it seems that the human head could fit all the way into the hole part of the donut.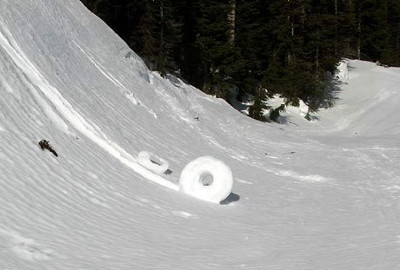 Photo by Mike Stanford

Snow Rollers as far as the eye can see as observed in Utah.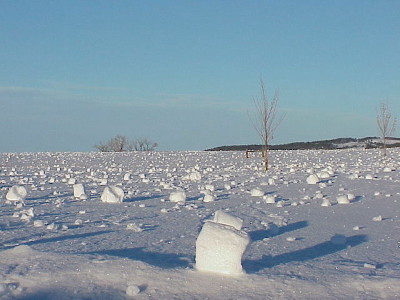 Photo by Leigh Huggins

Ilm - Piltuudis: tuul veeretab lumepalle - Ilmajaam.ee

Here in November 2008EstoniaObserved in.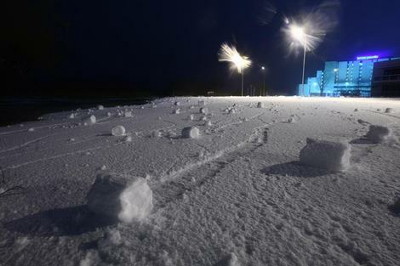 Photo: Olev Mihkelmaa

As mentioned above, Snow Rollers are mainly seen in Canada from the northern part of the USA, but it seems that it is rarely observed in Japan such as Tohoku and Hokuriku. It seems that there may be a small Snow Roller on the slopes of the roof, so it may be good to put in the habit of going out after checking the roof the next morning when the snow was piled up.
in Science, Posted by darkhorse_log