Sukiya cuts all items of beef bowls from today to the lowest price in the industry, improving the quality of rice and beef


"Matsuya" of the big beef bowl chain store(PDF file) From 3rd December I reduced beef fish to a price of 320 yen, Which was deprived of the lowest price in the industry by 10 yen differenceSukiyaIt has become clear from today that all the items of beef bowl have been greatly reduced.

As a result of this, Sukiya has become a top form again due to price competition among beef bowl chain stores, and overall quality improvement has also been made for rice and beef used for beef bowl.

(PDF file)Press release: Bovin gold new price! It is!

According to this release, Sukiya is going to cut prices of all beef bowls from 9:00 today. As a result of this, the price of concurrent sales declined from 330 yen to 280 yen in the past, so the price of parallelismYoshinoya of 380 yenYaMatsuya of 320 yenCompared with the other house, the favorite house is the most reasonable.

Old price and new price. All goods have fallen by 50 yen, except for "mini" which has fallen by 40 yen.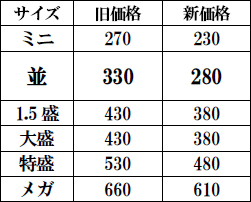 Also, in line with the price cut, the rice to be used has been switched to 100% of the new rice Koshihikari 100%, and the overall quality improvement such as changing part of beef's use part is said to have been taken.

If domestic sales in fiscal 2009 areIt is expected to surpass Yoshinoya and be at the top of the listThis is Sukiya,Yoshinoya's level at the lowest level in the industry that it had done from 2001 to 2004Is it the intention to separate other companies at once in this way by cutting prices down to?