Beef bowl chain store started price reduction from middle of November to price battle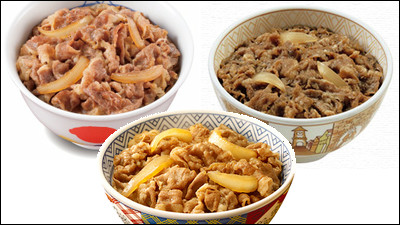 Starting November 11, beef bowl chain stores "Sukiya" and "Naka ​​U" will start a discount sale that makes beef bowl syrs 250 yen. Following this, Yoshinoya also began a sale starting from 16th with the scale of 270 yen. From Monday, Matsuya 's beef tenderloin will be 240 yen from the 17th.

Both prices are limited for a limited time, but a fierce battle between beef bowl chain stores will be unfolded for about two weeks.

(PDF file)Sukiya is "Beef bowlan 250 yen sale" for 13 days of 11 / 11-11 / 23, beef bowls and souvenirs are 250 yen in all stores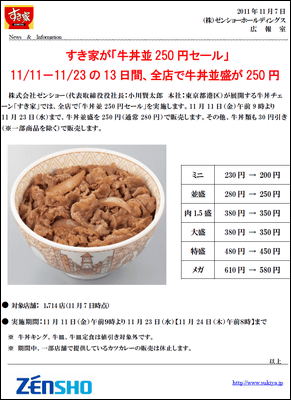 : New arrival information: Japanese style beef bowl and udon no naka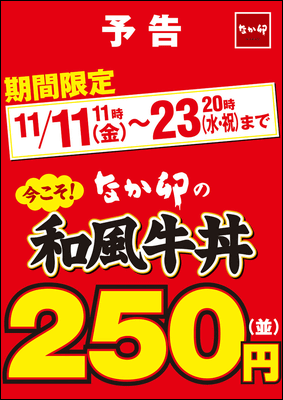 Advance notice! Kunimori 20th Anniversary Thanksgiving Day! Yoshinoya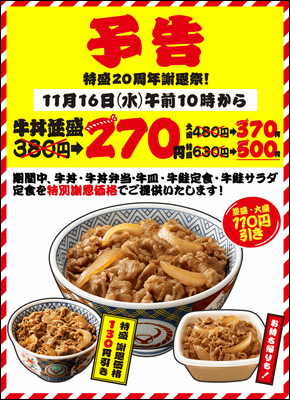 11/17 (Thu) from 10 o'clock to 11/24 (Thurs) 15 o'clock! Beef fish (average) is 240 yen !! | Matsuya Foods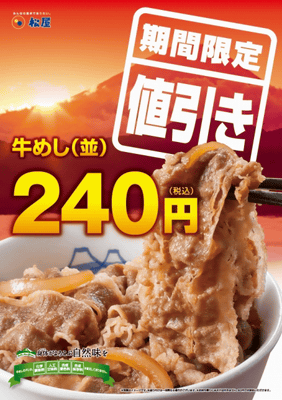 Here is a table that summarizes price cuts and price reduction periods. The price is listed in parallel.




First of all, at Sukiya, all beef bowls will be deducted 30 yen from 9 o'clock on November 11 th to 24 th 8 o'clock. Amusement is usually 280 yen, but it will be 250 yen during the period.

Like Sukiya, the Zen shaw group's Naka Naka is issuing Japanese style beef bowl, but it will be 250 yen from 11 o'clock November 11th until 23 o'clock November 23 o'clock.

Yoshinoya said that "20 th anniversary festival of thanksgiving," from 10 November on November 16 until 3 o'clock on November 24, prices such as beef don bowls. The amount of price reductions is 110 yen less than Sheng Sheng / Dai Sheng, 130 yen discount for special bargain sale, while as much as 380 yen will be 270 yen, but if it is special, 630 yen will be 500 yen.

Matsuya will be deducting 80 yen from 10 o'clock on November 17 th to 24 o'clock on 15 o'clock and beef meat etc. In the case of beef meat (average), 320 yen will be for 240 yen, and Syumori will be 440 yen for 520 yen.

In terms of price cuts, Yoshinoya is doing a lot of hard work, but Matsuya is the cheapest one, and the long campaign period is a favorite house. From 17th to 23rd all these four stores will be in the campaign period, so it seems to be a purely popular game. Which stores are the crowded most?