Police in Bolivia arrested murder suspects with "crowds of the world's most terrible portraits"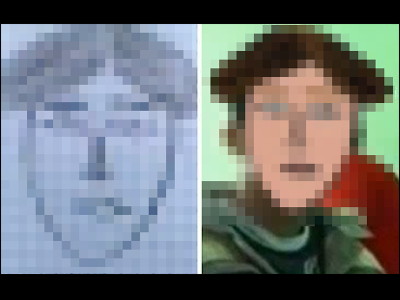 BoliviaPolice arrested a suspect of killing a taxi driver with caution using a portrait reputed as "the world's worst."

It's a portrait that was said to be "Kakashi only appears to the wizard of Oz" and "This can not be a clue", but Japanese people seem to appear in "Chibi Maruko chan" I wonder if it can be seen as a character. Although it may not be able to say "the world's worst", it is certainly a shocking work rarely seen in the history of crime in the world.

Details are as below.World's worst photo-fit helps capture suspected murderer - Telegraph

The taxi driver Rafael Vargas' murder was considered to be "a crime committed by narcotics or a temporary passionate" by the police of Bolivia. The bodies found in March this year were said to have been burned after having been stabbed 11 times with a knife.

A woman who lived in the neighborhood drew a portrait of a suspect rather than a memory, but the surrounding people only responded to "Kakashi who appears in the wizard of Oz" and asked for cooperation by the authorities, and the effect of portrait He said he was skeptical.

This is the portrait. Wide eyes of white eyes · Linear eyebrows · Distorted mouths · Head hair like a roof · Fractured nose · sharp chin ...... Is it a characteristic feature?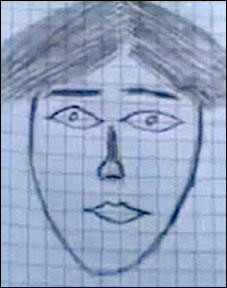 The case was introduced in the news as follows and the excellent workmanship of the caricature attracted a hot topic. Although I do not know what he is saying because it is Spanish, the announcement of the announcer and serious music combined with a really surreal picture.
YouTube - Retrato Hablado Asesino Taxista en Bolivia XD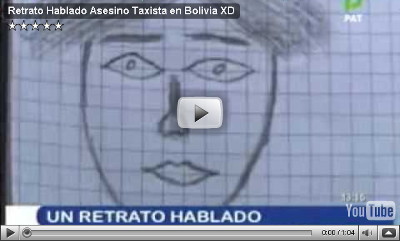 However, according to the report, this portrait became a clue and at least one suspect was arrested by the police after the portrait was announced.

This is a suspect. Because of the law of Bolivia the real name and face photograph can not be issued at the time of charge, arrest was reported by such synthetic photograph.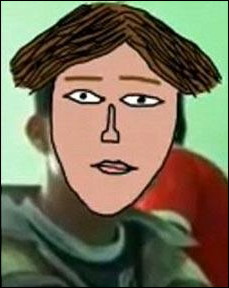 It may be thought that the police investigation ability of Bolivia is very high, but this portrait, which was described as "it seems to be a child's graffiti rather than evidence of criminal science", actually captured the features precisely It might have been excellent.

A portrait and a photograph of the suspect (synthesis) are arranged side by side like this.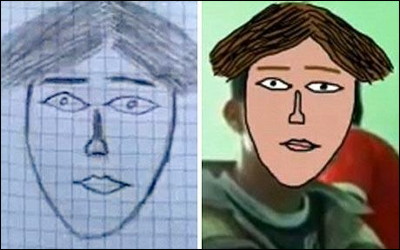 in Note, Posted by darkhorse_log