Teaser Site Opened for the Long-Awaited "Gin Tama" Movie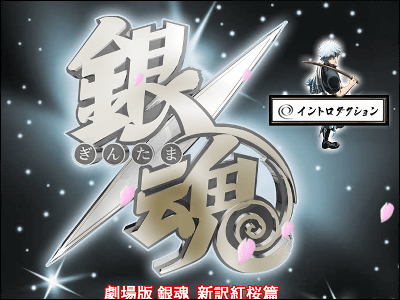 Historical sci-fi manga Gin Tama by Hideaki Sorachi is one of the most popular shonen mangas today, serialized in Weekly Shonen Jump since 2003. It's been adapted to a TV anime, airing since April, 2006, and considering its popularity, fans must have been wondering why haven't it made it to the big screen yet. Finally, the first ever Gin Tama film Gekijo-ban Gin Tama Shin-yaku Benizakura hen(lit. Gin Tama The Movie: New Translation of Scarlet Cherry Blossom Chapter) was announced and a teaser website opened.

Read on for details and pics.
(Japanese)"Gekijo-ban Gin Tama Shin-yaku Benizakura hen" Official Site

The story of Gin Tama takes place in Edo, Japan, which was attacked by aliens called Amanto in the late Edo period. The samurai of Japan fought the aliens, but after their defeat the Amanto placed a ban on carrying swords in public. The plot is focused on an eccentric samurai, Gintoki Sakata who helps a teenager named Shinpachi Shimura save his older sister from a group of aliens who want to make her part of a brothel.

There's not much revealed on the website yet. Click the button on top right to see the "Introduction".


Gintoki Sakata standing in falling cherry blossoms. As the title suggests, cherry blossoms may be a key element in the movie.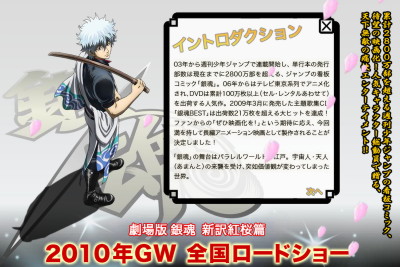 Serialized in Weekly Shonen Jump since 2003, Gin Tama sold over 28 million copies in total to date, becoming one of the best-selling titles. TV anime adaption airing since 2006 on TV Tokyo network has also gained huge popularity, shipping over a million gross copies of DVD (total of sales and rental). The theme song CD Gintama The Best published in March, 2009 also became a best seller, selling over 210,000 copies.
And now, at last Gin Tama is becoming a feature-length film to meet the huge demand of the fans.
The movie will be the retelling of "Benizakura-hen"(Lesson 89 through 97 of the manga, Episode 58 through 61 of the TV anime), thus the title "Shin-yaku(new interpretation)". It will follow the conflict between Gintoki and Nizo Okada over the demonic sword "Benizakura".

The TV anime by Sunrise directed by Shinji Takamatsu(Sora no Manimani, School Rumble, After War Gundam X) has been airing since April, 2006. With daring interpretation and far-out development, the anime sometimes appear as a whole different story from the original manga but it managed to gain wide popularity among both the manga's fan base and new audience. Though the staff of the movie is as yet undisclosed, the teaser site has a link to Sunrise's Gin Tama website so we guess it's safe to assume the movie will be handled mainly by the TV anime's crew. The film will be distributed by Warner Bros.

©Hideaki Sorachi/Gekijo-ban Gin Tama production Committee