ASUS will release two netbook models, the 8.9-inch model for multi-touch operation also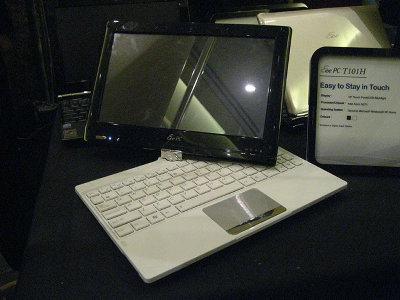 ASUS, famous for its low-priced notebook PC "EeePC" series and low-priced desktop "EeeBOX" series called netbook, has revealed that it intends to release two types of netbooks within the year.

It is said that it is compatible with multi-touch operation, and a model equipped with the optimal 8.9 inch liquid crystal display for mobile is also released.

In addition, the image above is the ASUS netbook announced in January this year "EeePC T101"is.

Details are as below.
Asustek to launch new 8.9-inch touchscreen netbook; to delay 10-inch model

According to this article, ASUS seems to intend to release the netbook "EeePC 91MT" in accordance with the release of Microsoft's latest OS "Windows 7" ahead of October 22.

Based on the netbook "EeePC 91T" equipped with an 8.9-inch liquid crystal display announced in January this year, it adopts a multi-touch interface for the display, it carries a 32 GB SSD and young people under the age of 18 A new software application that considers demand from demand will be incorporated.

Also, models based on the "EeePC T101" equipped with a 10.1-inch liquid crystal display are scheduled to be released in December, but the release timing is said to be around depending on the sales situation of "EeePC 91MT" It is.

Next-generation Atom processor that was scheduled to appear earlier this OctoberIn response to the postponement of the release of the product to the first quarter of next year,New product of netbook which fundamentally reviewed hardware from ASUS and Acer does not appear within the yearReport was made in July, apparently it is supposed to support it ... This is ....