Clearly there is a new work or a sequel to "Code Geass - Lelouch of the Rebellion"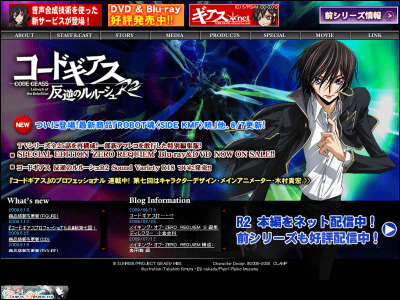 Lelouch Lamperouge, the former prince of the superpower "Sacred Britannia Empire" that dominates the world's third, leads the Empire for the mother's revenge and the future of his sister for the future of his sister "Black Knights" A popular anime that rebelsCode Geass: Lelouch of the Rebellion"It turns out that there is a movement which is very interesting somewhat.

It is the same series thought to be completed in the second series last episode broadcasted from April last year, but is there a possibility such as a new work or a sequel?

Details are as below.
Code Geass Hit ...... !? CODE GEASS Lelouch of the Rebellion R2 / Web ブ ロ グ

According to Code Geass' s official blog, it was said that Mr. Atsushi Yukawa who was a producer of the same series on a whiteboard inside Bandai Visual Company was making a meeting about Code Geass.

Already reconstructed all 25 story of "R2" and added a new dubbing to a part of special edition "SPECIAL EDITIONDespite having finished the sale of the project, I asked the passing staff about what the meeting was being done and found that the staff returned the answer while swimming their eyes as follows.


Well ... ..., ah ... ..., ah. Because, there are various production committees, even if I finish DVD and BD. Here.
It's a very interesting development, but is there a new movement? If a work of a title such as "Complete new work" Code Geass R 3 Returning Lelouch "appears, that might be interesting.