"Check Flash" the complete maintenance utility for your flash memories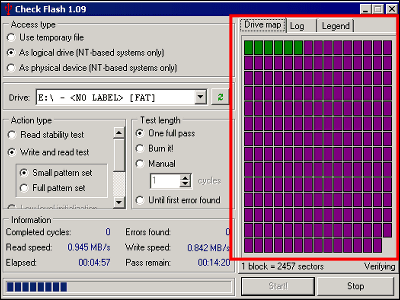 Sometimes you might find really cheap USB flash drives and flash memory cards. But when you use these you have to check them very carefully for errors. This freeware "Check Flash" is the utility suite which enables you to test and maintenance your flash memory cards. It's even capable of destroying your data completely by writing zero into all bytes on a memory chip, for security's sake.

Read on for description and how to download and install.

HOME PAGE OF MISHA CHERKES
http://mikelab.kiev.ua/index_en.php?page=PROGRAMS/programs_en

Access the site above and click to download a ZIP file.



Attach a flash memory you want to test to your PC and then boot ChkFlsh.exe.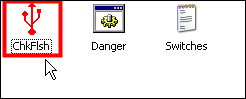 The default window.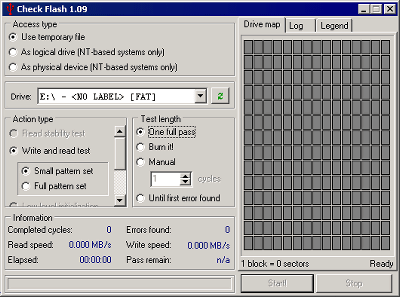 For basic error check, put a check mark on "As logical drive (NT-based systems only)", select a drive, select "Small pattern set" at "Write and read test" and "One full pass" and click "Start!"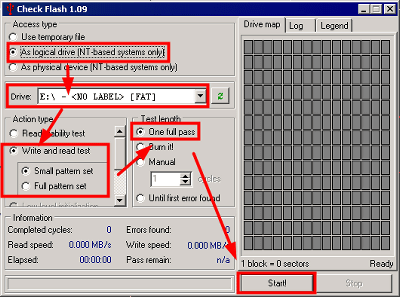 After the test, the software will ask you whether you want to format the drive. Click "Yes" if you want to.



"Pass remain" will show you how long the test will take.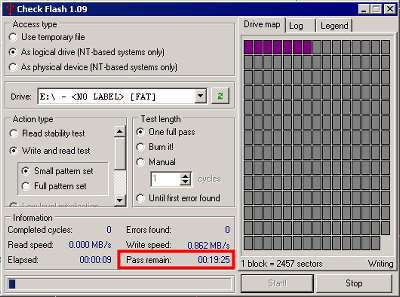 The map on the right show you progress situation.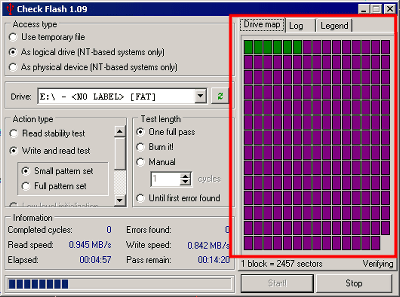 The legend.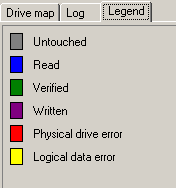 The result will be shown like this. Luckily there were no error found in this USB key.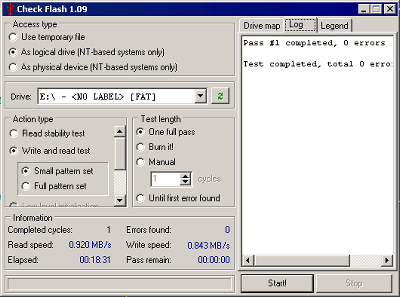 There are three" Access type" provided


Use temporary file: Write and read temporary file on a flash memory. It's safe but the ability is limited.
As logical drive (NT-based systems only): Read and write on each partition in the memory. It's safe and well functioned.
As physical device (NT-based systems only): Physically reads and writes on flash memory, ignoring drive partitions.

And here's "Action Types" provided in the software.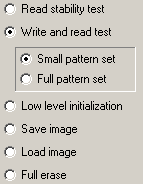 Read stability test: Compare all datas and CRC obtained in first scanning. Used to measure stability in reading.
Write and read test: Write test pattern to a flash memory and then read it and compare them. There are two modes in this test.
 Small pattern set:Using 55h and AAh test pattern.
 Full pattern set:Using 18 different patterns for the test.
Low level initialization: Edit partition information on the selected device.
Save image: Make a image file from selected partitions or devices.
Load image:Load image file and write it back to selected partition or device.
Full erase:Fully erase datas on the flash memory.

"Test Length" will determine how many times you want to test a flash memory



Related Post:
The Complete Instruction of "KeyHoleTV", the world-wide P2P TV viewer - GIGAZINE

"Stellarium" offers your own planetarium on desktop. - GIGAZINE

Extremely Small-Sized Tetris Code written in JavaScript, only 564 bytes long - GIGAZINE

"PDF reDirect" the totally FREE PDF generating software - GIGAZINE