The average adult forgets something three in a day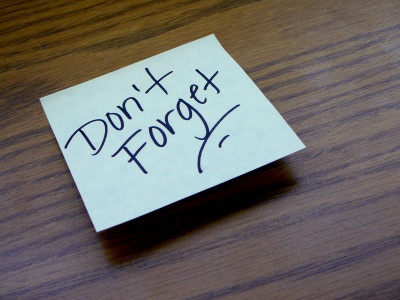 "I have forgotten to take in the laundry", "I forgot where I put the glasses," "I forgot to charge the phone" from the careless system "I forgot her birthday" "Cash cards and credit cards To the things that can develop into troublesome situations such as "I can not remember my personal identification number", it seems that everyone in everyday life has the experience of "forgotten" something.

A survey revealed that an average adult forgets something three times a day. It seems that men are also easier to forget about women than women.

Details are as below.Adults forget three things a day, research finds - Telegraph

BritishNational Lottery(lottery)According to a survey conducted, about 15 million people in the UK population of about 60 million people daily forget to drink coffee or tea while they are in the cup and experience that they are noticed when they are completely cooled, And those who forget who put the keys of the car are about the same. Also, those who forget who went shopping and wanted to buy, people who forget to dry the laundry after turning the washing machine are about 12 million people.

In this survey of 2000 adults and men and women, men forgot something on average 3.5 times a day, the average of women seems to be 2.5 times. 25% of respondents had experienced forgotten important schedule, 6% said that they broke up because they forgot their partner's birthday. It seems that there are only one in every four people who admit that they are "forgetful".

A spokesman for National Lottery says, "Modern people are too busy with work and private, which makes it impossible for them to remember a lot of things they must remember.In order not to forget important information in everyday life Personal computers, phones, notebooks, etc. are useful, I can not prevent tea from cooling down. "

"Frequently forgetful" ranking by questionnaire is as follows. There are also many people who can sympathize.

First place:Forget to drink while tea is hot

Second place:Forget the place where the key was placed

3rd place:I forget what I came to the store to buy

4th:Forget laundry in the washing machine

5th place:Forget to thaw the material before cooking

6th place:Forget to charge mobile phones and iPod

7th place:Forget about suppressing wording in front of children (do not say F * ck)

8th place:Forget to replace toilet paper

9th place:Forget the place parked the car

10th place:Forget the birthday of a friend's child

11th place:Forget to water plants

12th place:I forget my age

13th place:Forget a friend's birthday

14th place:Forget to record TV programs

15th place:I forget to bake bread and burn it

16th place:Forget to write a small thank you note

17th place:Forget the name of a friend's child

18th place:Forget to buy milk

19th place:I forget to lock the car

20th place:Forget where you put the wallet

21st place:Keep cooking in the oven and forget

22nd place:Forget to buy lottery tickets

23rd place:I forget to lower the toilet seat

24th place:Forget to take in the laundry

25th place:I forget to stop the tap of the tap

As measures to remember important dates and times and events, there were many people who wrote memos and stretched around the house mostly, writing in the wall calendar or using mobile phone reminders.
in Note, Posted by darkhorse_log