NTT DoCoMo announces the summer 2009 model, "Eva Mobile" and Japan's first "Android mobile", ultra high-performance smartphones and others appear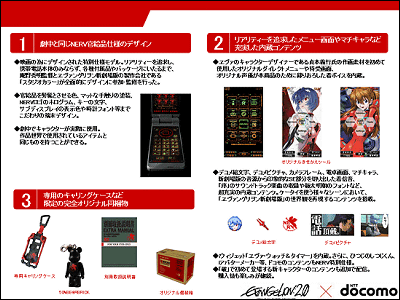 NTT DoCoMo today announced the 2009 summer model.

"Evangelion New Theatrical Version: Destruction" collaborated with "Eva MobileAnd Google's first smartphone that adopted OS for Android for mobile phones, 1 GHz CPUToshiba's super high-performance smartphoneAnd it has become a very powerful lineup.

* Q & A response was added to 15: 42

Details are as follows.
This time we will be announcing all sixteen models of SYTLE series and six PRIME series, two models of SMART series and three PRO series and one type of Evangelion cell phone.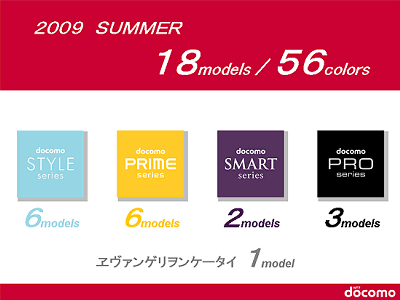 STYLE, PRIME, SMART, PRO in that order.



"I-concier" which delivers information conforming to location information surpassed one million contracts in less than 5 months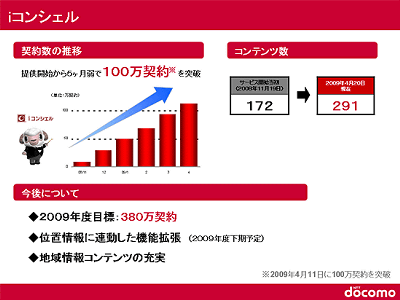 Main features of each model released this time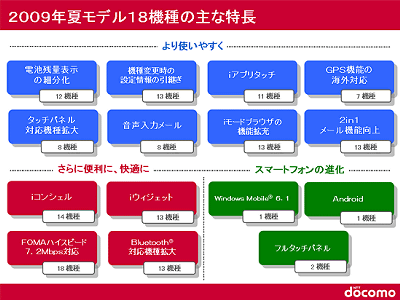 Introduced "i-appli touch", which enables a fight against a communication by simply holding the mobile phones over FeliCa newly. Packet communication charges are also free.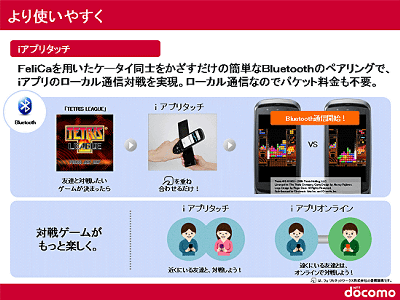 The i-mode browser's function is greatly expanded. You can load pages up to 500 KB.



Corresponds to "voice input mail" that allows you to quickly create a mail with voice.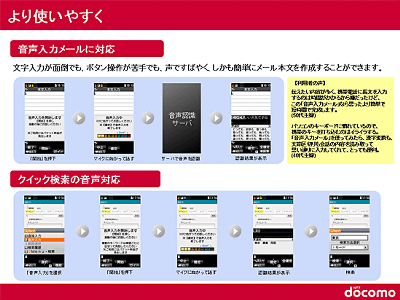 The remaining battery level will be displayed in 5 stages and it will be possible to inherit the setting when changing the model.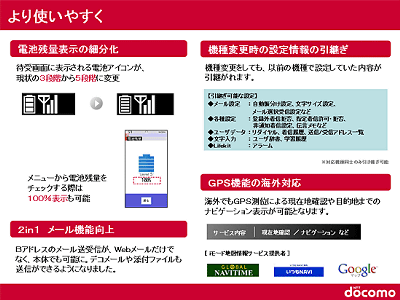 6 models of the STYLE series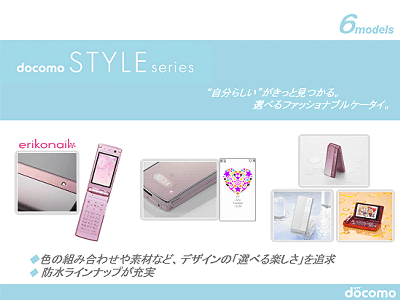 Lineup of beauty waterproof mobile phone "F-08A", simple slide mobile phone "L-04A" equipped with touch panel, "N-08A" equipped with 8.1 million pixel camera.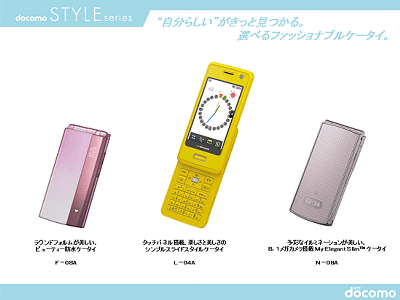 It also includes a swing sliding mobile phone "P-08A" equipped with an 8.1 megapixel camera, a waterproof W open style mobile phone "P-10A", and an elegant waterproof mobile phone "SH-05A" with an 8 million pixel camera.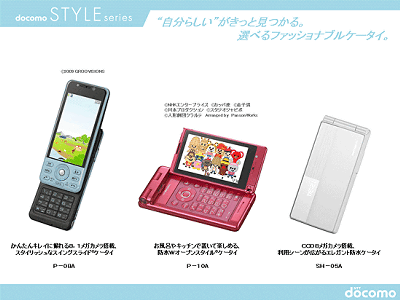 There are also six PRIME series. Models with a 10 million pixel camera model and "i - αppli touch" models, models with a transmission speed increased from 384 kbps to 5.7 Mbps will also appear.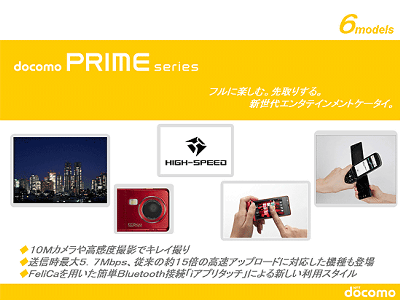 High-spec large screen touch panel & slide side-by-side motion cellular phone "F-09A", touch panel cellular phone "L-06A" equipped with the Google service key, "8.01 million pixel camera and wireless LAN," N-06A "equipped with touch panel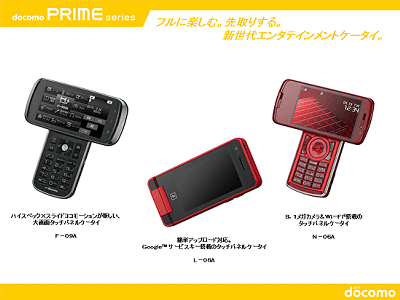 "SPORTS EDITION N-07A" which sports everyday, VIERA cell phone "P-07A" with large screen sub display and 8.1 million pixel camera, "AQUOS SHOT SH-06A" of 10 million pixel camera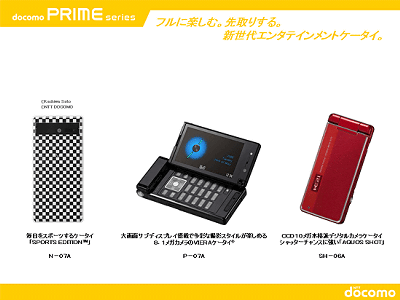 2 types of SMART series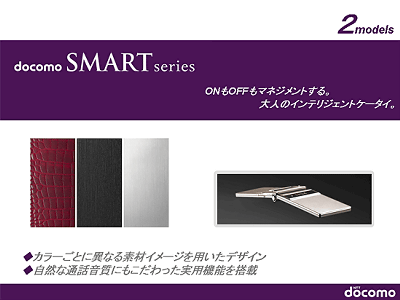 Executive Slim Mobile Phone "N-09A" equipped with 8.1 million pixel camera, "Natural Talk" to realize natural speech quality, "P-09A" with a thickness of 12.5 mm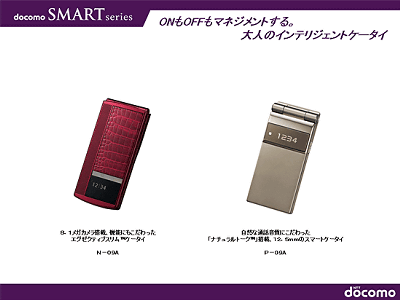 There are 3 types of PRO series.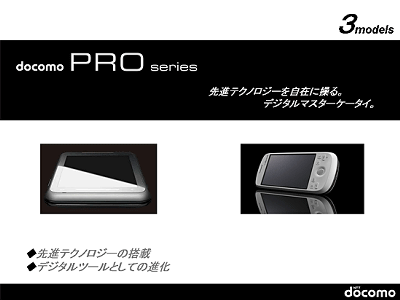 Finally Toshiba 's ultra high performance smartphone "T - 01 A" equipped with 1 GHz CPU with Android mobile phone "HTC Magic" "HT - 03 A" appeared. In addition, AQUOS mobile phone "SH - 07A" corresponding to double one - segment service lineup.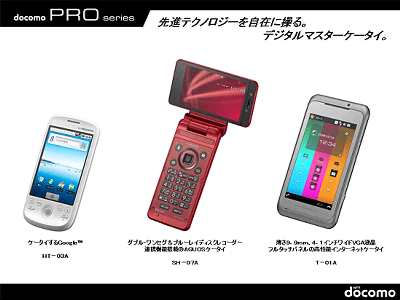 The "NERV special specification mobile" which collaborated with "Evangelion New Theatrical Version: Destruction" also appeared.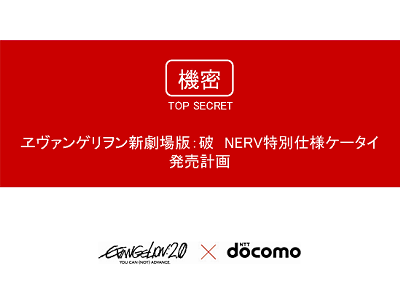 Developed under the concept of "NERV official supply mobile" in general supervision by Anno Hideaki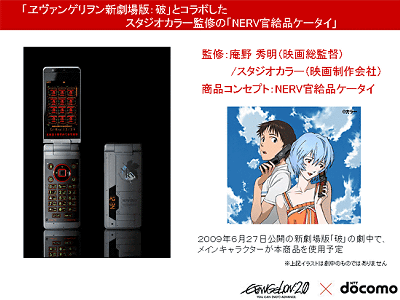 Built-in original dressing tool and decoration pictures. Furthermore, the content of the new character appearing in the movie will be additionally distributed after the release.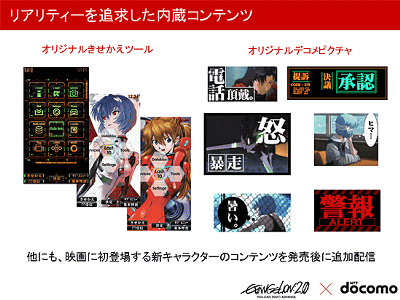 Complete Original Package is like this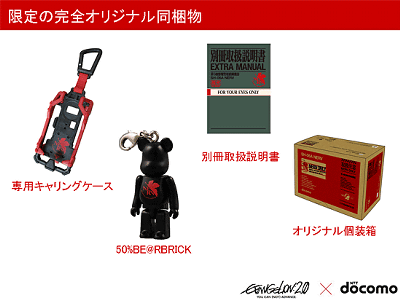 It is limited to 30,000 units nationwide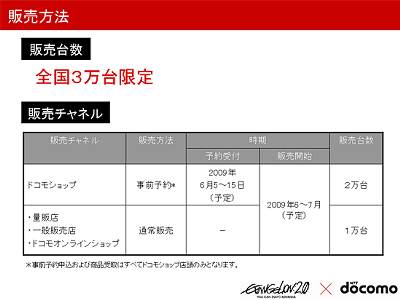 The model name is "SH - 06A NERV".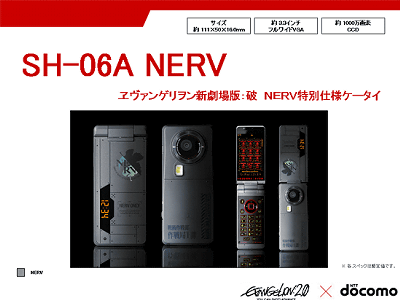 It plans to appear also during the play.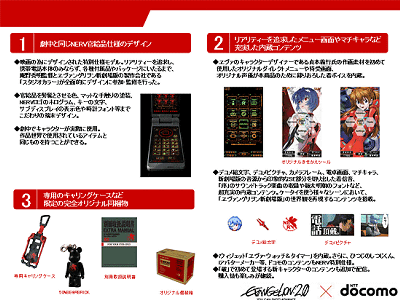 Q & A below.

Freelance Ishino:
Partly overlapping with Softbank's new model announced today. In the past I had released more time but it seems that it has become shorter in recent years. How will you differentiate from now on?

Docomo:
It is my greatest mission to provide customers with convenience (to overlap) so I do not think part of it is OK but in principle I would like to pursue the original model. Just as a rule

Freelance Hashimoto:
Are you planning to adopt a fuel cell for T - 01A?

Docomo:
I think that it is possible to think of things like a lithium battery accident so I want time in terms of security and safety. Also, it is difficult to incorporate things because it has to be thinned. The step of how to do commercialization of external things.

Freelance Inoue:
Until now it has become a problem because USB and Bluetooth were not available in Biz-hodai, but what about T-01A?

Docomo:
T-01A will also do the same way of thinking

Yamashita of NHK:
The google phone was introduced for the first time, but what are its significance and influence, how do you think about changes in user usage?

Docomo:
I think everyone is paying attention to google phones. Like the iPhone I want to differentiate with various services of open applications but google. I would like to provide better products by brushing up Android phone.

NHK Yamashita:
Another point, Docomo was the way to make a terminal with a manufacturer so far. This time I am using overseas OS. How will it affect on making things?

Docomo:
After all it is a matter what the customer chooses. Although the vendor is HTC this time, I'd like to have a domestic manufacturer make it. The impact on domestic manufacturers will not change. I want to integrate imode, open applications, Windows Mobile etc. well.

Q:
I think Android is an epoch making. Where will the docomo appear on smartphones?

Docomo:
Smart phones are worldwide mobile. Because it is not closed only to docomo, it has a lot of supply of software as well as scale merit. It may take a while for how to put DoCoMo's app on board. I will think about whether to put i-mode on now.

Nihon Keizai Shimbun Ogawa:
About the number of models. Although the market is getting smaller, since the number of models has not changed, individual sales number will decrease. How are you devising this? Are you confident that you can sell it?

Docomo:
The target for this year is 19.7 million units as it is also in the business plan. I want to keep it down by 2% since last year. We need to make efforts to buy attractive mobile and buy it. Many customers want cheap mobile, so we issued three models of cheap price in spring. The selling is sold for 1 year span rather than half a year. Since dealers / makers are concerned about the number of sales, I want to manage somehow. We want to prevent the number of sales from falling with the view to sharing materials and software and entering overseas markets.

Mizuho Securities Takahashi:
What is the image of the whole view of Biz mobile phones? How are you thinking based on the results of the previous term?

Docomo:
Docomo smartphone was weak. A smartphone is a market that exceeds 1 million, and I want to take about half of it. I want to see how much needs are in open things. Android has product power, I want to aim half of the share.

Mizuho Securities Takahashi:
Do you think that figures are images of larger things with smartphones and data terminals?

Docomo:
I want to think that it is different as a market.

Q:
Not only for google phones but also for Toshiba, I feel good. How will the composition ratio change with respect to trends in each of the four segments? What is the terminal that will sell for 1 year span specifically?

Docomo:
Both Android and Toshiba are confident terminals. The brand / service of google is attractive and those who want to enjoy google should buy it. The Toshiba 's thing is WindowsMobile with high compatibility with PC, practicality is the best, Toshiba' s UI, thinness technology has the impact to be taken at the shop first. We consider this area as a new market, so if the pro series grows it will be able to secure a net increase.

Regarding the four trends, roughly agree with what originally aimed at, Easy Hong, around 20%, Style 40%, Prime 20%, Style 15%, Pro 5% Pro Proceed as it is. Open terminals are included in Pro for the time being, but we will also consider the impact on other segments from now on.

Moreover, it is the model of Style that can sell for one year, and the target that UI can understand is the target. Because the three models of spring are the design of IE as it is, it is a proof that it can say that I lived for one year. About Smart, Pro will be selling for a long time because there will be no advancement in technology in half a year.

Q:
· What will be the way to sell the new model and the old model?
· It is very similar to Softbank's terminal which was announced today. About the timing of announcement How will DoCoMo respond?

Docomo:
As I changed model number, it is turning to buy old models and new models without much consciousness. I want you to think that the manner of selling is diversifying.

Regarding the timing, it is a problem how far Docomo has the right. There are contents that you want to do only by themselves technically. However, I would like to expect that selling lots of feedback and bouncing back when considering costs. I make individual judgment by considering these.

Mitsubishi UFJ Securities:
The cost of the whole is likely to rise, but how about whether there will be up and down for each model. What is the lower limit? Also, I would like to ask about smart font and i-mode milestones.

Docomo:
It is a little higher than last summer. Although the number is falling and the cost is rising with the waterproof mobile phone, the demand of the customer is also strong. GSM wants to expand roaming because it is an important income. HSDPA at 7.2 Mbps should also be considered when considering the ripple effect on other services. I would like to consider it as a whole by devising features such as commonality or putting inexpensive versions.

How to link i-mode is a point. It is studying what kind of data is common. I want to do basic things such as moving data of phone book firmly. For i-mode mail, there is a mobile version of .net e-mail.

Q:
Differentiation from SOFTBANK, how to sell? Should not it be better to show the differentiation with high technology with more firm numbers? How does the enhancement of i-mode function affect?

Docomo:
Although I think that it is strong, customer satisfaction is also important, such as expansion of callable area. Just a numerical thing is important as an appeal, so I want to put it out. Since i-mode is now available for movies, I want to see more and more fun contents.

Q:
I think that it is structured to eat packets when using the same way as before.

Docomo:
I do not understand anything. Is not it how to make contents?
in Mobile, Posted by darkhorse_log