Is the official name of "PSP 2" to "PSP Go"? Do you have large capacity memory and high quality camera etc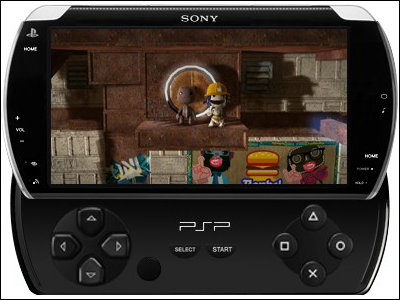 Previously at GIGAZINESony is expected to announce "PSP 2" or "PSP - 4000" as a new type of PSPHowever, the new PSP has a high-quality camera and a large capacity memory "PSP GoIt seems that it may be called the name of.

There is also a story saying to have a touch screenAlthough it is a new PSP, what kind of model will it become? The above image is an image image.

Details are as follows.
New PSP Named "PSP Go", Sony Might Unveil At E3 | Technology Blog

According to this article, Sony seems to announce a new PSP at the computer games trade show "E3" in Los Angeles, USA.

And the new PSP is a model adopting a slide mechanism equipped with a dual analog stick and it is said that it will become 8 GB or 16 GB flash memory after discontinuing UMD and new software according to the release of the new model "Gran Turismo Mobile (Gran Turismo Mobile)" and downloads and sells over 100 old PSP software.

In addition, Sony has introduced the video on demand service "Go! View" and the 1.3 mega pixel external camera "Go! Cam" brand in the European market, and the new PSP is named "PSP Go" with built-in camera There is a possibility that there is the possibility.

Incidentally, there are also named "PSP 2" "PSP-4000", "PSP Slide" and "PSP Flip" as candidates for naming. First of all, it was released in September in Japan and released in the United States from October to November It is speculated.