Bath bombs in candy wrappers looking just like Fujiya's "Milky" Candy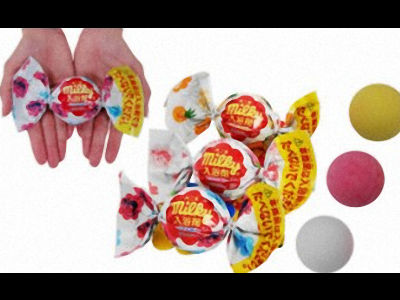 Fujiya's Milky(Jp) is the long-selling chewy milk candy known for its cute package with mascots Peko and Poko, and "Milky wa mama no aji (Milky tastes like Mommy)" jingle. Practically every Japanese ate it at least once in their childhood, you can say.

Now the confectioner is collaborating with BANDAI, to release a bath bomb that looks and smells just like Milky.

Read on for details and pics.
(Japanese)BANDAI Press Release -Fujiya Milky Nyuyokuzai

This is the package of Milky candies. They come in various bags, boxes, and tins but all features Peko, easy to spot.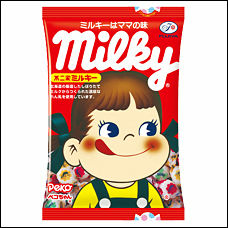 Peko is a six-year-old since 1950. The boy on the right is her boyfriend Poko, seven-year-old since 1951, the year Milky was launched. The dog in the middle is called "Dog".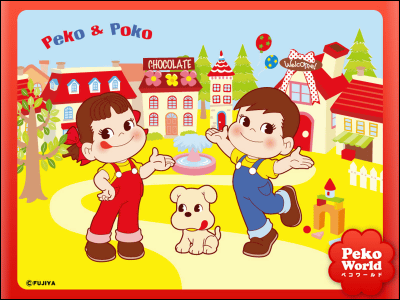 The bath bomb comes in candy wrapper, smells like Milky and contains skim milk as moisturizer. The red letters on yellow strip says "This is bath agent. DO NOT EAT".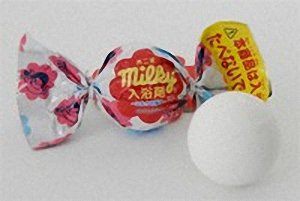 Comes in three colours and scents, "Milky", "Strawberry Milky" and "Pineapple Milky". Looks just like Milky candies except it's considerably bigger.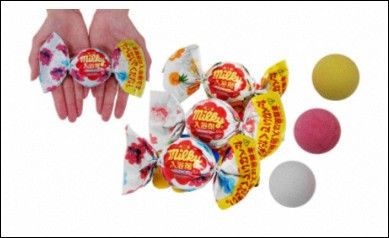 To be on sale at drugstores and supermakets on Feb. 23, for 210 yen (about 2.30 USD) each. These bath bombs bundled with the candies would make a perfect souvenir for girls and children.

You can download cute wallpaper calendar of Peko and Poko traveling around the world from here. They're visiting London now in February, 2009.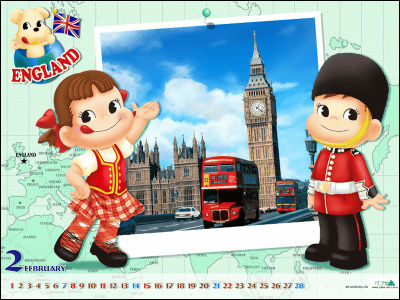 in Note, Posted by darkhorse_log