NTT DoCoMo to Launch Low-Cost and High-Performance Mobile Phone with Google's "Android"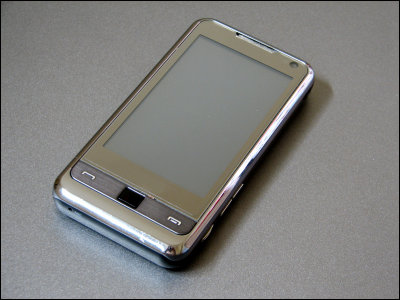 Previously GIGAZINE NTT DoCoMo drastically changed the basic design of mobile phones,Being to intend to launch mobile phones adopting Google's mobile phone OS "Android" by 2010I informed you of the details, but at last the details became clear.

Apparently Android mobile phones that realized high functionality and low price are going to appear a year ahead of schedule.

Details are as follows.
DoCoMo adopts "Google Mobile" free software, released at low price in 2009

According to the Nihon Keizai Shimbun news report, NTT DoCoMo has adopted Google's mobile phone OS "Android" in cooperation with "KT Freetell", the second largest Korean mobile phone company in the cooperative relationship with more than 10% It seems to develop mobile phones.

Terminal price will be cheaper by about 20% compared with the past, and domestic and foreign manufacturers will participate in the development of the terminal, and not only browsing by installing touch panel and full keyboard, Google search service and YouTube , Gmail and other services to make it easy to use. Although it is an interesting release time, we are aiming for 2009.

IncidentallyHTC's "G1" which will be the world's first Android mobile phone announced this SeptemberDespite being a well-balanced model equipped with features such as 320 × 480 3.2 inch touch screen, autofocus 3.2 megapixel camera, Bluetooth, wireless LAN, acceleration sensor on the QWERTY keyboard,It is suppressed to about 17,000 yen, which is lower than "iPhone 3G" which is known for its very low manufacturing cost, The newly developed inexpensive high-performance Android mobile phone may be a killer terminal of NTT DoCoMo.