First place of the game machine I want in the future is PS3 and Xbox 360 also rises sharply, Wii is popular recession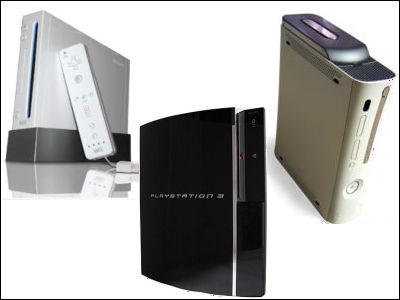 Major price comparison site "Price .comIt was "The latest game machine showdown!According to the research entitled "Sony's PS3, the number one game console I want in the future is said to have been. In addition, Microsoft's Xbox 360, which appeared such as the latest work "Tales of Vesperia" of the "Tales" series that is proud of its strong popularity, is also growing in demand.

However, the demand of Nintendo Wii is lower compared to the previous survey, perhaps it may be that the popularity has begun to disappear.

Details are as follows.
Price .com - The latest game machine showdown! - How often do you play in the game? - [Price .com Research] No.023

According to this page, when investigating the frequency of playing with the game machine to the user who currently has the next generation game machine, it was 19.5%, the user of Xbox 360 answered "almost every day to play" That's right. Subsequently, PS 3 was 18.2%, PSP was 18.0%, Wii was 5.9%.

This is the graph. Wii and Nintendo DS users who answered "I am not doing it now" are 32%, the most frequent. By the way, PS3 was the smallest percentage of users who answered "I do not do it now", but the information content updated daily "Everyday togetherIs it because there are such things?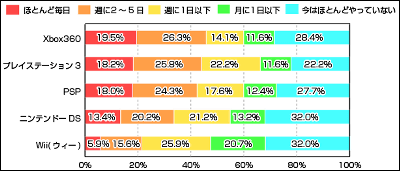 Regarding the item "Game machine playing most during the past half year", only Nintendo DS and Wii have retreated from the previous survey.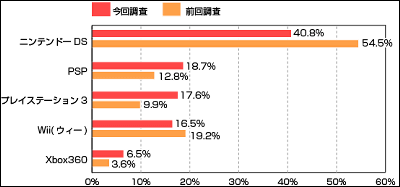 Regarding the item "Functions that have been used in game machines", the PS3 has a prominent browser and movie playback function, whereas the Xbox 360 has a prominent online matchup function and download purchase function, and each feature It is highlighted.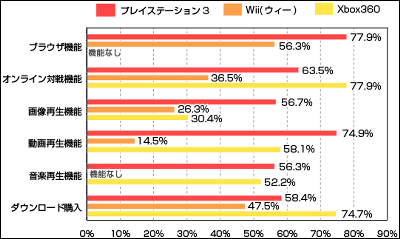 In addition, for "gaming machines wanted in the future", PS 3 won 34.1%, which is significantly higher than the previous 26.9%, and became first place, and PSP also increased dramatically from 6.6% to 19.2%, Xbox 360 also increased from 3.7% to 10.4 %, Whereas Wii decreases slightly, while Nintendo DS slightly increases.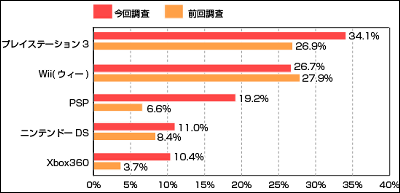 As Nintendo DS and Wii have already gone to many users, it may be thought that this resulted, but in that case the demand for PS 3 and Xbox 360 is increasing as the next generation game machine of the second generation Will you.