Sony declined 60% due to the slump in the electronics business, the game business improved dramatically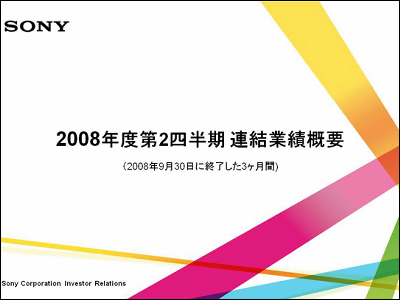 According to Sony's second quarter financial results announced in the second quarter of 2008, the main electronics business declined by about 60% compared to the same period last year due to the slump in unit price declines and the negative impact of currency fluctuations .

Also, regarding the game business you care about, profit and loss has improved significantly.

Details are as follows.
Sony Japan | Results briefing for the second quarter of fiscal 2008

According to the explanation of this performance, in the second quarter financial results of Sony, operating profit seems to be 11.0 billion yen - 90.1% compared with the same period last year. Net profit is down by-71.8% to 20.8 billion yen.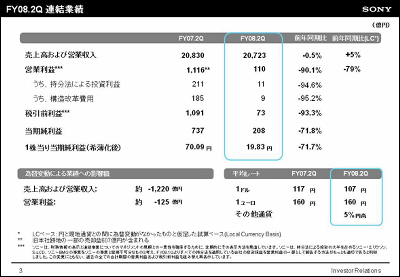 Looking at consolidated results from April, net income is expected to be 55.8 billion yen, 60.2% compared with the same period last year.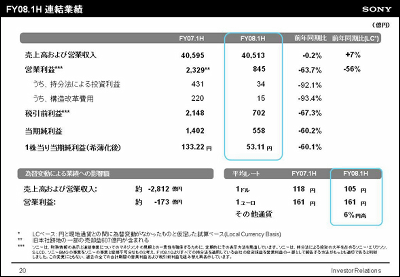 Results by business for the second quarter of fiscal 2008. Operating income of the electronics business decreased by 50 billion yen from the same period of the previous fiscal year, and gaming business improved profitability by more than 50 billion yen from the same period last year.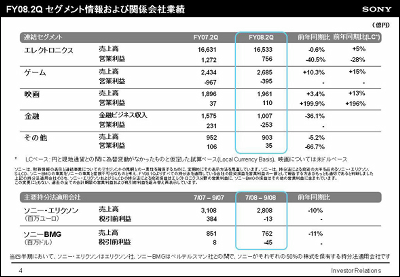 Details of the electronics business. Although the decrease in sales was 0.6%, operating profit decreased by 40.5% due to the deterioration of the cost ratio due to a decline in unit prices, the decrease in investment income by the equity method, exchange rate fluctuations and other factors.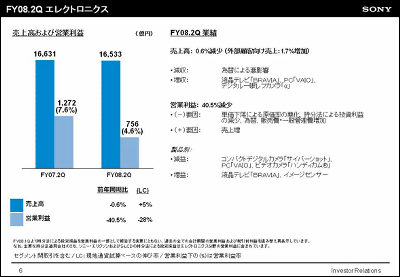 Details of game business. Along with improved hardware cost and software sales, profits and losses in the PS3 business improved, and overall profit and loss improved as a result of strong sales of PSPs. PS2 has contributed to both the hardware and software profit.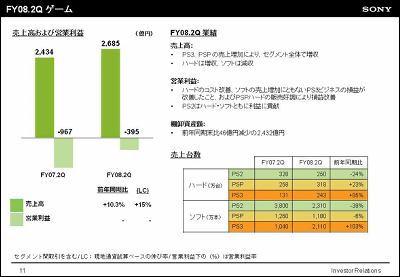 Following a sharp appreciation of the yen, falling stock prices, price competition of productsToshiba will have a final deficit of 38.4 billion yenAlthough other large household appliance manufacturers other than Sony are forced to fight difficulties, it is a place to worry about what will happen in the future.