Further details of the new type Nintendo DS are found, high resolution large LCD and high image quality camera loaded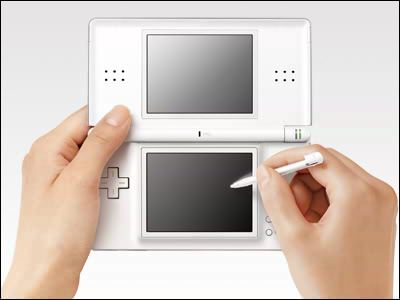 The other day at GIGAZINEA new model of Nintendo DS equipped with a camera and equipped with a music playing function will be released within the yearI have informed you about new information.

The new Nintendo DS is equipped with a high resolution large liquid crystal and the camera will be high quality.

Details are as follows.
Source Confirms New DS Hardware Includes Camera | DS Village

According to this article, the software developer of Nintendo DS said about the specification of the new type of Nintendo DS.

According to it, the liquid crystal mounted on the new type Nintendo DS becomes larger than before, and it has a higher resolution than the resolution of the current liquid crystal, 256 × 192 pixels, as well as the 16: 9 It is not a wide liquid crystal of the conventional, but to adopt the same 4: 3 liquid crystal as before. In addition, the current two-screen style is said to be maintained.

And when I tried photographing with a camera mounted in the prototype of a new type Nintendo DS, it seems that I was able to enjoy a very clear photography with being equipped with a high resolution camera. In other words, does it mean that cameras with at least 300,000 pixels to 1.3 million pixel classes are installed?

I'm wondering how you can take pictures you take advantage of in the game, but it is a very worrisome Nintendo conference to be held on October 2nd tomorrow.