Lelouch and C.C. of "Code Geass" will voice your favorite line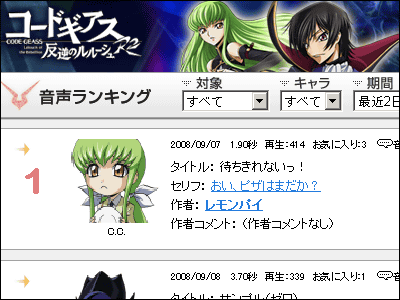 A new website has launched where the voices of the hero Lelouch and heroine C.C. of "Code Geass" are composed artificially and you can make them say whatever words you fancy.

(Japanese)KoeLabo

When a user's registration is done, the voice of "Lelouch" and "C.C." from "Code Geass" can be composed free at this site "KoeLabo". It requires InternetExplorer6.0 or Firefox2.0, and an email adress.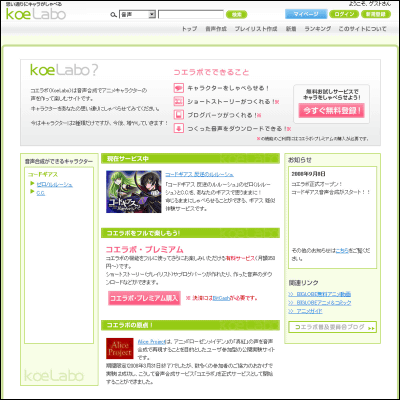 First you choose your character (C.C. or Lelouch), then imput phrases up to fifteen letter (unfortunately, only Japanese characters could be used, no alphabet) and choose the character's expression (puppy dog eyes, sulking, begging, exclaiming, and so on), make it a question or general sentences, and let them speak. You can even make them sing by adjusting pitches and tempo.

The website is preparing for pay-service "KoeLabo premium" (350 yen/month) as well, and paying-users would be able to download the voices, the maximum letter count will be extended to fifty, and playlists could be made to let it soud like the characters are having conversations. More characters from the anime are planned to be added soon.

You can listen to popular lines composed by users from the link below, including jokes, endearments, famous TV jingles, some witty remarks and quirky anecdotes. No cuss words or obscenity.

(Japanese)voice ranking | KoeLabo