Capcom's game software "Lost Planet" will be filmed in Hollywood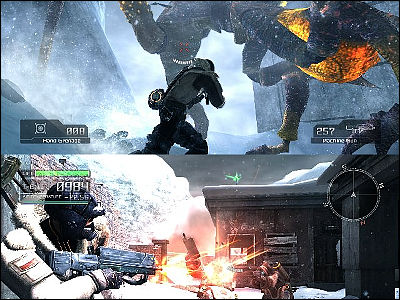 According to the announcement of Capcom Inc., it is said that he decided to make a movie at that popular game "Lost Planet" in Hollywood.

The original game software "Lost Planet Extreme Condition" is an action shooting game that elucidates the truth hidden by extremely cold stars, released the first version at Xbox 360 in December 2006, new titles We achieved unusual million sales, after that we released the PC version in July 2007 and the PlayStation 3 version in February 2008 and shipping more than 2 million units in total until now (July 16, 2008 It is a popular title typical of multi platform strategy that Capcom promotes.

Details of screenwriters and producers are from the following.
The movie "Lost planet" is a screenwriter who invited David Hayter who worked on the script of the first movie "X-Men" and producer and Avi Alad, renowned producer for the movie "Spider-Man" series , Seaside Company (President Stephen Paul) as a production company, I will go forward. Moreover, it is scheduled to be released worldwide by distribution of Warner Brothers, and it is as follows.

【Movie "Lost planet" overview】
1. Title name: Lost Planet (tentative title)
2. Distributor: Warner Brothers (Worldwide)
3. Release date: scheduled for release in 2011

【Producer: Biography Alvado Biography】


Major prodis work
· "X-Men" 2000
· "Spider-Man" 2002
· "Spider-Man 2" 2004
· "Spider-Man 3" 2007
· "Hulk" 2003
· "Daredevil" 2003
· "Punisher" 2004
· "Electra" 2004
· "Ghost rider" 2007
· "Bratz" 2007
· "Iron Man" 2008
· "Incredible · Hulk" 2008

By the way, Capcom is supposed to be a movie, and it is feeling like this as follows.

2009: Live action film "Street Fighter: The Legend of Chun-Li (Tentative)"
2009: Movie "Clock Tower"
2011: Movie 'Onimusha'

Also, it is said that full CG feature film "Resident Evil Degeneration" is also making intensive work. Although it seems that the good advances in the abundant lineup seems to be continued, "Rockman" "Makai village" "Devil May Cry" etc will be made into a movie soon ...

2008/07/16 11:22 Addendum
According to the story from the reader, it seems that "Holywood May Cry" has already reached a basic agreement on Hollywood live action film.

Capcom and Gaga agree on the Hollywood live-action movie of Capcom's popular game "Devil May Cry"

When will it be completed ... ?.
in Note, Posted by darkhorse