Copy-free BS / CS digital broadcast tuner "Freio (black)" drops to limited sales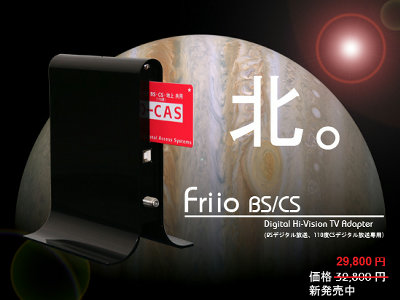 Taiwan's digital high-definition television adapter released as a copy-free terrestrial digital tuner, and a spectacular competition went unprecedented each time it is resoldFriio (Free)"BS digital broadcasting and 110 degree digital CS broadcasting compatible"Freeio (Black)It will be sold with price cuts.

Since it was a price exceeding 30,000 yen in the past, it may be good news for those who did not reach it.

Details are as below.
Friio - Digital Hi-Vision TV Adapter "Freeio"

According to this page, BS / CS correspondence model "Freeio (black)" of the digital Hi-Vision adapter "Freio" will be sold in limited quantity from 19 o'clock today. The price is 29,800 yen.

By the way, it is not compatible with terrestrial digital broadcasting, and it requires B - CAS card for use. Since PayPal's credit card payment is required for purchase, detailsOrder pageSee for example.

As a background to this price drop,IOO dataYaPixela,BuffaloTuner that supports terrestrial digital broadcasting and BS / CS digital broadcasting is expected to be released one after the other, etc., but is there a possibility that the digital terrestrial broadcasting support model will drop down?