Nico Nico Douga declares to delete all copyright infringing videos in TV stations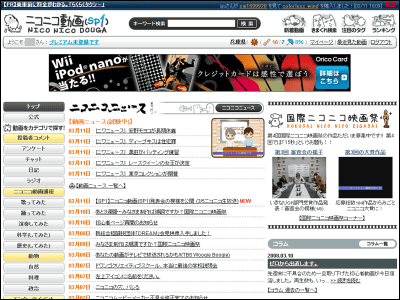 The other day we moved from "RC 2" to "SP 1"In addition to improved image quality, various functions have evolvedPopular video sharing service "Nico Nico DougaHowever, it seems that every television station company declared to delete all videos infringing copyright.

This is done as part of protection of rights, not only newly posted videos, but also existing videos will be deleted.

Details are as below.
(PDF file)Notice on countermeasures against infringing copyright videos

According to this release, as a countermeasure against copyright violation animation, it is said that an application form has been submitted to six television stations from Niwango which operates Nico Nico Douga.

This is to delete all existing copyright infringing videos uploaded to Nico Nico Douga, to monitor newly posted videos, and to apply for immediate removal of videos infringing copyright , And submitted to NHK, NTV, TBS, Fuji TV, TV Asahi, TV Tokyo.

We will continue to strengthen our efforts to protect rights based on dialogue with rights holders, content holders and organizations and associations, and we will properly deal with copyright infringement issues based on requests.

How does the user respond to this effort? It is worrisome.