Nico Nico Douga moved to SP1, various functions such as image quality improvement evolved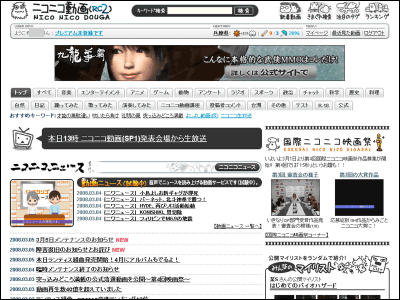 Today from 13 o'clock, the popular video sharing website "Nico Nico video" is making a presentation to shift the version from the current "RC 2" to "SP 1", but the details of Nico Nico Douga (SP 1) are revealed among them I have done it.

It seems to evolve in various aspects such as SNS conversion, including high image quality of moving images.

We will deliver it in a quick reporting system.

Details are as below.
AlreadyAs I reported in GIGAZINE the other day, Nico Nico Douga (SP1) seems to be making high quality moving pictures. Specifically, it supports H.264 codec and improves the bit rate of moving images from the current 600 kbps to 800 kbps.

The transition to SP1 will take place from 6 pm today, premium members will be able to upload videos up to 8 GB, as well as external players that can paste videos on blogs etc. are also offered, You will be able to watch it.

Then, the top page design is changed, a page for beginners is prepared, and a self-introduction page "My Page" like SNS which can see my list and posted video list is implemented.

Moreover, as "Nico Script" is improved, it becomes easier to play back movies more than ever, including setting of areas where comments will not flow.

In addition to being able to post videos easily even for beginners even with beginners, "Nico Nico Movie Maker" for animation creation support software and news video creation software "Nico Nico news maker" is released, as well as Wikipedia which can write nico-nico terms "Nikoniko A great encyclopedia "is also set up.