Yuki City issues a gift certificate using the character "Lucky Star"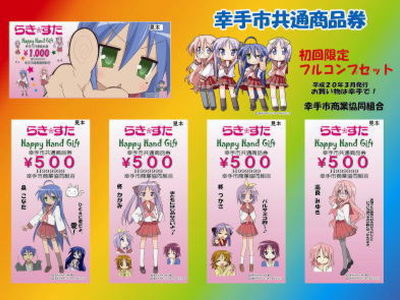 "Lucky ☆ Star"Is a manga based on Miyuki Kagami's original, a work that has been popularized as a media mix for animation and games. The stage of the work is set in Saitama prefecture, the high school where hero and Izumi Konata attend is Kasukabe Kyoei High School as a model, Konata's house isSaitama kotoba cityIt is thought that it is in. This time, it seems that Satte City decided to issue a gift certificate using "Lucky Star" character for PR and regional promotion of Papa · Mama supporting shop business.

Details are as follows.
Papa · Mama Supporting Premium Gift Certificate & Lucky Starter Coupon Issuing Commemoration Project

According to the above site, the gift certificate is a total of 5 kinds of 500 yen tickets using the main character Konata, Kagami, Tsukasa, Miyuki, and four types of 1000 yen tickets that arranged 4 characters mainly for Konata, 2000 sheets will be issued each. In addition, as a first time limited, 1000 sets of full comp are sets sold on a first-come-first-served basis, with a set of five gift certificates of the same number as special set.

Konata 500 yen ticket.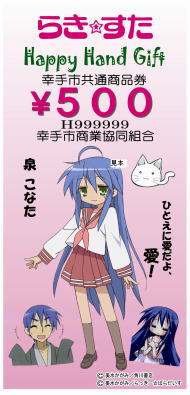 Kami 500 yen ticket.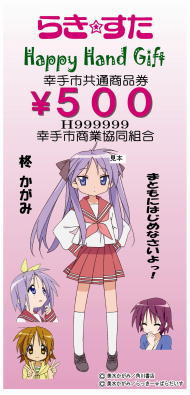 Tsukasa 500 yen ticket.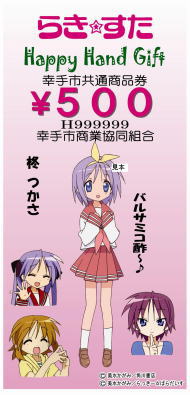 Miyuki 500 yen ticket.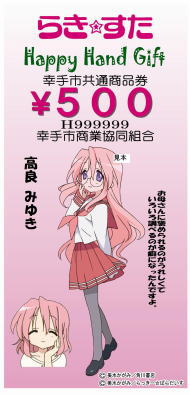 1000 yen ticket centered on Konata.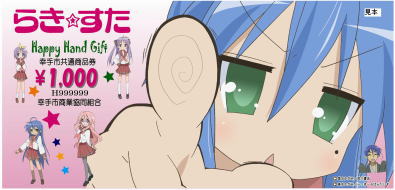 Three times sales of full-comp. Set. The date and time are
Sunday, March 30 (Sunday) 13:00 to 19:00 within Satie City Commerce and Industry, Satte City Commercial Cooperative Association
April 5 (Saturday), 6th (Sunday) 10: 00 - 16: 00 Yukito City Community Center Cherry Blossom Festival Birth City
Saturday, April 12 (Sat) and Sunday 13 (Sunday) 10: 00-16: Satte City Shokai Chamber of Commerce, Satte City Commercial Cooperative AssociationIt has become.

Sales are limited to one person per person. Single item sale is also available at the Yukio City Commercial Cooperative Association office on the regular business day (Monday to Friday, Monday - Friday, 9 o'clock - 12 o'clock, 13 o'clock - 17 o'clock) and the "Sachi Sakura Festival" It is said to be done in. This is limited to 2 people per person.

Although it is not possible to designate the number by selling full comp. Sets, it seems that you can make a reservation for numbers by applying with a round-trip postcard. How to write a postcardIt is summarized in PDF. The deadline for number reservations is postmarked March 10.

In the New Year's visit this year, although there were effects such as a considerable increase in the number of worshipers of Washimiya Shinto shrine which became one of the stage of "Lucky Star", how much can these gift certificates sell at a momentum .

· 20:25 postscript
In addition to gift certificates in the Society of Commerce and Industry in KotohichiSakura petal type mobile phone strapIt seems to sell goods such as. It can be seen that there is considerable fuss.

Yukito City Commerce and Industry Official Blog