Yahoo! JAPAN's SNS "Yahoo! Days" is Free Participation System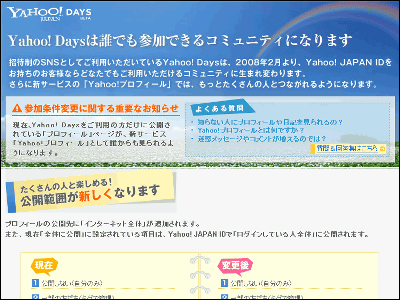 Yahoo! It seems that we will abolish the invitation system of SNS (social networking service) "Yahoo! Days" operated by JAPAN and make free participation system.

This makes Yahoo! It is possible that anyone with JAPAN ID will be able to participate in Yahoo! Days and there is now the possibility of becoming an SNS of a size exceeding the largest mixi in the country.

Details are as follows.
Yahoo! Days

According to this page, Yahoo! JAPAN is SNS "Yahoo! Days" operated in February, abolishing the invitation system which had been done so far, Yahoo! It is said that it will shift to an open system where all users with JAPAN ID can use it.

In addition to launching a service called "Yahoo! Profile" in place of the "public profile" function that can be used instead of your business card on the net, you can also make it possible to make the profile public to the whole net.

Note that users' display names, profile pictures, friends lists, and introductions from friends in the profile are made public on the "whole Internet", and it is not possible to set the disclosure range, so you need to be careful.

IncidentallyAccording to the mixi page, As of May 20, 2007 it is said that the number of registered users exceeded 10 million people, but againstYahoo! According to the page of JAPAN, Yahoo! as of December 2007 It seems that the total number of users who have JAPAN ID reaches 21.36 million.

Will new "Yahoo! Days" be a threat to mixi?