Pizza Hut ties up with popular animation "Maria-sama ga miteru"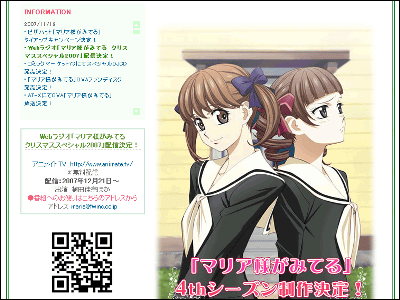 Popular anime with Pizza Hut set in girls' high school "Maria-sama ga miteru"It is said that it will do campaign tied up.

During the campaign period pizza is ordered and will be delivered in a package of "Maria sama ga miteru" design, as well as gifts for gifts etc will be held.

Details are as follows.
■ Lilian Kawarimashi News & amp; Report 2007/11/19
● Pizza Hut "Maria-sama gimmeiru" tie-up campaign is decided!

According to this release, Pizza Hut is going to implement a web campaign tied up as "Maria sama ga miteru" from Monday, January 7, 2008 to Wednesday, February 13, 2008.

When purchasing M size pizza during the campaign period, pizza will be delivered in pizza box of "Maria-sama gimme" design, and within the members site of Pizza Hut clubs will draw for members and wallpaper for personal computer wallpaper and mobile phone The standby image of the gift is given.

This is a pizza box of "Maria-sama ga miteru" design.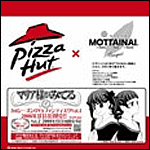 This wallpaper is presented to members.



Furthermore, among users who used online orders, 30 people will be presented with "Maria-sama gift" goods such as "Starring voice actor autographed goods" and "3rd season OVA fan disc Vol.1" by lottery.

By the way Pizza Hut is an animation "Code Geass: Lelouch of the Rebellion"And the currently released movie"Evangelion: New Theatrical Edition"It seems that they are doing a tie-up plan as well.