Suntory, releasing 'Tyrant Habanero's Soup' collaborating with Higashi Hato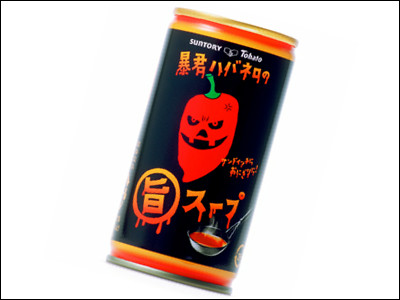 East Hato started from October 29To release 'super tyrant Habazelo spicy 2.0 times' and 'Daishū Maro Joroquia'I picked up soup "Tyrant Habanero Soup" that collaborated with East Hat from Suntory is going to be released all over the country from November 6 (Tue). The price is 115 yen without tax.

It seems that it is a soup of features that I want to drink again, but it seems that it really can be done with that ... / /.

Details are as follows.
"Tyrant Habanero's Soup" New Release
- "Newly spicy" soup by collaboration with "Tyrant Habanero" new appearance -

According to this release, "Tyrant Habanero's Soup" to be released this time is a product developed on the theme of the world view of "Tyrant Habanero", and it seems that it is a soup drink featuring "hot spicy" that you want to keep drinking again is. It is recommended to enjoy with rice balls and sandwiches as well as when you are a little hungry or want to warm up.

It has a juicy umami taste of cooked tomatoes, onions, chicken and others thoroughly in addition to the exciting spicy of spicy chili "Habanero", so you can enjoy it with meals, it will become addictive spicy We are finding it to be finished.

That is to say that it is a mild spicy, contrary to Habanero's spicy image. I will let an editorial staff member who is not good at painful things have it.