Ace cook "Backfire Tonkotsu Ramen found in Hakata"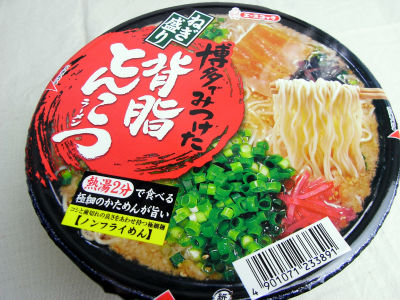 I ate Ace cook "Tokoro Tonkotsu Ramen found in Hakata" which is on sale from September 24th. Slug and pork bone soup are often involved, and the other day 'Origin Nagahama shop cooperative pork bone ramenIt was a taste similar to that.

Details are as follows
Backfire Tonkotsu Ramen found in Hakata | September 2007 New product information | Ace co., Ltd

Raw material is like this. Contents of the mushrooms are green onion and spiny.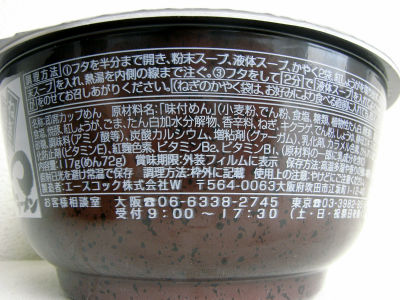 There are five small pouches. Two quickly, liquid soup, powder soup, red ginger.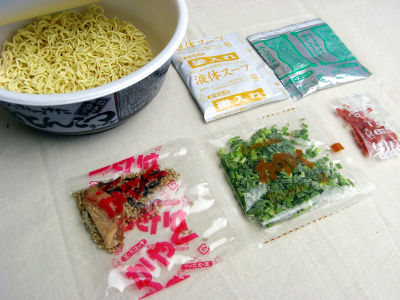 Put 2 bags of soup and powder soup quickly and pour hot water and wait for 2 minutes. It seems that bags of green onions can be put in after a while.



I just opened the lid.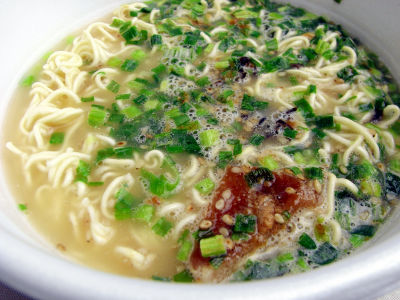 Pour liquid soup.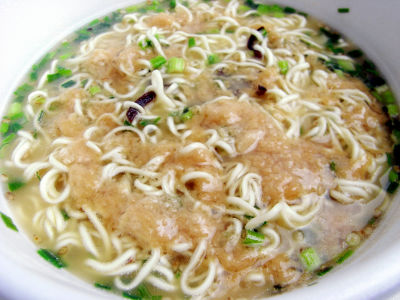 Mix well and put red ginger into finish.



Anyway, it is thin. It is thinner than Nagahama shop's, and it looks like a somen. As the syrup was made to be tangled often with the soup at the time of sipping, I finished eating all at once without having to rest my hands. I did not have much ingredients, I wanted it to be a bit luxurious if possible. It is greasy with a rich flavor, but it was not that much heavy feeling.