"Pinky muscle beef turtle" that collaborated with Kinnikuman appeared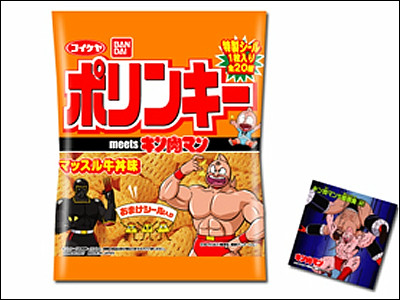 As the second part of collaboration project "Lion Ponder and Bandai", "Polinkey meets Heroes", "Polinkey" and "Kinnikuman" became one "Polinkey Muscle Beef Noodle Taste" appears to appear.

It was released nationwide from Monday, October 29, and the price is an open price. There are 20 special seal in all.

Details are as follows.
The second collaboration between Frente Group and Bandai! It is! "Polinkey Muscle Beef Noodle Dishes" released from "Polynotey meets Heroes" series from October 29

According to this release, "Pinky Muscle Beef Noodle" is a long-selling product "Lin seller" released by Lake Ikebaya since 1990, "Kinnikuman" which celebrates the 29th anniversary in January 2008 as a character It seems to have adopted it.

Flavor adopts "muscle beef turtle" after beef rice which is the favorite of "Kinnikuman". It is said that beef - donba taste which added rich flavor to the flavor of meat and onion is feature.

In addition to the main character "Kinnikuman", the popular characters "Warsman", "Terryman", "Robin Mask" popular three people appear together with "Three Pinkeys", together with the snacks, Kinnikuman vs. One battle scene of popular superhumans such as Warsman and a special seal (20 kinds of all) with printed impressive scenes etc. are bundled.

There seems to be someone who can catch up with the desire for a seal, is this.