Software for DS that supports women's "beautiful" "Saeki Tizu-type dream beautiful skin"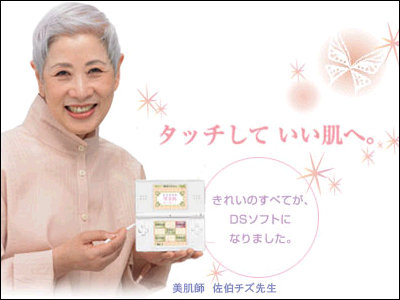 For Nintendo's handheld game machine "Nintendo DS", beauty navigation software that supports "beautiful" female "Saeki Tizu formula dream beautiful skin (Yumemi is)It is said to be released on October 18 this fall. 4500 yen including tax. First of all I write, but it is not to scratch the face of Nintendo DS separately or give skin a moderate stimulation with a stylus to skin care.

In order to keep youthful and beautiful skin forever, many women are suffering from skin roughness due to disorder of hormonal balance and measures concerning skin troubles, knowledge for keeping beautiful skin, how to check the skin, such as skin care It seems to be easy software to learn about general efforts.

Starting with brain training,TOEIC countermeasure softwareAndSoftware to learn business mannerThere are many practical software such as DS, but this time I am surprised because it is beauty.

Details are as follows.
Beauty navigation software "Saeki Tizu formula dream beautiful skin (Yumemi Hase)" (Nintendo DS), which supports women's "beautiful", released this fall

According to this release, software for the Nintendo DS "Saeki Tizuma Yume Mi na" was appointed as International Training Manager of Parfan · Christian Dior in 1988, and continued to the guidance of beauty staff until 2003 , It is to learn the skin care technique of Mr. Saeki Tsuzu, a beauty skin master who touched the skin of more than 2,000 women a year and worked to solve the problem, the main features are as follows.

· Continuous management of basic body temperature in diary style
The daily basic body temperature measured to grasp the state of hormonal balance important for skin making is useful as a "beautiful skin diary" that can be recorded for one year together with body weight data by simple operation with a stylus about.

Hormonal balance check is like this.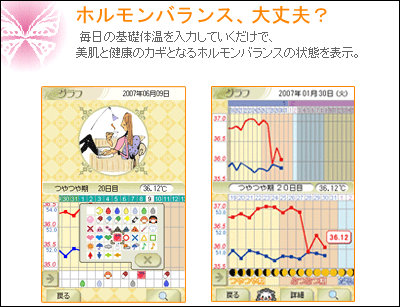 · Learn useful knowledge for skin making
By answering the check items such as skin condition and basic body temperature, it is possible to display advice suitable for the skin condition of the day. By having entertainment property, it is possible to learn knowledge about beautiful skin while having fun, to be able to continuously manage physical condition and skin change, as well as collection of recipes useful for beautiful skin and columns.

I checked my skin. There is also a recipe.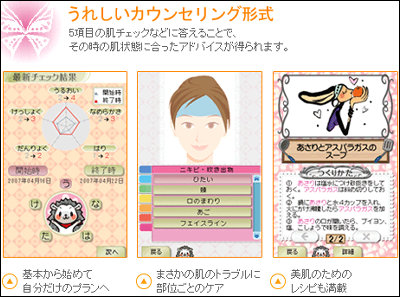 · Includes live-action video and easy-to-understand explanation
It is a live-action video actually Mr. Saeki appears and will explain skin care in general, including how to check the skin.

Skin care that will actually explain with animation.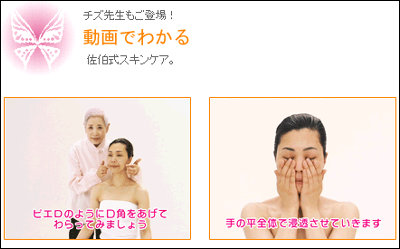 Yamato sako bean knowledge. Thailand is bent.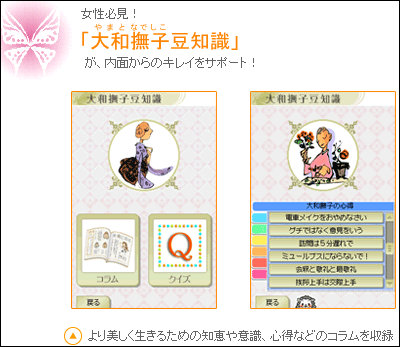 Women who are concerned about rough skin may be necessary checks. In addition, a pre-site has been opened.

Dream beauty - Yumemihada - / Pre site
in Game, Posted by darkhorse_log