SD memory card that can be used even in harsh environments such as burning, extremely cold, underwater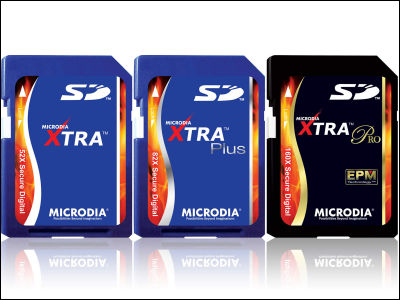 SD memory card "MICRODIA SD memory card" which is usable even if it is always submerged and is also strong against heat, cold, humidity, sand, dust, static electricity and shock, clearing the 1.5 m drop test is. It may be for those who want to shoot in harsh environments such as high temperature and humidity, low temperature drying, rain or underwater.

"XTRA" at 52 times speed, "XTRAPlus" at 82 times speed, "XTRAPRO" at 160 times speed are prepared, and the capacity is 1 GB and 2 GB. The release is on May 3rd (Thursday), and the price is supposed to be around 2,800 yen in "XTRA" 1GB model.

I think that the durability of the camera will become a problem this time when trying to make full use of this ruggedness.

Details are as follows.
MICRODIA World's fastest · highest quality SD memory card product information

According to this release, the operating environment temperature of the "MICRODIA SD memory card" is -40 ° C to 85 ° C, the operating environment humidity is 5% to 95%, the shock resistance is 1000 G at 1.5 G and the drop test is also cleared, the read / write cycle 100,000 times, withdrawal and reinsertion cycles more than 10,000 times, MTBF (mean time to failure) is one million hours.

Furthermore, underwater type waterproof / dustproof performance equivalent to JIS protection grade 8, and electrostatic protection function are applied, 160 times speed "XTRAPRO" series comes with international permanent warranty.

Is it safe to put it in the washing machine while it is in this pocket?