PSD file that you can freely modify "I Love" Favicon set included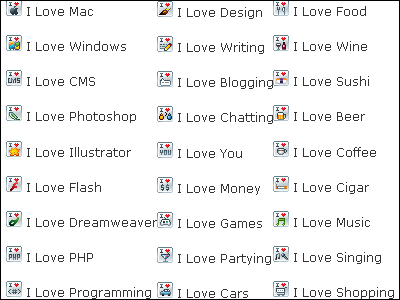 It is famous for distributing icons and vector arts of very high quality and commercially availableN. Design StudioStarted distributing an interesting set of Favicon from this month. Since PSD file which became original material is also included, it is also possible to make your favoricon.

Download from below.
I Love Favorite Icon

Some of them contain GIF files and ICO format files, so you can use them immediately by changing the name. The inside PSD file is "I" and the heart mark are layers, respectively, and it is a form on the background image. So, by adding the distributed mini icon to the layer and adding it, the favoricon of the favoricon is finished.

Commercially available icon set "Mini Pixel Icons" can be downloaded from the same site, so it is interesting to combine with this.

Mini Pixel Icons

Also, since commercially available vector art is also distributed, if it is shrunk as it is it can become Favicon, it can also be combined. Application range is quite wide.

Free Vector Cliparts

Various tutorials are also substantial. Just recently a new Halloween pumpkin tutorial etc has been added.

Illustrator Tutorials

Also, when I first introduced it with GIGAZINE and the design of the site has been changed, the wallpaper "Phoenix" made at that time is newly added. Cool.

Design Wallpapers

There are also other icon images for MSN Messenger.

MSN Display Pictures

By the way, the administrator of this site,Nick LaHe lives in Toronto, and his profession is a professional graphic / web designer and a free person. After leaving school, though I intended to work with the skills of Photoshop and Illustrator, I did not go well, but I pushed the technology as long as I could bring hands to FlashA site made entirely of FlashPublished, this has become the focus of attention, variousworkIt is said that it became possible to leave.