Seamlessly connected LCD display "Radius 320" with three screens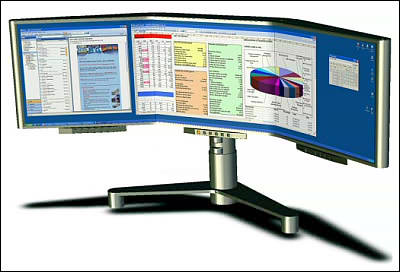 Dual display seems to increase production efficiency, but the problem is the seam of the display. This is seamlessly connected to make the seams invisible to the "Radius 320" this time.

The resolutions are really all connected and have an ultra-huge size of 4800 × 1200. It is not just a thing.

the detail is right below.

Radius 320

It is actually 1.26 meters when connecting by a diagonal line, and the angle of the connection between monitors is 30 degrees. Weighs 38 kg, heavy ....

But it seems that it seamlessly seamless.