Moss Burger New Item "Nan Curry"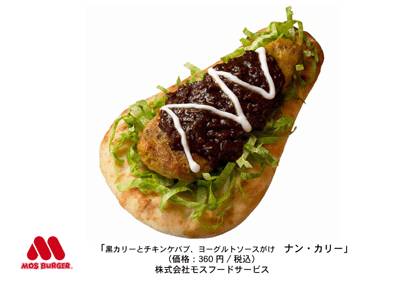 From Friday, July 7, 2006 until the beginning of August. The price is 360 yen including tax.

that? Did not I have Nan Curry? Thinking it and looking it up, it was "Nan · Curry Dog" "Nan · Tacos Spice" "Nan · Tacos Fruit" "Nan · Tacos Avocado" · "Nan · Tacos". The survivors of this time are "Nan · Tacos Avocado" and "Nan · Tacos". Why is it avocado ....

Below, the details of "Nan Curry".
A popular classic item 'Nan' series in summer and 'Lassie' outstanding compatibility with Nan
"Nan · curry" new release with attractive kebabs with voluminous feeling!(PDF: 52KB)


● "Black curry and chicken kebab, yoghurt sauce ginkgo nang · curry" (360 yen / tax included)
On top of the lettuce which was made with Shakijaki, put the kebab (※) using the chicken mince, put on a refreshing curry sauce and refreshing yoghurt sauce.
In Kebab, vegetables such as onions and shisats, and spices such as turmeric and coriander are kneaded in, and it finishes spicyly summerily. Coriander is said to have an effect to increase appetite, it is perfect for the current season where appetite tends to drop. In addition, we added raisin paste and prune puree to the original curry sauce to give a refreshing sourness, furthermore add almonds and steamed stewed thoroughly. The fragrant kebab baked with direct flame and the curry sauce which is slightly sweet and sour taste are felt in spicy. A finished white yoghurt sauce is a summer seemingly dish that gathers the taste in a refreshing manner and has a good looking appearance.
※ Kebab is a generic term for dishes cooked by grilling meat in Turkey and the Middle East region. Beef, mutton, chicken etc are made of various kinds of meat.

So it looks quite delicious. I hope it does not get too hot.