Attorney General's office begins investigation on Tesla's autopilot and fully automatic driving function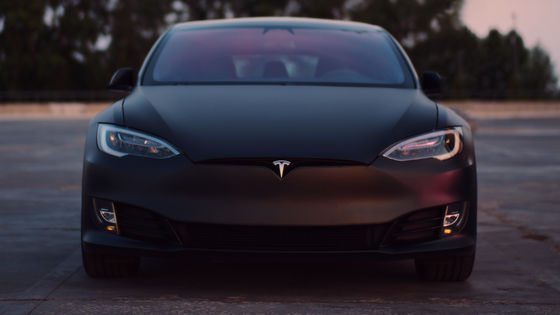 A CNBC investigation reveals that the California Attorney General's office is collecting information from Tesla customers and former employees about '
autopilot
safety issues' and 'complaints about deceptive advertising content.' I was.
Tesla's Autopilot feature under investigation by California attorney general
https://www.cnbc.com/2023/07/26/tesla-under-investigation-by-california-attorney-general.html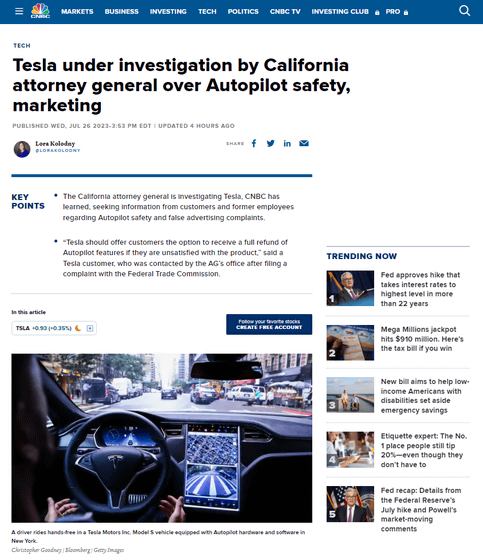 Tesla under investigation in California over Autopilot safety issues and false advertising - The Verge
https://www.theverge.com/2023/7/26/23809183/tesla-autopilot-investigation-false-advertising-california-attorney-general
Tesla's Autopilot under investigation from California attorney general: report - MarketWatch
https://www.marketwatch.com/story/teslas-autopilot-under-investigation-from-california-attorney-general-report-b35b9fe2
California prosecutor investigating Tesla over Autopilot program - Los Angeles Times
https://www.latimes.com/business/story/2023-07-26/california-ag-investigating-tesla-on-autopilot-safety-false-advertising
After the Department of Justice, the SEC, and the California DMV, the Golden State's Attorney General Is Also Now Investigating Tesla's FSD
https://wccftech.com/after-the-department-of-justice-the-sec-and-the-california-dmv-the-golden-state-attorney-general-is-also-now-investigating-tesla- fsd/
Greg Wester, owner of a 2018
Model 3
, described 'phantom braking' (a car suddenly turning on for no apparent reason) he experienced while using Autopilot, Tesla's driver-assistance feature. in August 2022, filed a complaint with
the Federal Trade Commission
(FTC).
Mr. Wester seems to have paid hundreds of thousands of yen for Tesla's fully automatic driving function
Full Self Driving (FSD)
in the United States, but he told the FTC that he felt that he was deceived by Tesla about this FSD. I'm here.
In the second quarter of 2023, it was revealed that analysts from the California Attorney General's Office are interviewing Wester about Tesla's electric vehicle (EV), which is mentioned in the complaint. Mr. Wester shared audio data with CNBC when he was interviewed by analysts. CNBC reached out to the California Attorney General's office, which confirmed that the analyst who interviewed Wester works at the office.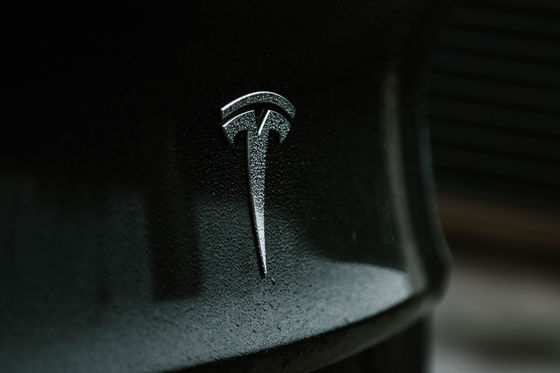 Furthermore, after that, the California Attorney General's Office issued a statement via CNBC saying, ``To protect our integrity, we cannot comment on potential or ongoing investigations, nor can we deny or affirm them."

Tesla's phantom brakes are a known issue that has resulted in frequent complaints from the public to federal agencies. If phantom braking occurs, the vehicle could be in danger of being rear-ended.

Elon Musk, co-founder and CEO of Tesla, has promised that the company's EV will gradually add features through software updates and work to improve the automatic driving function. Tesla and Mr. Musk are often calling for the realization of fully autonomous driving functions, but what Tesla's EV actually offers is '
level 2
' autonomous driving, where the driver holds the steering wheel and applies the brakes. It's something you need to do.
Therefore, Mr. Wester commented, ``Tesla should offer the option to receive a full refund of the autopilot function if the customer is not satisfied with the product.'' Furthermore, he also mentioned Tesla's FSD, ``Although Tesla purchased a function that claims to be fully automated, it actually provides an automated driving function that is far from complete.''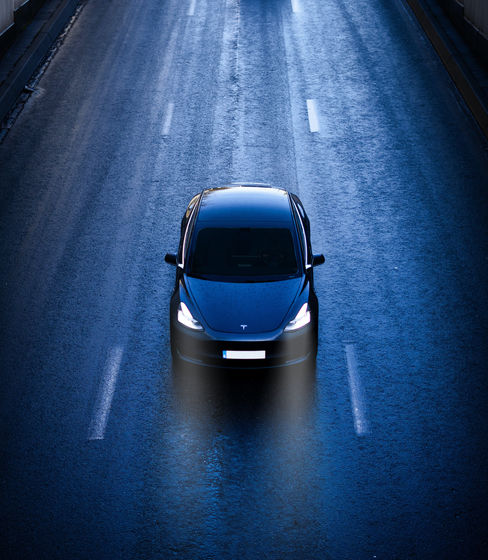 Mr. Wester is not the only Tesla customer contacted by an analyst at the California Attorney General's Office. A former Tesla employee whose family purchased a 2021 Model 3 with the FSD option was contacted by an email in July 2023 from a senior legal analyst in the California Attorney General's Office Consumer Protection Division. told CNBC. In this email, it is revealed that the California Attorney General's Office is actively interviewing multiple parties.

The former Tesla employee's name has not been disclosed to protect his privacy, but he has publicly expressed concerns about Tesla's autopilot and FSD safety issues in the past.

It is not uncommon for US law enforcement agencies to review consumer complaints submitted to the FTC via an online database called the Consumer Sentinel Network. The Consumer Sentinel Network will be able to access 'reports submitted directly by consumers to the Federal Trade Commission' and 'other reports shared by data providers'.

Tesla has so far revealed that the Department of Justice has requested documents related to Tesla's autopilot and FSD, but has not disclosed that it is being investigated by the California Attorney General's Office. ``If the government decides to take enforcement action, it could have a material adverse effect on our business, operating results, outlook, cash flow, and financial condition,'' Tesla said.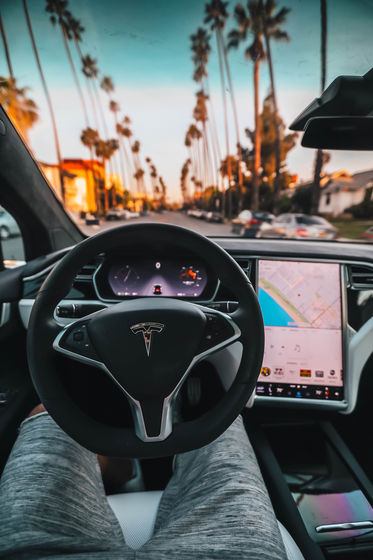 The California Department of Motor Vehicles (DMV) has also been investigating Tesla's autopilot and FSD for many years, and has officially accused Tesla of deceptive behavior in the company's marketing.