The dark site ``Genesis Market'' is closed by FBI and Europol's ``Cookie Monster Operation'', 119 people are arrested & the damage status confirmation site is also released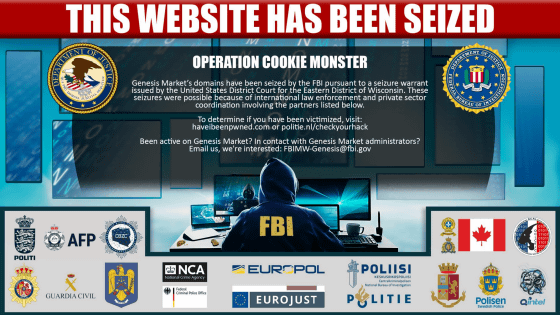 The Genesis Market, a crime platform that sells personal information, has been closed due to the international cooperation operation ' Operation Cookie Monster' of investigative agencies such as the Federal Bureau of Investigation (FBI) and the European Criminal Police Organization (Europol). I was. It is also clear that 119 people were arrested as a result of the operation.

Criminal Marketplace Disrupted in International Cyber Operation | OPA | Department of Justice

https://www.justice.gov/opa/pr/criminal-marketplace-disrupted-international-cyber-operation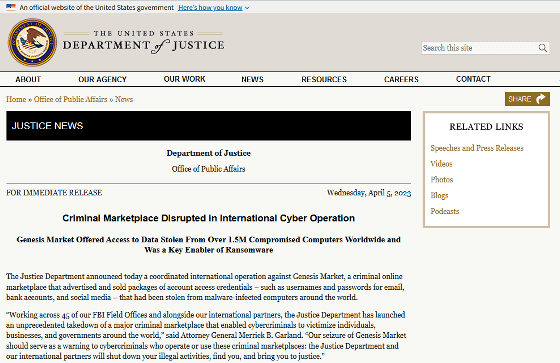 Takedown of notorious hacker marketplace selling your identity to criminals | Europol
https://www.europol.europa.eu/media-press/newsroom/news/takedown-of-notorious-hacker-marketplace-selling-your-identity-to-criminals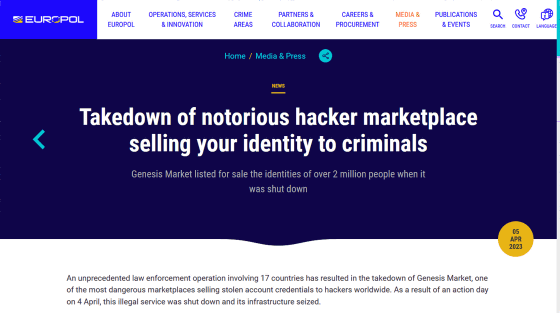 The 'Genesis Market', which was closed this time, is a criminal platform that sells information stolen by cyberattacks. In the Genesis Market, the malware used to steal data is called a ``bot'', and it is said that transactions were conducted by specifying a bot and selling the entire ``information collected by each bot''. The price of each bot ranges from 0.7 dollars (about 100 yen) to several hundred dollars (tens of thousands of yen), and the data to be traded includes 'web service account information', 'form auto-fill data', 'cookies', and 'cookies'. Browser
fingerprints
' etc.
The investigation into 'Genesis Market' was led by the FBI and the Dutch police, and finally Australia, Canada, Denmark, Estonia, Finland, France, Germany, Italy, Holland, New Zealand, Poland, Romania, Spain, Sweden.・ Developed into an international operation 'cookie monster operation' in which the investigative authorities of Switzerland, the United Kingdom, and the United States (in alphabetical order) cooperate. And in April 2023, we succeeded in closing 'Genesis Market'. At the time of writing the article, when you access 'Genesis Market', the following image marked 'THIS WEBSITE HAS BEEN SEIZED (this website has been seized)' will be displayed.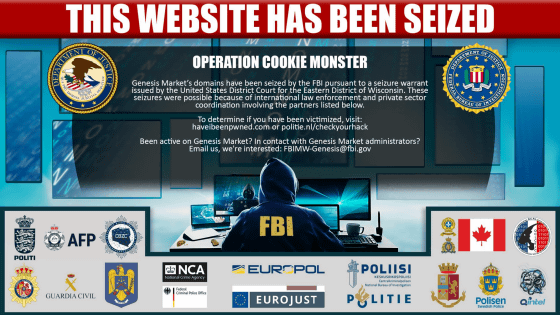 In addition, the Dutch police have released a 'website where you can check if you have been damaged' in line with the closure of 'Genesis Market'. To use the verification site, first click the link below.

Check your hack | politics.nl
https://www.politie.nl/en/information/checkyourhack.html

When you see the screen below, scroll down.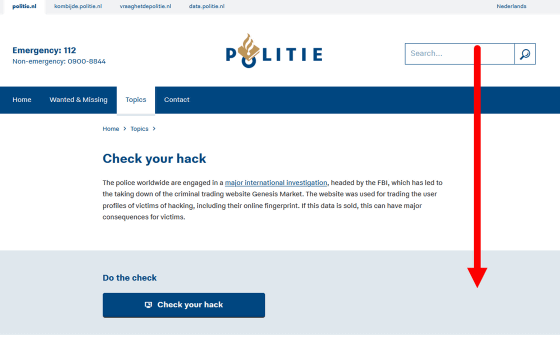 After scrolling to the bottom of the page, enter the email address used by the account you want to check the damage status in the part marked 'Enter mailaddress here' and click 'Check'.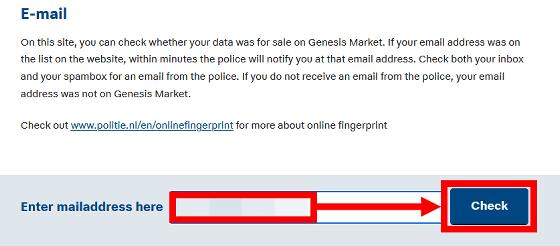 When the green notification is displayed, the operation is completed. If your account has been damaged, a notification about the damage will be sent to the email address. Conversely, if there is no notification, it means that you have not suffered any damage.