European Commission decides to make mobile communication available on board aircraft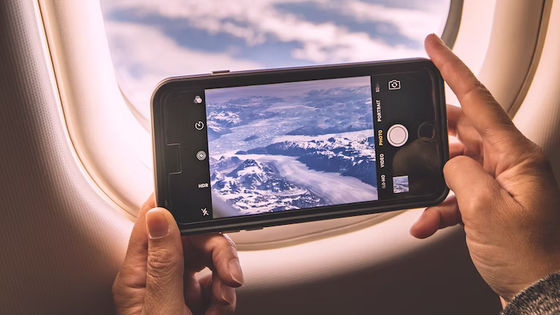 When using an aircraft, there is a guide to put your smartphone or PC in airplane mode before takeoff, and you can use the Internet on board only when the operating aircraft provides Wi-Fi service. The European Commission has announced that it will designate specific frequency bands for in-flight mobile phone use, enabling the widespread deployment of 5G services on aircraft.

5G on planes, Wi-Fi on the road – Commission decision opens up new opportunities for innovation | Shaping Europe's digital future

https://digital-strategy.ec.europa.eu/en/news/5g-planes-wi-fi-road-commission-decision-opens-new-opportunities-innovation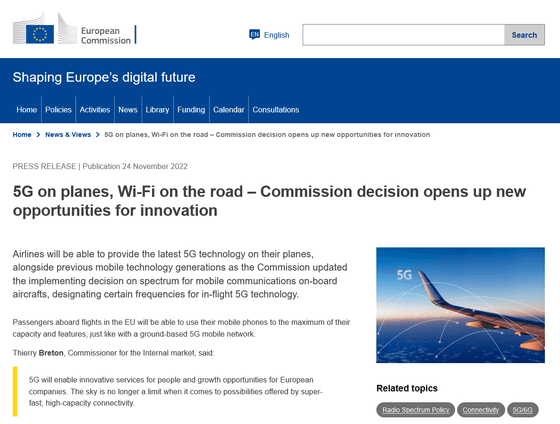 EU Opens Up 5G on Planes, Making In-Flights Calls More Likely - Bloomberg
https://www.bloomberg.com/news/articles/2022-11-24/eu-opens-up-5g-on-planes-making-in-flights-calls-more-likely

Bye-bye airplane mode: EU allows smartphones during flights
https://www.brusselstimes.com/eu-affairs/327229/bye-bye-airplane-mode-eu-allows-smartphones-during-flights

According to the European Commission's decision, passengers taking flights within the EU will be able to use the phone and internet as well as 5G-based networks on the ground.

As a mechanism, it will be connected to the ground mobile network via the satellite network via the micro base station / picocell mounted on the aircraft, which is similar to the in-flight Wi-Fi. Until now, in order to connect a smartphone to the network on an airplane, you had to put it in airplane mode and then connect to the in-flight Wi-Fi service, but this eliminates the hassle.

Apart from the European Commission's decision this time, SpaceX, led by Elon Musk, will start providing Starlink Aviation, a satellite internet service for aircraft, from 2023.

'Starlink Aviation' to make satellite internet available in the aircraft will start in 2023, with a maximum of 350 Mbps, ``the same experience as accessing the internet at home,'' Elon Mask boasts-GIGAZINE

In 2020, the U.S. Federal Communications Commission canceled the plan to allow in-flight voice and data communication services using mobile radio frequencies, citing strong opposition for safety and national security reasons. increase.


in Ride, Posted by logc_nt