FBI closes dark web black market 'SSNDOB' where 24 million people's personal information was bought and sold


The FBI seized the domain of the black market 'SSNDOB' in the dark web, which handled personal information of more than 24 million people such as name, date of birth, social security number and sold more than 2.5 billion yen, and forced it to close. I found out that.

SSNDOB Marketplace, A Series Of Websites That Listed More Than 20 Million Social Security Numbers For Sale, Seized And Dismantled In International Operation | USAO-MDFL | Department of Justice

https://www.justice.gov/usao-mdfl/pr/ssndob-marketplace-series-websites-listed-more-20-million-social-security-numbers-sale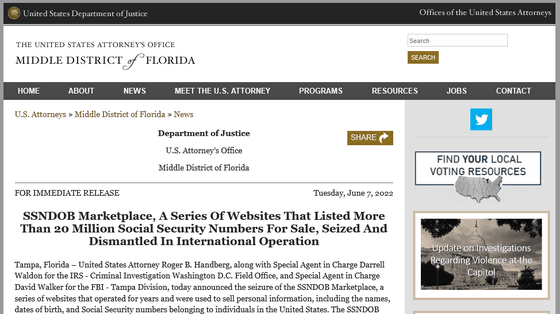 US seizes SSNDOB market for selling personal info of 24 million people
https://www.bleepingcomputer.com/news/security/us-seizes-ssndob-market-for-selling-personal-info-of-24-million-people/

FBI takes down dark web marketplace for US citizen personal data --CyberScoop
https://www.cyberscoop.com/ssndob-darkweb-jokers-stash/

'SSN DOB' is a black market where you can buy personal information using Bitcoin, and it has been operated for many years, with sales of more than $ 19 million (about 2.5 billion yen). The median purchase price is 220 dollars (about 30,000 yen), and in many cases it has been confirmed that 100,000 dollars (about 13 million yen) are purchased.

The FBI, in collaboration with Cyprus and Latvian law enforcement authorities, has seized four domains, 'ssndob.ws,' 'ssndob.vip,' 'ssndob.club,' and 'blackjob.biz,' effectively shutting down SSNDOB. rice field.

Cybersecurity company Advanced Intel told news site Bleeping Computer that much of the data was collected through data breaches of medical and hospital affairs.


in Note, Posted by logc_nt