Announcement of 'Microsoft Power Pages' that makes it easy to design, build, and publish business websites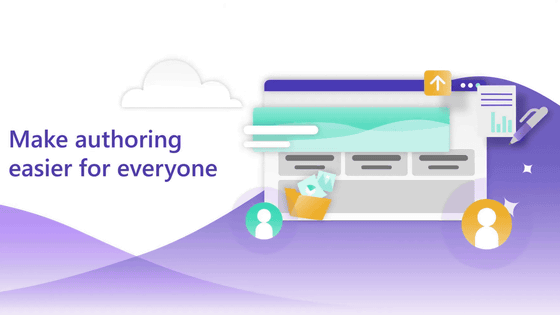 Microsoft has announced Microsoft Power Pages , the fifth product in the
Microsoft Power Platform
family of
low-code development platforms
, that makes it quick and easy for anyone to build a business-centric website.
Announcing Microsoft Power Pages: Build secure, low-code websites | Microsoft Power Pages
https://powerpages.microsoft.com/ja-jp/blog/announcing-microsoft-power-pages-build-secure-low-code-websites/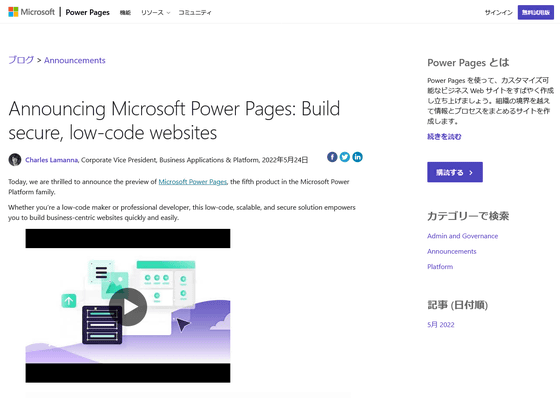 Microsoft's Power Platform can now build websites and turn images into apps
https://www.xda-developers.com/microsoft-power-platform-build-websites-apps-images/

'Microsoft Power Pages' is a tool that allows you to build a responsive design website with basic design and features without having to write a single line of code yourself. Previously, there was the ability to easily create portal sites and customize pages, layouts, and content within the 'Microsoft Power Apps' platform, but it will be offered as a standalone product again.

It's easy for anyone to create a site, and it comes with developer tools that integrate with other Microsoft services such as Visual Studio, GitHub, and Azure DevOps to help you implement your business requirements. ..

A video that roughly summarizes what can be done is released.

Say hello to Microsoft Power Pages --the newest member of the Power Platform --YouTube


At the same time, a new function 'Express Design' of 'Microsoft Power Apps' was announced.

New: turn images and designs into apps using AI-powered express design | Microsoft Power Apps
https://powerapps.microsoft.com/en-us/blog/new-express-design-in-power-apps-converts-images-and-designs-to-apps-in-seconds/

This means that you can create web apps and mobile apps by incorporating all kinds of designs, such as PDF files, Figma design files, and even hand-drawn sketches.

The ingestion is done by advanced AI trained to recognize common application elements and automatically generates an application with a user experience and data schema that runs on Microsoft Dataverse.