Data center power consumption exceeds rural housing figures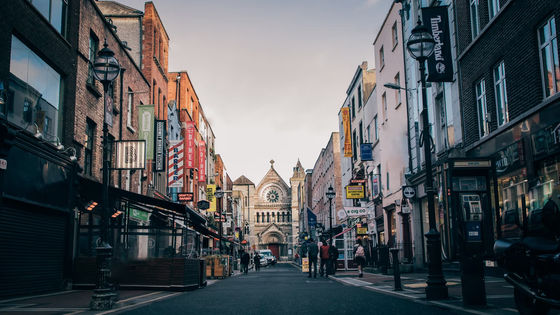 A study by the Central Statistics Office of Ireland found that data center power consumption increased by 32% from 2020 to 2021 to consume more power than rural homes.

Data Centers Metered Electricity Consumption 2021 --CSO --Central Statistics Office

https://www.cso.ie/en/releasesandpublications/ep/p-dcmec/datacentresmeteredelectricityconsumption2021/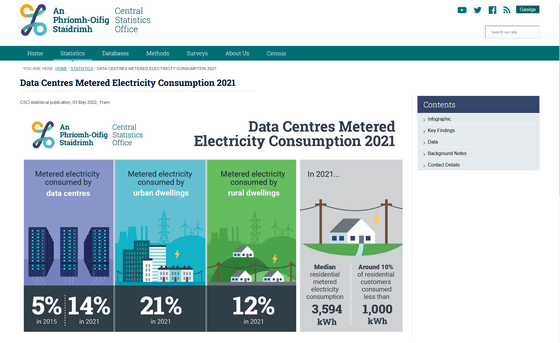 Data centers now consuming more electricity than rural homes --CSO
https://www.irishtimes.com/news/ireland/irish-news/data-centres-now-consuming-more-electricity-than-rural-homes-cso-1.4868221

According to statistics, the power consumption of data centers is increasing steadily, and the rate of increase was 265% when comparing the January-March 2015 period and the October-December 2021 period.

In terms of percentage, it increased from 5% in 2015 to 14% in 2021, which is lower than 21% for urban housing but higher than 12% for rural housing. It has become.

If data center power consumption increases at this pace, it is expected that 70% of Ireland's total power will be consumed by the data center in the 2030s.

The Utility Regulatory Commission, which governs energy regulations, sees data center growth as an 'evolving significant risk' to the safety of electricity supplies, but believes that electricity constraints should not lead to restrictions on data center construction. It is said that it is.

On the other hand, Dr. Patrick Bresnihan of the National University of Maynooth pointed out that if the data center's continuous increase in electricity consumption is silently overlooked, it will be difficult to implement policies that require the people to save electricity in the event of an emergency. He said it should lead to a debate about whether the government should stop opening more data centers to reduce carbon dioxide emissions.


in Note, Posted by logc_nt