Interview with Goro Taniguchi & Director Hiroyuki Hashimoto & Shoji Gatoh, the original draft of the anime 'Estab Life Great Escape', depicting the activities of 'Escape Shop' in the magically remodeled Tokyo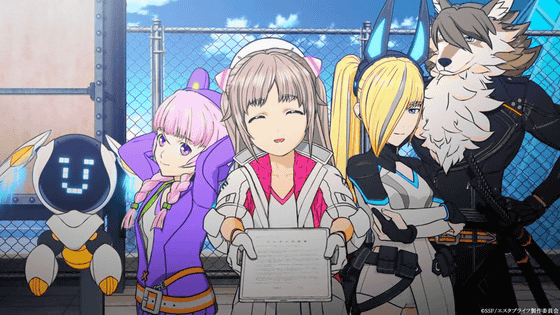 Set in the distant future where a variety of human beings genetically remodeled into ordinary people, beastmen, demons, etc. under the control of AI and various cities called clusters surrounded by walls and having their own culture were created. The media mix project to be developed is 'Estab Life'. The TV anime ' Estab Life Great Escape ' will start broadcasting in April 2022, the smartphone game 'Estab Life Unity Memories' will be released in 2022, and the theater animation 'Estab Life Revengers Road' is coming up.

This time, Goro Taniguchi, who is in charge of the draft and creative supervision of this project, Hiroyuki Hashimoto, who is in charge of TV animation director and game scenario supervision, and Shoji Gatoh, who is in charge of TV animation series composition and script. Since I had the opportunity to interview, I asked him how he worked on the work with this face.

It also includes references to elements of the number of stories that have not yet been televised.

Anime 'Estab Life' official website

https://establife.tokyo/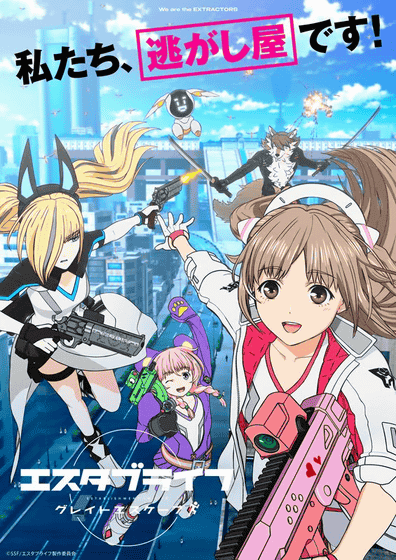 GIGAZINE (hereinafter, G):
How did you decide on this project and this feature?

Original draft / creative supervision Goro Taniguchi (hereinafter referred to as Taniguchi):
Originally, it was a game project, not a video project. So, 'Isn't there something that could be done as a game?', I said, 'If it's a game, I'd like to try a yakuza and a magical girl fighting.'

G:
(Smile)

Taniguchi:
As I proceeded with the whole story, I decided to make it into a video, but I thought that it would be too heavy for a TV animation if I did it. I wanted you to make it with a light feeling, so I asked Mr. Hashimoto how about the director, and Mr. Gatoh was named as a series composition from Mr. Slow Curve, and it became such a lineup. ..

G:
Director Hashimoto is distributing a program called ' Haji Raji! ' On YouTube.

Director Hiroyuki Hashimoto (henceforth, Hashimoto):
I was asked (laughs)

G:
Among them, when Director Hashimoto was making the original picture with ' Code Geass Lelouch of the Rebellion ', when he told Mr. Taniguchi 'I want to direct and direct someday', Mr. Taniguchi said 'The chair of the director is There are few, and there are even fewer chairs for the director, so if you want to be, I will crush it with all my strength. '

(Everyone laughs)

G:
And this time, when I told him about this when working on 'Estab Life,' Mr. Taniguchi said, 'I can't crush it with all my strength, so I thought I had to be on my side.' What was the reason why Mr. Taniguchi pulled Mr. Hashimoto to his side this time and chose him as the director?

Taniguchi:
The first is that Director Hashimoto is a 'woman lover.'

(Everyone laughs)

G:
That is ...

Hashimoto:
It's a misunderstanding (laughs)

Taniguchi:
After all, it's an anime in which girls play an active role (laughs). And the other is that life isn't broken, it's a person who has set foot on the ground and has common sense. Surprisingly, it was a high point to be a hard worker. Of course, this project has animation and games, and other companies such as Slow Curve, Fuji TV, Square Enix, etc. will also come in, so it is a plan that it will be a problem if you are passed through enough to break the framework. ..

G:
Oh, I see.

Taniguchi:
So I had to be a person who could balance properly. If you simply say 'I like girls', there are several people around me, but when I think of 'people who haven't gone bankrupt', Hashimoto says it's okay.

G:
Director Hashimoto can be trusted.

Taniguchi:
That's what it is!

G:
I see ... That was the reason, but Director Hashimoto.

Hashimoto:
No, I don't know if it's good or bad (laughs) I wonder if I should have been more rugged.

Taniguchi:
No no! In this day and age, it's really bad to sell in a wild way! It's only allowed up to our generation! There are a lot of problem children (laughs)

Hashimoto:
I think that talk will spread more (laughs), but I take it as a good feeling.

G:
Mr. Gatoh said that he was called by the slow curve. How did you get in touch with him?

Series composition / screenplay Shoji Gatoh (hereinafter referred to as 'Kato'):
I received a call from Mr. Obata of Slow Curve. I registered the phone number of Mr. Obata in the GONZO era, and when 'GONZO Mr. Obata' appeared on the screen, I thought 'From a GONZO person !? What is it for?' It is said that he was a person.

G:
How long ago was it?

Gatoh:
It was about 4 years ago. The schedule was just open, and it was a big project that Mr. Taniguchi and Mr. Hashimoto would do, so I decided to try it.

G:
In 'Hashi Raji', there was an episode that Mr. Gatoh participated in the script meeting and it was very interesting.

Hashimoto:
Mr. Gatoh's fun is already ... The story about 'town' is very interesting, but it's a little fun that can't be shown (laughs) I think it's a really exciting guy if you do it with Loft Plus One. increase.

G:
Is that kind of fun (laughs)

Hashimoto:
When there is a world in Mr. Taniguchi and we have to expand it, it is difficult to determine how much we can expand. It's not fun if you don't spread it too much, but it may go bankrupt if you spread it too much. It was very interesting because Mr. Gatoh's personal thoughts, prejudices, and various things were mixed there.

Gatoh:
I was born and raised in Tokyo, but there was something called 'prejudice peculiar to those who grew up in West Tokyo.' Speaking of 'Fuchu', first of all, 'there is a prison', and there is a good library, but 'where does the money come from?'

Hashimoto:
It's really interesting to dig up this kind of thing.

G:
According to an interview published by Akiba Research Institute, Director Hashimoto said in the script
, 'I'm asking everyone who participates in the final strike to say,'Anyway, what you thought.'
The
authors and producers also participate in the discussion.
'What kind of members are participating in this work?
Hashimoto:
Mr. Taniguchi, Mr. Kato and Fuji TV, Square Enix, Polygon Pictures ... It's almost like the people involved. Since it's an original work, I don't know how much is correct and what is incorrect, so everyone says, 'Is this the correct answer?'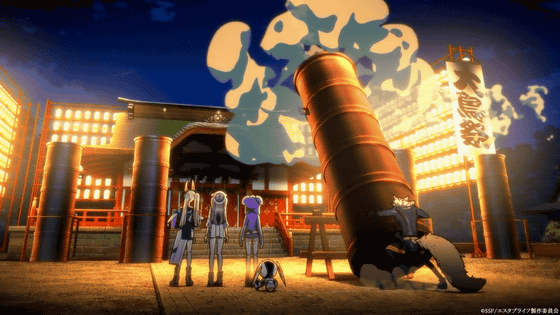 Gatoh:
I agree.

Hashimoto:
There were times when I thought 'someone wouldn't stop', and on the other hand I thought 'someone wouldn't get excited', but it was fun.

Gatoh:
There is a place where I made it while twisting my neck all the time. 'Hmm, is this okay?'

G:
(Laughs) This time, Mr. Gatoh is also a series composition, but what kind of work does the series composition do in the original work?

Gatoh:
When everyone said 'I want something like this', I think it was like 'Then, do you want to put it in?' I didn't decide to make the hero a woman, and it came out without anyone, so when I made 'Then, I'll make it' and asked 'Is this okay?', Everyone said 'OK.' '...', so it was quite fluffy.

G:
It's really fluffy (laughs)

Gatoh:
I said the combination of 3 for women and 2 for men.

Hashimoto:
In this project itself, there was a TV animation, the game was distributed, and then it was decided to do a theater animation, so it is not a story of completing the world on TV, but TV is an existence that expands the frontage. It was clear where I had to take it so that the viewer would say, 'Well, let's play the game, let's see the movie version.' On the contrary, I feel that I have been thinking about how to end it because it does not end the world.

G:
So that's it.

Hashimoto:
The story itself is continuous, so I could have done as many as 50 episodes, but I was wondering if it would end when it really ended.

G:
For this work, did Mr. Taniguchi decide all the basic settings, or did he decide only the simple parts and then the director Hashimoto and Mr. Gatoh decided?

Gatoh:
For a considerable part of the settings, there was one that Mr. Taniguchi first prepared. However, I used about half of them, and I think that about half of them appeared in TV animation. At first, I was very confused, for example, how much should I do to create a city called 'Ochanomizu'? I was thinking about various settings that I couldn't say here. It feels like I was able to break through the fact that 'there is a tea plantation' from 'tea'.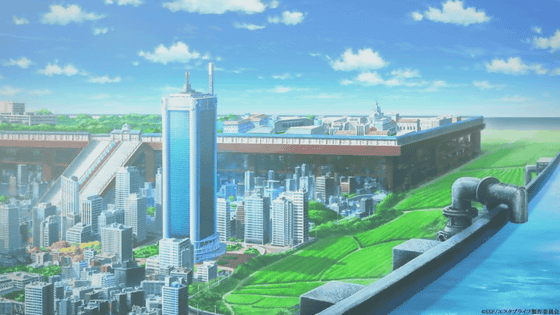 G:
When you make the first setting, does Mr. Taniguchi think of something like 'this may be a pain later'?

Taniguchi:
No, I haven't really thought about it (laughs) People who are in trouble with any setting are in trouble, and people who are not in trouble are not in trouble. For me, there was a saying that 'it is a work of this kind of categorization in this direction', and I knew that in making it as a TV animation, the setting may be used less than half or less. rice field. In past works, even if I directed it myself, I used less than a quarter of the settings. However, I had to show only the direction of the first move, and what I was concerned about as a TV animation was 'What do you want to do with Director Hashimoto?'

G:
Hmmmm.

Taniguchi:
If the direction isn't out of place, I wondered how I could come up with ideas and help them put together where the director wanted to do. Otherwise, there will be directors here and there, which is not good. Once started, I proceeded with the idea that it was the area of director Hashimoto.

Hashimoto:
My feeling is that Mr. Taniguchi first created a large ground, and various lines were drawn there, but you can do whatever you want. 'Can I bring the ball?' 'You can do whatever you want' 'How about roller skating?' 'It's okay if it doesn't get in the way', but there are big rules as a ground. There is. Mr. Gatoh also mentioned that he was worried about Ochanomizu earlier, but I feel that he sometimes wondered how to use this line.

G:
I see, i see.

Hashimoto:
When I thought about the meaning of being called, I thought it would be faster for Mr. Taniguchi to supervise if he wanted to realize what he was thinking. If I'm not doing it, it will be 'Hmm, that's not the case'. But that's not the case, I think he wants me to do something different from what Mr. Taniguchi does, and Mr. Taniguchi wouldn't do this. I knew that it would be best to say, 'This is really good,' so I decided to go without worrying about anything from there. Up to that point, there was a world created by Mr. Taniguchi and others from the beginning, and I was wondering, 'There is Oedo Castle, but what is this ...', but 'There is Oedo Castle. But it's okay, 'he said. At first, I was wondering what to do with theatrical animation, but I realized that I didn't have to think about that.

G:
So that's it. Director Hashimoto said that he was blown out in this way, but did Mr. Gatoh have been blown out in such a place?

Gatoh:
When I wrote the story of Ueno, it was quite a response, and the one I thought most 'grabbed' was Sangenjaya. When I did the episode of Sangenjaya, I thought, 'I can do it in any city in this world' (laughs)

(Everyone laughs)

G:
When Hashimoto was interviewed by Akiba Research Institute, he asked, ' What are the necessary qualities and abilities of an animation director?' Is the most important thing. You have to place an order with various people, borrow the ideas of various people, and show it as one work. Just sticking them together does not make them one, so stick them together, knead them, I have to make it into a shape. 'But in the case of this work, what was the difficult process of' sticking, kneading, and making a shape '?

Hashimoto:
For the first time, I was in charge of 3DCG work, and I felt that CG is more suitable for the type where a small number of people come out firmly on the same stage in a small world. This work has many clusters and the world is big, and there are clusters that appear only once, so it is inefficient as CG.

G:
There is such a place.

Hashimoto:
That's why it's said that it's best to solve it with Ochanomizu every time (laughs), but I think it was difficult to get around that. However, because it is difficult, I think that the CG staff will do their best and you will understand it when you see the work. I am very grateful to have you respond to the thoughts of retake.

Taniguchi:
I think Director Hashimoto is very well trained to keep the distance and balance with others around that point. I was originally from Nakamura Production , and I've been working with amazing seniors, and I knew that I had that kind of ability.

Hashimoto:
There may be (laughs)

G:
This time, Director Hashimoto is not only working on this 'Estab Life Great Escape', but also on the scenario supervision of the game 'Estab Life Unity Memories', the storyboard of the game, and the sound director. Did you come to?

Hashimoto:
Well, why is this happening? (Smile)

Taniguchi:
This is partly due to the partition (laughs), and I don't like the details of the game, so I decided to check with Director Hashimoto once.

G:
Everything comes to Director Hashimoto.

Hashimoto:
Since there are places where the characters that appear in the animation also appear in the game, I was checking that part at first, but at one point it became 'If you can see the scenario of the game character together'. It was about 'recording the voice', so when I asked 'If I'm supervising the scenario, should I record it?'

G:
Oh, how.

Hashimoto:
It's fun to be relied on (laughs) I'll do the work that I don't have to do.

G:
(Laughs) Next, I would like to ask Mr. Gatoh. Mr. Gatoh had been in the store for various reasons before, but I had an interview with him.

Gatoh:
There was (laughs)

G:
Anyway, I heard a lot of stories that I had a hard time writing a novel, but for Mr. Gatoh, is it easier to write a script for such an animation?

Gatoh:
Well, isn't it completely the responsibility of oneself? Something like pressure. There are expectations and pressures that it's completely my original work, so I can't take a step forward ... Rather, I feel that it is a little dispersed. And with a clear deadline, dozens of people are waiting, so it may be easier to move on.

G:
When I look at Mr. Gatoh's Twitter, I get a tweet that looks like I'm writing in a grassy place, but that is ...?

My recent workplace

pic.twitter.com/bhbntD6jRP — Shoji Gatoh (@gatosyoji) May 12, 2021


Gatoh:
I can't write in the room. So it can't be helped. It's better to stay outside and write while walking.

G:
Is there any pressure to read the script you wrote at the meeting?

Gatoh:
There is no pressure to be read. After all, it's a 'screenplay', so the text doesn't have to be beautiful or elaborate, and it's different from the technique required in the novel. 'It's OK if you can tell what's happening.'

G:
How do you feel about seeing your script become a video?

Gatoh:
This time, I was most concerned about what would happen because it was CG, and I was impressed with how it would happen.

G:
I have a question for Mr. Taniguchi again, but this project also has a theatrical animation, but I heard that Director Hashimoto has no touch. What is the position of theatrical animation?

Taniguchi:
The overall picture of this project is that we see a big chunk of 'Estab Life' from different perspectives in TV animation, games, and theater animation. I wish I had left the TV animation to the team centered on Director Hashimoto, the game to the team centered on SQUARE ENIX, and brought another person to the theater animation, but I will explain the world view once again. It's a hassle (laughs), so I decided to do it. So, although Equa and others appear in theatrical animation, they are not the main characters.

G:
Mr. Taniguchi is in charge of 'creative supervision', but when I hear the story, rather than talking about TV animation and games in detail in order to unify the 'Estab Life' character, each team's Is there a big part left to the discretion?

Taniguchi:
It's close, 'I want you to run like this' was shown earlier, and each section asks me 'How about something like this?', But the direction you are heading is If it doesn't seem to deviate significantly, it's best for the staff in each section to have fun, so we try to avoid unnecessary intervention.

G:
Director Hashimoto said in 'Hashi Raji!' That this work is 'aiming for a bright and fun animation', but what is the director's image of 'bright and fun animation'? mosquito?

Hashimoto:
I think it's best to see 'Estab Life Great Escape' (laughs).

(Everyone laughs)

Hashimoto:
If you listen only to the stage setting, it sounds like 'Magic remodeled Tokyo', 'Oedo Castle', and 'AI is governing', but it is a work that you can enjoy the interaction of the main characters so that even people who are not good at such things can see it. I made it.

G:
So that's it. You can see that Director Hashimoto said it was like 'Lupin III'.

Hashimoto:
I think it's really nice to interact with Lupine and the dimension, and to understand each other with a few lines of men. I think it's replaced with a girl in 'Estab Life'. Of course, there are many differences, but when you look at 'Lupin III,' you simply enjoy how a big thief named Lupine steals your prey without thinking 'because it's this setting in this era ...'. I wish I could get that feeling. There is also a desire to positively take 'escape' and 'want to escape'. It seems that if you try to take it heavy, it will be forever heavy, but that is not the case. I think that's why I was chosen.

G:
How did Mr. Gatoh capture and write the exchanges and other parts?

Gatoh:
The relationship between the three main people is the biggest, and I thought that if the three people were cute and interesting, the rest would be somehow. Mr. Hashimoto has thorough hate management.

G:
'Hate management'!

Gatoh:
For example, 'Ferres puts in a tsukkomi, but using that word makes the impression too bad, so I want you to use another word.'

Hashimoto:
No no (laughs)

Taniguchi:
I think that such a sense of balance is a good thing about Director Hashimoto. I would definitely say, 'OK, let's go more.' It is a talent to be able to look around properly there.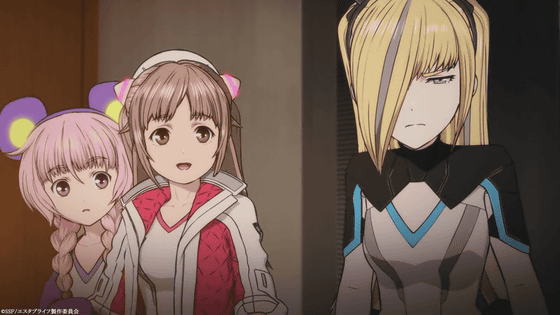 Gatoh:
It's cute and a little like a lily.

G:
Was there any part that was difficult to write?

Gatoh:
Well, I had some thoughts about the world view, but I may not be so worried about the characters.

G:
According to Mr. Gatoh, hate management is skillful, but how do you feel as Director Hashimoto adjusts?

Hashimoto:
There is no guideline, but ... In the words of Mr. Taniguchi, 'I like girls'? (Smile)

(Everyone laughs)

Hashimoto:
As a viewer, you shouldn't think 'I didn't want you to say this line so much' when you said 'I like this character'. I want everyone to like it. I think there are some things that can't be done just by rounding the lines, but that's the difference between myself and Mr. Gatoh, so it's just right. If they both look alike, this won't happen. I wonder if that is the reason why Mr. Taniguchi chose himself. It may have been a feeling that the unevenness was combined to create a proper product. If I were 'Don't do it, hit Ferres,' ... it would have been different, and another fan would have been with me (laughs).

G:
The character setting of this work was rather light, so I heard in 'Hashi Raji!' That Director Hashimoto decided the details. What I was interested in was Ulla, who only says 'Wanwan'. Why did you set this up?

Ulla is in charge of driving on the front left.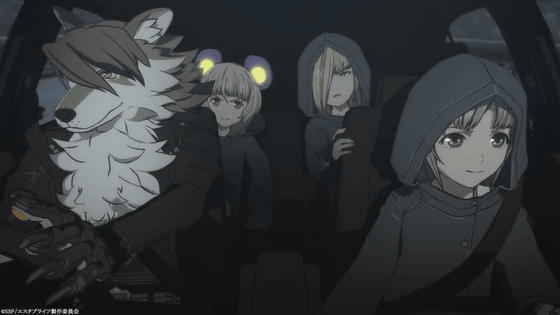 Hashimoto:
I don't remember much (laughs), but 'one-one' alone is interesting.

Gatoh:
At first, there was a setting to talk on a full moon day.

Hashimoto:
that's right.

G:
Really.

Gatoh:
There were times when I talked, but when I wrote the first draft that I talked about once, everyone's reaction was not good and I felt like 'I don't have to talk anymore', so I said 'Well, do you want to stop?'

G:
Did you end up not talking (laughs)?

Gatoh:
In the script, after 'One One', the intention is written in parentheses.

Hashimoto:
The image of the character was to some extent before I decided, but it didn't mean that I should never change it. So, I made various adjustments to make a TV anime like this. The biggest problem was Equa. 'What do you think and let go?' I wonder if there was any chance ... The scariest thing is 'the person who was originally like that'.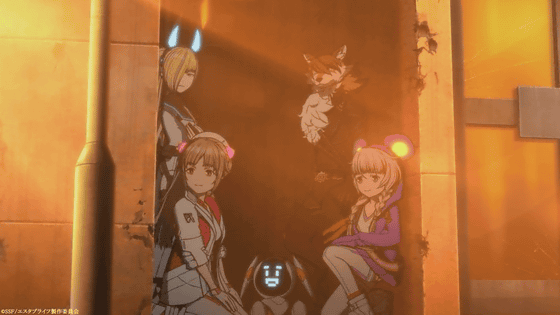 Taniguchi:
No, I think that's the correct answer. 'Because something happened in the past,' I think it's a psychological turning point for her, and she can't face the event neutrally. If it is possible to intervene in one case but not in another, it may not be the Equa character of 'working equally on any case.'

Gatoh:
It's all about facing equality. That's why there is a place to go to the final story.

Hashimoto:
That made 8 episodes. At first, it was a little tighter, and I wondered if Equa would let only her mother escape when she wanted to escape only her mother. I was really making it and thought it was 'heavy'. It was agreed that Equa would definitely let go, but what about the follow-up after that?

Gatoh:
There is no doubt that it will escape.

Hashimoto:
Equa is only working with my own beliefs, so I was wondering if it's closer to God, saying 'help everyone' instead of 'help me if you give me money'. That's why Equa has a hard time and it's difficult to explain to the cast.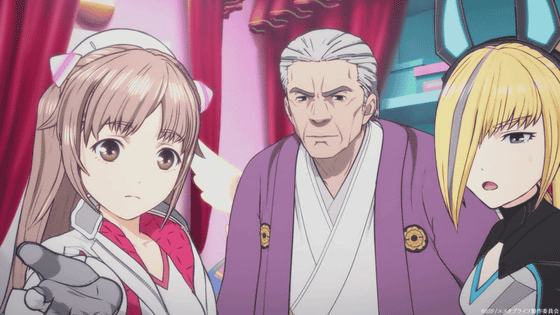 G:
How did you explain to the cast?

Hashimoto:
Hmmm, a funny person with a smile ... (laughs)

G:
(Smile)

Hashimoto:
He said that he is a natural and good person, so he has no front and back. It's difficult to understand because it's a word from this person, and it may not be possible until all the 'Estab Life' is over, and it's only about 5 years after it's over. You may know 'Is it such a character?', But I wonder if that is all right. I wonder if that is also an attraction.

G:
When I was watching Hashimoto's Twitter, marshmallows (a service that accepts anonymous messages) were lined up like a mountain, and in it, ' If the digitization of original pictures and videos progresses, I can work even if I do not live in Tokyo. It will be easier to do so, so it seems that I can continue working even if I have to go back to the countryside. I think, 'he said, but did you have any digital difficulties or confusion in this work?

Hashimoto:
In the case of this work, CG was completed with Polygon Pictures, so there was no difficulty or confusion. However, there are many free people in the animation of drawing, so it is difficult to manage.

G:
I hear from people at companies that make CG animation that the schedule is fixed and progresses, but what is the difference that it is difficult to draw?

Hashimoto:
Some people may get angry when I say it, but it is difficult to change CG just before, so I have to make a good plan in advance. Therefore, when I entered the TV animation production, I think that the line was drawn exactly. However, there are not so many TV animations produced by CG, so the situation 10 years from now may be different again.

G:
It was fun to record the voice of this work freely at Presco, but why did you choose Presco?

Hashimoto:
Presco was basically recorded while looking at the storyboards, so I think it's not much different for them. However, storyboard shooting usually has a tight schedule, and it is broadcast about two months after recording, but this time it is about a year from recording to completion. So maybe I felt that way.

G:
It's still CG, so it was made up of the schedule going exactly.

Hashimoto:
That's it.

G:
Next, I would like to ask Mr. Gatoh again. When the deadline is approaching, is there anything you are doing or trying to meet the deadline?

Gatoh:
What I keep in mind to meet the deadline ... (laughs)

G:
It may be a painful question (laughs)

Gatoh:
No, this is painful ... (laughs) For the time being, is it that you write the first draft to the very end? I will write it down and send it later. I think it will be in time.

G:
I think this work has already been completed, but how was it?

Gatoh:
I wonder if he was relatively well protected ... I don't know anymore, the broadcast is now in the spring of 2022, but I wrote it about two years ago (laughs) ... a little late Isn't it okay?

Hashimoto:
It's slightly different from what I said earlier (laughs)

(Everyone laughs)

G:
Finally, is there anything you would like people to see or see in this 'Estab Life Great Escape'?

Hashimoto:
There are various points I would like you to see, but I would like people who are not good at CG animation to see it once. I think it's cute enough to forget that it's CG. We hope that you will be interested in it and expand your interest in games and theatrical animation.

Gatoh:
It's a waste not to see it because it's CG.

G:
Certainly, they were very cute characters. Thank you for talking to us for a long time, including questions unrelated to the work.

The TV anime 'Estab Life Great Escape' is being broadcast every Wednesday from 24:55 on the Fuji TV '+ Ultra' frame. In addition, it is broadcast on Kansai TV, Tokai TV, Hokkaido Cultural Broadcasting, TV Nishinippon, and BS Fuji according to the following schedule.

Fuji TV: Every Wednesday from 24:55
Kansai TV: Every Thursday from 26:25
Tokai TV: Every Saturday from 25:45
Hokkaido Cultural Broadcasting: Every Sunday from 25:10
TV Nishinippon: Every Wednesday from 25:55
BS Fuji: Every Wednesday from 24:00

In addition, FOD is pre-exclusively distributing up to the 12th episode. At FOD / TVer / GYAO !, the latest episodes are being delivered for free every Wednesday from 25:25 for a week.

TV anime 'Estab Life' book PV / OP theme: Mei-chan 'Lana' --YouTube

©SSF/エスタブライフ製作委員会