Huawei reports 2021 annual financial results, why profits decreased by 30% year-on-year but net income increased by 76% year-on-year?

by
Web Summit
Huawei, a major Chinese technology company, released its annual financial report for 2021 and achieved sales of 636.8 billion yuan (about 12.4 trillion yen) in 2021 with a net profit of about 76 year-on-year. It was revealed that it increased by%.
Huawei Releases 2021 Annual Report: Solid Operations, Investing in the Future --Huawei
https://www.huawei.com/en/news/2022/3/huawei-annual-report-2021
Huawei 2021 Annual Report
(PDF file) https://www-file.huawei.com/minisite/media/annual_report/annual_report_2021_en.pdf
Huawei annual results 2021: Revenue declines but profit surges
https://www.cnbc.com/2022/03/28/huawei-annual-results-2021-revenue-declines-but-profit-surges.html
Huawei revenue down, but profits up, in 2021 • The Register
https://www.theregister.com/2022/03/28/huawei_fy_2021/
According to the report, Huawei's revenue in 2021 was 636.8 billion yuan, down 28.6% from the previous year. On the other hand, net income reached 113.7 billion yuan (about 2.2 trillion yen), an increase of 75.9% from the previous year.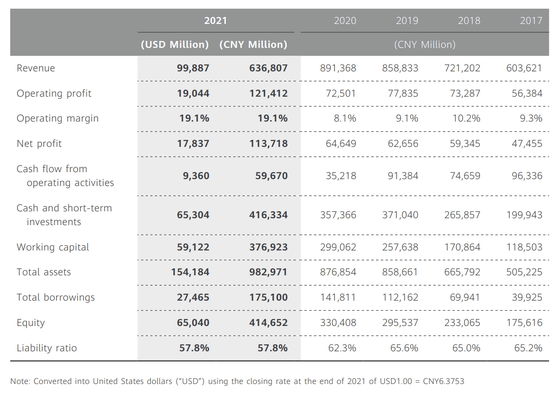 'The biggest reason Huawei's revenue has declined is the downturn in the consumer sector, including smartphones, tablets and wearable devices,' said The Register, an IT news site. Consumer revenues are down 50% year-over-year, and we believe they are affected by opportunity losses due to US sanctions and restricted market access.

In The Register, Huawei's 'other revenue' increased significantly from 692 million yuan (about 13.4 billion yen) in 2020 to 60.7 billion yuan (about 1.18 trillion yen) in 2021. I think that Karakuri, whose net income increased despite the decrease in profits, is a 'sale of a subsidiary brand'. Subsidiaries and brands sold in 2021 include xFusion , a hardware company for data centers, and Honor , a smartphone brand.

In 2021, Huawei invested 142.7 billion yuan (about 2.8 trillion yen) in research and development, which is equivalent to 22.4% of total revenue. The total investment in R & D has exceeded 845 billion yuan (about 16.4 trillion yen) over the past 10 years. According to the economic media CNBC, Huawei is investing heavily in new areas, including the automotive industry, and hiring more scientists to focus on technological development to counter sanctions from the United States. am.

Huawei's rotating chairman , Guo Ping, said, 'Overall, the performance was as expected. The carrier business is stable, the enterprise business is growing steadily, and the consumer business is rapidly expanding into new areas. , Has embarked on the fast track of ecosystem development. '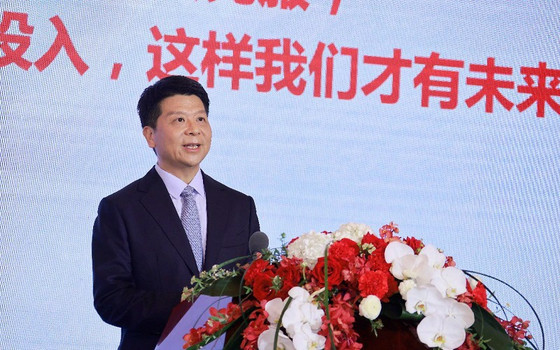 Huawei's CFO Meng Wanzhou also acknowledged that sanctions from the United States, supply chain problems, and slowing 5G demand in China led to lower profits, '2021. Despite lower revenues, they have improved their ability to make profits and generate cash flow, as well as their ability to deal with Huawei's uncertainties. '