Showa retro 'Kuppi Ramune' tasting review of 'Kuppi Ramune Lactic Acid Bacteria Beverage' that reproduces the gentle melting in the mouth with a drink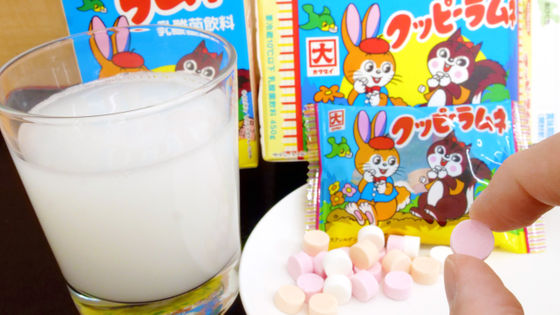 On February 15, 2022, Nissin Food Products Co., Ltd. made a lactic acid bacterium drink from the classic ramune confectionery '
Kuppi Ramune
' that has continued since 1963. It is said that the lactic acid bacteria beverage using the refreshing sweet and sour cuppy ramune powder has a fresh taste instead of nostalgia, so I actually drank it.
'Kuppi Ramune Lactic Acid Bacteria Beverage' (Released on February 15) | Nissin Foods Group
https://www.nissin.com/jp/news/10225
This is 'Kuppi Ramune Lactic Acid Bacteria Beverage'.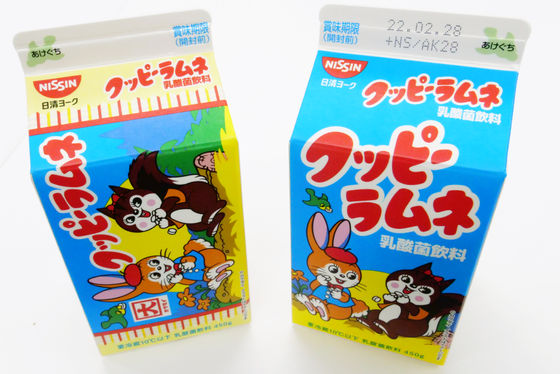 The package has a design similar to that of the original Kuppi Ramune bag.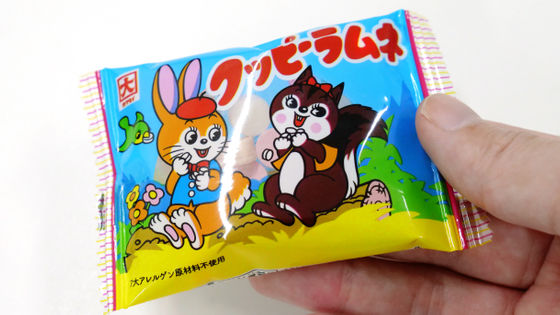 The package of 'Kuppi Ramune Lactic Acid Bacteria Beverage' stated that it was the second collaboration and that it was okay to put in Ramune and do 'Chase Kuppi'.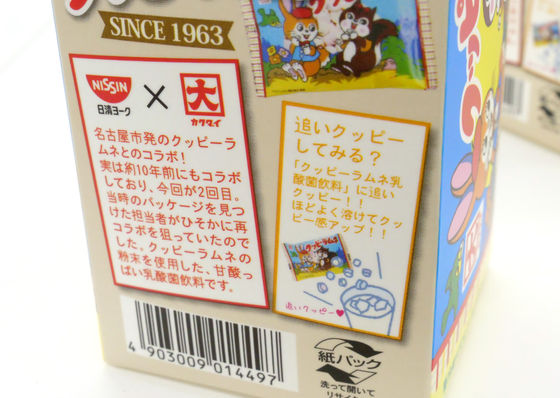 The raw materials are 'sugar, fructose, liquid sugar,' 'sugar,' 'dairy products,' 'cornstarch,' 'bareisho starch,' 'acidulant,' 'fragrance,' and 'stabilizer.'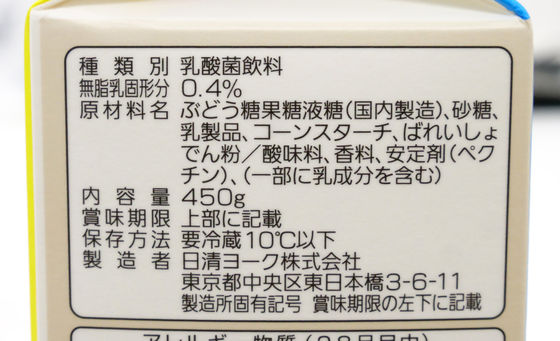 Calories are 48kcal per 100g. Since each bottle contains 450g, the calorie per bottle is calculated to be 216kcal.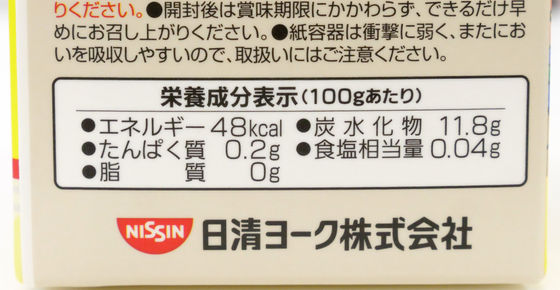 It seems that milk components may settle, so shake well before opening.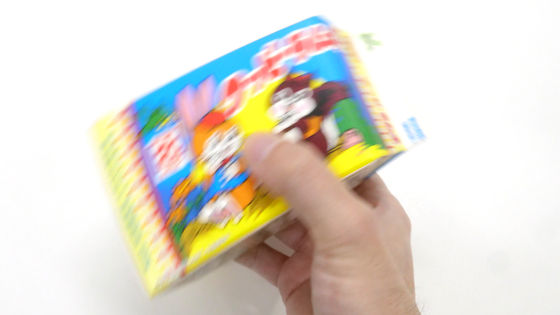 When you pour it into a cup, it looks like this.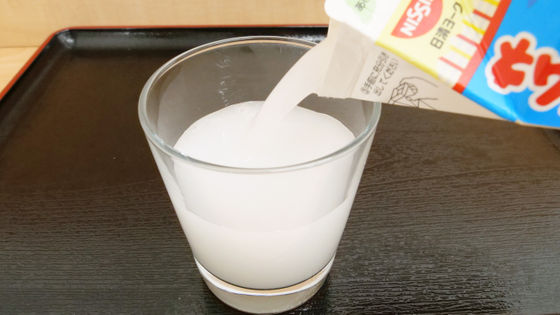 When you take a sip, you can feel the refreshing sweetness with no aftertaste and the slight flavor of lactic acid bacteria beverages.



When I tried to eat Kuppi Ramune again after drinking 'Kuppi Ramune Lactic Acid Bacteria Beverage', the slightly sweet and sour ramune melted in my mouth and 'The sweetness felt in' Kuppi Ramune Lactic Acid Bacteria Beverage '' I was convinced that this is what the goodness of is. ' It is not exactly the same because it has a lactic acid bacterium flavor that is not found in the original Kuppi Ramune, but it can be said that the reproducibility of the nostalgic and gentle taste of Ramune is high.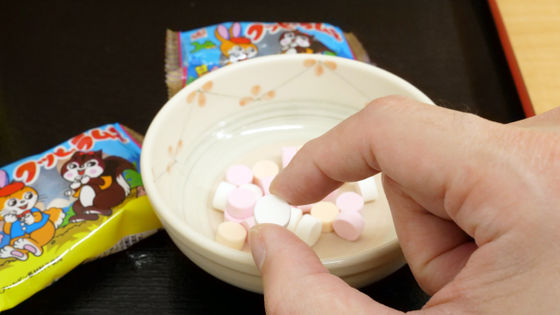 It is said that it is okay to add cuppy ramune and do 'chasing cuppy', so I tried adding 5 to 6 grains.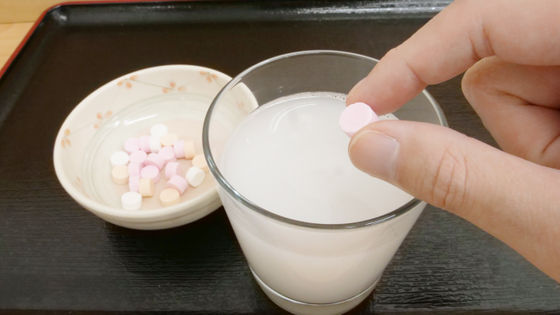 It didn't dissolve just by adding it, so stir it with a spoon.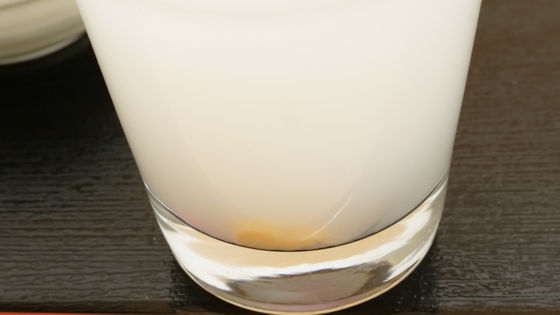 Then, the sweet and sour taste of Kuppy Ramune became thicker. There is an impression that it is far from the refreshing mouth-melting cuppy ramune because of the deeper taste, but the compatibility is excellent because the cuppy ramune powder is used as the raw material of 'cuppy ramune lactic acid bacteria beverage'. 'Kuppi Ramune Lactic Acid Bacteria Beverage' may feel that the reproducibility of refreshing ramune is too high and a little too thin, so if you feel unsatisfactory, it is recommended to do 'chasing cuppy'.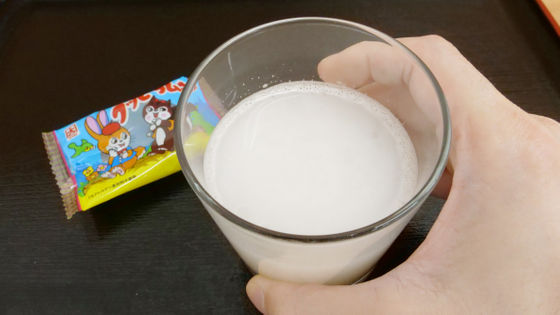 'Kuppi Ramune Lactic Acid Bacteria Beverage' can be purchased at retail stores nationwide except Okinawa, and can also be ordered at Amazon.co.jp. The price at the time of writing the article is 2980 yen including tax for 10 bottles.

Amazon | [Refrigerator] Nissin York Cuppy Ramune Lactic Acid Bacteria Beverage 450g X 10 bottles | 6 | Food / Beverage / Liquor Mail Order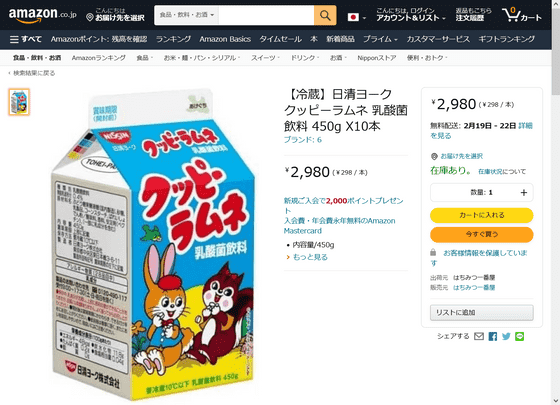 In addition, 20 bags of Kuppy Ramune were sold for 1896 yen including tax.

Amazon | Kakudai Confectionery Cuppy Ramune 85g x 20 bags | Cuppy Ramune | Dagashi mail order