Sales in the semiconductor industry will reach $ 555.9 billion in 2021, up 26.2% year-on-year, and are expected to grow 8.8% in 2022.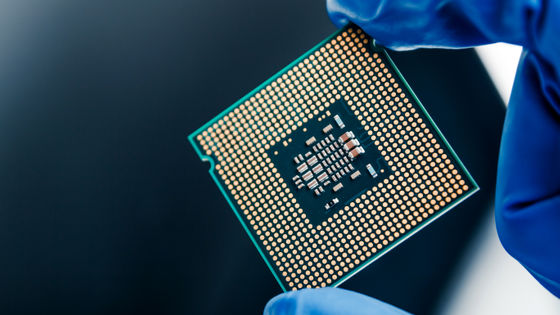 With
the global shortage of semiconductors
used in electronic devices, it was revealed that the number of semiconductors shipped in 2021 became a record, and the sales of the entire industry reached a record high. ..
Global Semiconductor Sales, Units Shipped Reach All-Time Highs in 2021 as Industry Ramps Up Production Amid Shortage --Semiconductor Industry Association
https://www.semiconductors.org/global-semiconductor-sales-units-shipped-reach-all-time-highs-in-2021-as-industry-ramps-up-production-amid-shortage/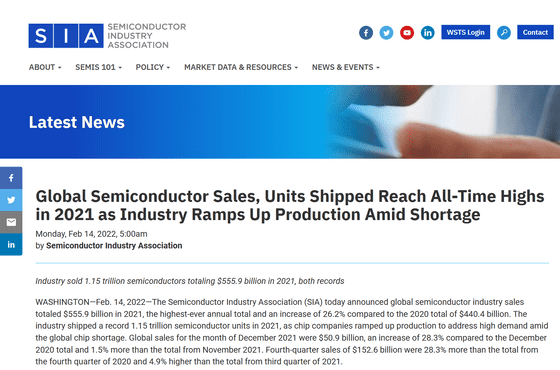 Global chip sales hit record in 2021, will grow 8.8% in 2022 -SIA | Reuters

https://www.reuters.com/technology/global-chip-sales-hit-record-2021-will-grow-88-2022-sia-2022-02-14/
According to a survey by the Semiconductor Industry Association (SIA), a research organization for the semiconductor industry, the total sales of the semiconductor industry in 2021 reached a record high of $ 555.9 billion (about 64,200 billion yen), and 440.4 billion in 2020. It is said that it increased by 26.2% compared to the dollar (about 50.8 trillion yen). It was also revealed that semiconductor shipments in the same year have increased since 2018, reaching 1.15 trillion units, as each company increased production in response to rising demand.
By region, sales in the Americas increased by 27.4% year-on-year, with the highest annual growth rate ever. Europe increased by 27.3%, China by 27.1%, Japan by 19.8%, Asia Pacific and others by 25.9%. The largest market is China, with sales of 192.5 billion dollars (about 22 trillion yen), which accounts for about 35% of the total.



By business, the annual growth rate of analog semiconductors commonly used in automobiles and computers is 33.1%, which is the highest ever. Logic semiconductors had the highest sales of $ 154.8 billion (about 17.9 trillion yen), with an annual growth rate of 30.8%. The runner-up was $ 153.8 billion (¥ 17.80 trillion), a 30.9% increase in memory semiconductors.

'Demand for semiconductor manufacturing is projected to grow significantly over the next few years as it becomes more and more integrated into key technologies now and in the future,' said SIA CEO John Neufer in 2022. Said that 8.8% growth is expected.