Robot succeeds in surgery with higher accuracy than humans without human help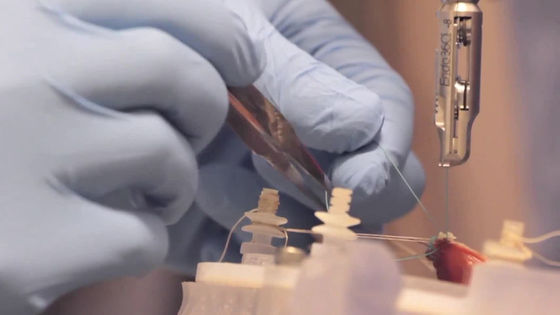 In the world of medicine, the development of surgery support technology using robots has been promoted, but a new attempt was made by a robot to perform surgery on a pig alone without the help of humans, and this surgery was successful. It turns out that it was a success.

Autonomous robotic laparoscopic surgery for intestinal anastomosis

https://www.science.org/doi/10.1126/scirobotics.abj2908
Smart Tissue Autonomous Robot performs laparoscopic surgery on pig soft tissue without human help
https://www.news-medical.net/news/20220127/Smart-Tissue-Autonomous-Robot-performs-laparoscopic-surgery-on-pig-soft-tissue-without-human-help.aspx
Robot successfully performs keyhole surgery on pigs without human help | Robots | The Guardian
https://www.theguardian.com/technology/2022/jan/26/robot-successfully-performs-keyhole-surgery-on-pigs-without-human-help
On January 26, 2022, Science Robotics published a paper that a robot called 'Smart Tissue Autonomous Robot (STAR)'
succeeded in laparoscopic surgery to connect both ends of the intestines of four pigs.
rice field. According to Axel Krieger of Johns Hopkins University, one of the authors of the paper, this is the first time a robot has performed laparoscopic surgery without human help.
You can check how STAR is operating in the following article.
A robot that automatically operates on behalf of a doctor is under development, and the movie of the actual operation is like this --GIGAZINE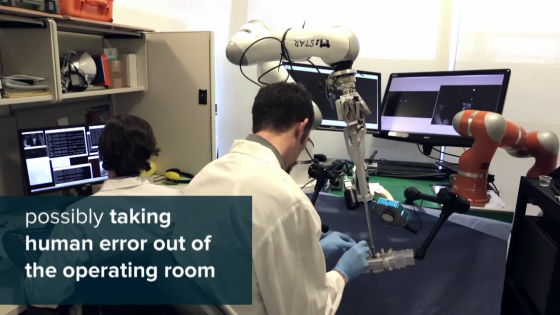 Laparoscopic surgery is one of the most difficult gastrointestinal surgeries that connect both ends of the intestine and requires high precision and consistency of suturing. Slight hand tremors and misalignment of sutures can cause leaks and can cause fatal complications for the patient. With such laparoscopic surgery, STAR 'produced significantly better results than humans.'
Krieger, an associate professor of mechanical engineering at Johns Hopkins University, was involved in the development of STAR. STAR is a robot equipped with a visual guidance system specially designed for suturing soft tissues. Normally, suturing the intestine requires a large incision, but STAR is equipped with a special suturing tool and imaging system that enables highly accurate suturing with a small incision.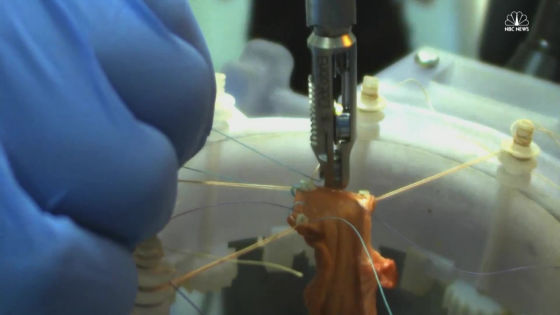 Suturing soft tissues is very difficult and requires quick response to unexpected obstacles. However, according to the paper, STAR was able to adjust the surgical plan in real time like a human surgeon, 'What makes STAR special is the soft tissue surgical plan with minimal human intervention. It's about being able to plan, adapt, and execute, 'said Krieger.

'Robot suturing is one way to enable accurate and accurate surgical tasks that require high precision and reproducibility for all patients, regardless of surgeon's skill.' The research team insists.