Ufotable of '<span translate="no">Demon Slayer: Kimetsu no Yaiba</span>' and 'Fate' makes the visual novel 'Mahoutsukai no Yoru' into a theatrical animation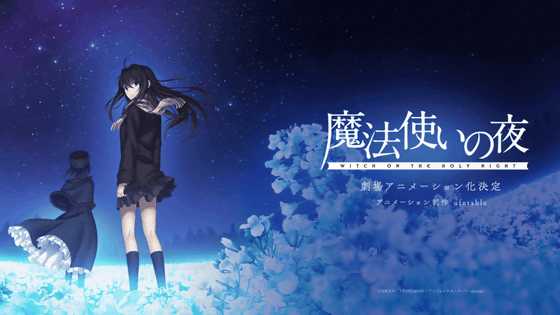 Theatrical animation of TYPE-MOON's visual novel ' Mahoutsukai no Yoru ' has been announced. Animation production is handled by ufotable, known for 'Demon Slayer: Kimetsu no Yaiba,' 'Fate / stay night [Heaven's Feel],' and 'The Garden of Sinners.'

'Wizard's Night' Official Website

https://mahoyo-movie.com/
'Mahoutsukai no Yoru' [Official] (@mahoyo_movie) / Twitter
https://twitter.com/mahoyo_movie
'Mahoutsukai no Yoru' Teaser PV --YouTube
©奈須きのこ・TYPE-MOON / アニプレックス・ノーツ・ufotable
'Mahoutsukai no Yoru' is a game released in April 2012, and its origin is in an unpublished novel written before the release of 'Tsukihime'.
ufotable is an animation of many TYPE-MOON works such as 'The Garden of Sinners' seven parts + final chapter, 'Fate / Zero', 'Fate / stay night [Unlimited Blade Works]', 'Fate / stay night [Heaven's Feel]' I am working on the conversion.
In response to this announcement, Amazon has run out of stock of 'Wizard's Night'.
Amazon | Wizard's Night Normal Edition | PC Games | PC Software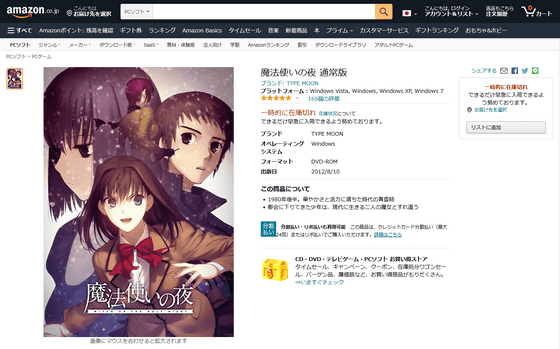 The original soundtrack for the game is also on sale.


Amazon | Witch On The Holy Soundtrack | PC Game Music | Soundtrack | Music